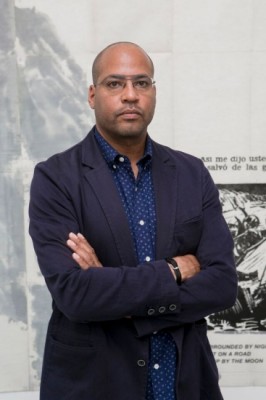 Starting last month, over the course of just 25 days, three exhibitions of Assistant Professor David Hartt's work opened in three very different places: downtown Chicago, suburban Ontario, and Richmond, Virginia.
It would be an exciting moment for any artist, but for Hartt, it's especially triumphant. In 1999, just as his art career was gaining momentum, he walked away from it. For a full decade, he worked in design and advertising, at one point managing a team of 45 people. He had no studio, no gallery representation, and exactly zero exhibitions over those 10 years.
Now, at this exact moment, Hartt's work is hanging in three contemporary art museums. It's also in well-known public collections, and Hartt has landed numerous grants and awards—including two from the Pew Center for Arts and Heritage this past summer. And since 2015, he's been teaching both undergraduate and MFA students at Penn, including a course he titled "Defense Against the Dark Arts."
He says the birth of his first child sparked his return to the studio. Deciding it was time to re-evaluate their priorities, Hartt and his wife left their corporate jobs and sold their New York City brownstone. He also bought himself a new camera.
"I went on the road for a couple of months just shooting and thinking: What do I want to make? Where do I want to show it? Who do I want to show it to? What do I want to say with it?," he remembers. "I was just trying to answer a lot of basic questions that I think, unfortunately, a lot of artists don't ask themselves."
"Taking a 10-year break was actually really important to me," he adds, "both in finding a psychic and personal foundation and also in understanding why I want to be an artist and how I want to use that platform."
Since his return to the fine art world in 2009, Hartt has focused his multidisciplinary work on the relationship between ideology and the built environment. The results include David Hartt: in the forest, which opened at Oakville Galleries in Ontario on Sept. 23.
Created through a commission by the Graham Foundation in Chicago, the solo show re-examines work by architect Moshe Safdie. Dubbed "the king of concrete utopias," Safdie designed Habitat 67 in Montreal as an experiment in modular architecture in the late 1960s. The striking apartment complex has since become a landmark in Canada.
But it was Safdie's abandoned project, Habitat Puerto Rico, that interested Hartt. After the success of Habitat 67, Safdie began work on a plan for 800 low-cost homes in San Juan. It was supposed to be the first of many iterations of Habitat 67 around the world. In 1973, with only 30 units completed, the project lost funding and never resumed.
With only GPS coordinates to guide him, Hartt tracked down six sites where the prefab units are now being reclaimed by nature. He employed film, photography and sculpture to address what he found.
"Through investigating this project, you begin to think about these broader issues: colonialism, the legacy of modernism, social responsibility, the relationship between the built and natural environments," he says. "I thought it was important to have a critical dialogue that began to incorporate those things."
(A video trailer for in the forest is available here: in the forest_trailer-Up to 4K.)
Six days later, on Sept. 29, Hartt's other solo show, My Building, Your Design: Seven Portraits by David Hartt, opened at the Art Institute of Chicago. Centered on seven iconic buildings by contemporary architects, the installation presents Hartt's photographs alongside the drawings, models and renderings from when each building was designed.
The third exhibition featuring Hartt's work right now is on view at the Institute for Contemporary Art in Richmond, Virginia. (All three shows run through early 2019.) His pieces there are presented along with work by four other artists in a show titled Hedges, Edges, Dirt.
Hartt's contribution includes a 9.5-by-17-foot tapestry of an image he shot via drone in Staten Island, New York. "It's very much a portrait of an urban landscape," he says, "but rendered in a very classical way."
As his art travels across North America, Hartt himself is in Philadelphia, teaching Penn students and creating new work. Fueled by a $300,000 Pew grant, he's currently devising an installation that will re-energize Beth Sholom Synagogue—a Frank Lloyd Wright-designed National Historic Landmark in Elkins Park, Pa.
While the results won't be on view until next fall, Hartt is already deep into the planning process. He says it's been a unique challenge. Since Wright's architecture is so striking, Hartt says he "thought it would be really difficult and indelicate to go in there and throw a bunch of contemporary art into the space." As a result, he's been thinking about music (specifically the 19th-century American composer Louis Moreau Gottschalk), about film, and about tapestries like the one he has in Hedges, Edges, Dirt.
"You have to balance between discretion and not actually having an impact at all," he says. "I'm trying to be really careful and walk that tightrope."
Hartt also received a 2018 Pew Fellowship, which awards $75,000 to individual artists. Aside from a few quick studio upgrades, he's taking his time to figure out where to invest the rest of the money. "I have projects I'm committed to through 2020 at this point," he says, "so I've got a lot of time to think through what I want to do with it."
–Molly Petrilla C'06