Working Like Dogs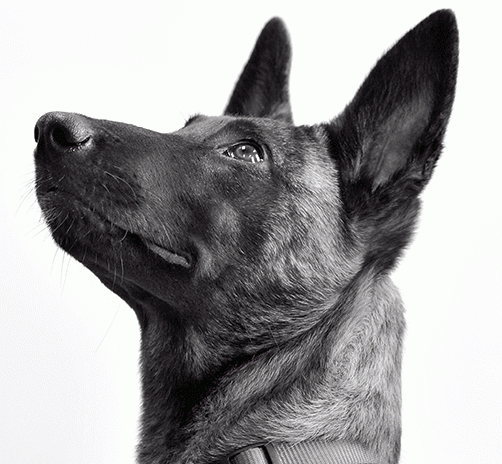 The new Penn Vet Working Dog Center will breed and train the country's top detection dogs, but Center founder and director Cindy Otto's sweeping vision doesn't stop there. Through detailed tracking of what leads to success, "It will be the flagship of knowledge—knowledge about the dogs, knowledge for the dogs, knowledge that feeds back to the dogs," she says.
BY MOLLY PETRILLA | Photography by Candace diCarlo | PDF download
---
Sirius has the scent.
As trainer Annemarie DeAngelo hides a black leather tug toy, the 14-week-old yellow lab frantically jumps and barks and strains against his leash so hard he's nearly choking. With the toy in place, Sirius is off before DeAngelo even says "Search." Tail wagging and nose snuffling,
he pokes his head into boxes, peers onto desktops and, in a moment of pure puppy-ness, knocks a phone off its cradle and tangles himself in the curly cord.
Once extricated, he plants himself in front of a low desk drawer, tail still pumping. He scratches at the metal and barks sharply. "That's what he's supposed to do," DeAngelo says, opening the drawer with a sly smile. The slim leather toy sits on a stack of papers. Sirius snatches it and DeAngelo bellows praise: "Aaah! Good job! Yay, Sirius! Yaaah!"
"The dogs have to enjoy what they're doing," she says later. "We need them to understand that it's a game, and to make sure they're having a really good time. The more fun they have, the better their work is. They don't know it's work; it's all a big game to them."
---
Sirius is a member of the Penn Vet Working Dog Center's inaugural class—a wriggly, wet-nosed bunch that arrived on September 11, 2012 to great fanfare. Picture a brand-new, all-star sports team making its first hometown appearance, then add tails and extra legs.
At the center's grand opening, which doubled as a 9/11 commemoration event, the puppies were introduced by name, breed, back story. One at a time, they wobbled up the aisle for a dramatic handoff from breeder to foster parent. Gasps, sniffles, and camera flashes filled the tent with every debut.
Piles of custom trading cards displayed each puppy's name and photo on the front and its namesake on the back. The puppies are all named for dogs who lent their noses to 9/11 search-and-rescue efforts. Socks, for instance, is a little yellow lab named in honor of Socks Lavoie, who dug through the Staten Island Landfill. A pointy-eared, speckled Dutch shepherd is named Kaiserin, after a dog who helped search the World Trade Center.
Several of those elderly K9 namesakes came to the opening celebration in their work harnesses, looking rather world-weary and offering a quiet reminder: These seven little puppies aren't here simply to be adored. Not unlike the University's human students, they came to start school, learn a trade, and, yes, occasionally run wild on College Green. Next fall, after a full year of five-days-a-week training, they'll be ready to work as detection dogs. They'll use their noses to find missing people or sniff out bombs or uncover drug stashes; some of them may even help doctors detect cancer—and the Penn Vet Working Dog Center will be tracking them every paw-step, bark, and tail-wag of the way.
"This place is truly one-of-a-kind," says Cindy Otto, associate professor of critical care at Penn's School of Veterinary Medicine and the founder and director of the new center. "It will be the flagship of knowledge—knowledge about the dogs, knowledge for the dogs, knowledge that feeds back to the dogs."
While working dogs help the world in all sorts of ways, Otto says there hasn't been a concerted effort to figure out what makes some more successful than others. Is it genetics? Training approaches? A personality type? Health and fitness levels? While certain breeders are known for producing top-tier working dogs—and several of those breeders have donated puppies to the new Penn Vet center—there's no real way to determine which puppies will excel.
"If you could identify out of a litter of puppies which dogs are going to become superstars, you could take and put energy into those dogs," Otto says. "Right now, what happens is you try to train all the dogs in the litter or you go eenie meenie miney mo and randomly pick one or two."
To develop that prescription for good health and high performance in working dogs, the center began gathering detailed data on each of its puppies the day they arrived. Height, weight, temperament, performance in training exercises, behavior in new situations, and other factors are being meticulously recorded and scrutinized. The data collection will continue even after the dogs enter their adult jobs.
"No one has looked at these puppies through these development phases with all of the cognition and learning stuff, let alone with all the interventions we're doing," Otto says. "The information we can generate is going to be invaluable not only to our program, but for any other program. There are a lot of little pockets of information here and there, but a lot of places are very proprietary. Until now, there hasn't been a central repository of information that is collaborative, open, and engaging."
Through careful observation and a unique training regimen, Otto expects that her center will produce some of the best-trained detection dogs in the world. While a class of seven puppies began the program, new dog-students will be added regularly—two more had already joined by late November—with a long-term goal of 24 detection-dogs-in-training enrolled at any given time. There's even talk of developing a "Penn Breed" working dog. The center will place its top two female dogs from the inaugural class with the Penn Police, leaving them readily accessible for breeding with other top-tier detection dogs.
Certainly, the goals are expansive—and expensive. Otto estimates that up to $20,000 will go into raising and training each dog for a year—a sizable investment, considering that funding comes exclusively from private donors and the occasional grant, especially considering no one knew if the program would actually work until the first puppy class had arrived.
"We hadn't done anything like this before; no one really had," Otto says. "There's no book about how you make this happen."
So far, the proof is in the puppies' progress. "We're absolutely blown away by how well these dogs are working," she adds. "They've been here less than two months. They're babies. But they are learning and working like big grownup dogs."
In fact, on a recent visit to the center, a group of representatives from a government agency noted that the puppies were searching better than some of their fully trained adult counterparts. Another visitor—a retired special-ops K9 sergeant who is still heavily involved in the working-dog world—watched the young Penn dogs train and was so impressed that he decided to donate a dog he had planned to buy for himself. Sarge, a baby German shepherd, scampered into the center in late November, joining his classmates in the new corner of Penn reserved just for dogs.