Home Depot Syndrome, the Purple Squirrel, and America's Job Hunt Rabbit Hole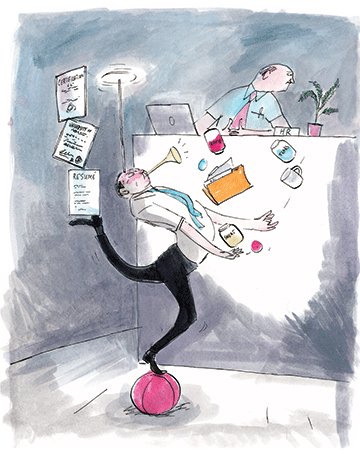 As America strives to regain its economic footing, good people can't find work even while companies struggle to find employees. How can this be happening? Wharton's Peter Cappelli has a provocative answer.
BY TREY POPP | Illustration by Graham Roumieu | PDF download
---
On the morning of November 6, 2012, as Americans filed into voting booths at the end of an election campaign waged largely on the issue of jobs and the lack of them, the US Bureau of Labor Statistics released its regular monthly report on job openings and labor turnover.
The JOLT report is a crude measure of employment trends. Unlike the unemployment rate or the weekly tally of jobless claims, it sheds no light on the travails of people looking for work. But the November edition (which reported on September data) contained a statistic bound to madden many job seekers. It was the number of unfilled job openings as of the last business day of the month: 3.6 million.
That total was "essentially unchanged" from the month before.
There are a number of ways to interpret, or misinterpret, that figure. The 3.6 million jobs that were available at September's end weren't just the same ones left over from August. The number of new hires was even greater in each of those months, as was the number of "separations." There's a lot of churn in the labor market.
In one sense, those 3.6 million vacancies were a positive sign. The number of positions available had steadily climbed from its nadir in July 2009, when there were just shy of 2.2 million. So at least businesses seemed increasingly inclined to hire. And not just at fast-food counters. There were some 650,000 posted opportunities in professional and business services, well over 200,000 in manufacturing, and nearly 600,000 in trade, transportation, and utilities.
Yet for every one of those openings, there were still somewhere between three and four unemployed Americans eager for work—or nearly six, if you counted people working part-time because they couldn't find a full-time job. And in that light, you could forgive a resume-scattering job hunter for perceiving something mysterious—if not vaguely menacing—about the idea that 3.6 million jobs were, theoretically at least, there for the taking.
In fact there is something pernicious going on, because another thing is happening at the same time. A lot of job openings are going unfilled, and when American employers are asked why, their most common answer is a lack of qualified applicants.
You've probably heard this before. The idea that a "skills gap" is what ails the US labor market has become so widespread as to achieve one of the rarest conditions in contemporary American life: embracement by both political parties. As Mitt Romney put it in a campaign document: "One of the troubling features of the American economy today is the mismatch between the skill set of the American workforce and the requirements of the employment market. The gap between the two lies at the heart of our jobs crisis." The GOP candidate might as well have quoted President Obama's 2012 State of the Union address: "I also hear from many business leaders who want to hire in the United States but can't find workers with the right skills. Growing industries in science and technology have twice as many openings as we have workers who can do the job."
There's just one problem with this idea, according to longtime Wharton professor Peter Cappelli. It may largely be a myth.
Cappelli, the George W. Taylor Professor of Management, is a connoisseur of job-hunting stories gone wrong. One of his favorites was related to him by someone in a company whose staffing department failed to identify a qualified candidate for a "standard engineering position"—out of 25,000 applicants. Another comes from a software developer who was turned down for a job that involved operating a particular brand-name software-testing tool—despite the fact that he had actually built just such a tool himself. Adding insult to inanity, another time he was deemed unqualified because "I didn't have two years of experience using an extremely simple database report formatting tool, the sort of thing that would require just a couple hours for any half-decent database wrangler to master."
Even if your own employment situation is rosy, you could probably add similar stories of your own. Perhaps it's a spouse in mid-career transition who keeps running up against web-based applicant-management systems that request irrelevant minutia like high-school GPA. It could be a sibling flummoxed by an inflexible offer for an advanced-practice nursing job that pays less than an entry-level RN can make doing shift work. Or maybe you're despairing over your daughter's chances of scoring an unpaid internship as a stepping stone to full-time work—in which case, don't read the next sentence. According to Penn Career Services director Patricia Rose, internships have become the hottest new items at elite prep-school fundraiser auctions, where parents are literally buying plum summer positions for their kids.
Anecdotes like these, Cappelli says, are just the tip of an iceberg of troubling data. In his latest book, Why Good People Can't Get Jobs: The Skills Gap and What Companies Can Do About It (Wharton Digital Press, 2012), he explores America's dysfunctional jobs market and concludes that the skills gap—at least as it's most commonly formulated ("Schools aren't giving kids the right kind of training. The government isn't letting in enough high-skill immigrants. The list goes on and on")—isn't really to blame.
"The real culprits," he contends, "are the employers themselves."
Cappelli has studied labor markets, and this aspect of them in particular, from just about every imaginable angle. In the late 1980s he worked on the US Secretary of Labor's Commission on Workforce Quality and Labor Market Efficiency. In the 1990s, he co-directed the National Center on the Educational Quality of the Workforce within the US Department of Education. For a period during the 2000s, he was senior advisor for employment policy to the Kingdom of Bahrain. He's a distinguished scholar at Singapore's Ministry of Manpower. At Wharton, where he has been a professor since 1985, he directs the Center for Human Resources.
Why Good People Can't Get Jobs is essentially a story about human resources—how companies succeed and fail at finding and retaining talent. The book (and the larger body of research behind it, which he delved into in a wide-ranging conversation for this article) contains lessons for employers, advice for job-seekers, and important implications for policymakers.
Perhaps the best place to start is with the humans themselves. What skills do companies really want from them, anyway? And are American firms facilitating the acquisition of those skills—or standing in the way?