When Boys Grieve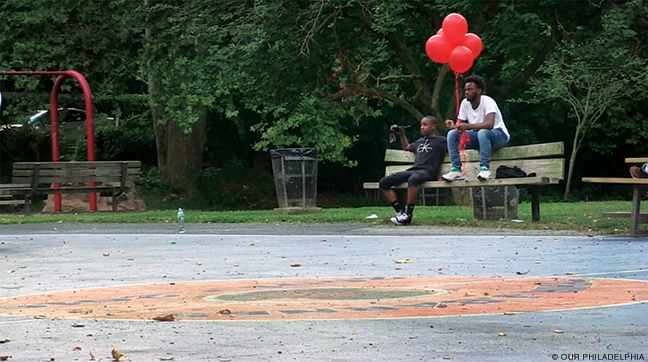 ---
Exploring the emotional trauma of losing friends to gun violence.
---
Nineteen-year-old Elijah McFarland needs three hands to count all the people he's lost to gun violence since middle school. He lists off the names in a short documentary film, Our Philadelphia. A few are relatives, but mostly they're Black teenage boys from West Philly, like him, who were all shot and killed in the past six years. The list has grown longer since filming ended.
"How can you look forward to a lot of stuff when you got friends dying left and right?" he asks at one point in the film.
Studying the grief that boys like McFarland suffer after losing friends to neighborhood gun violence has been limited, but Nora Gross Gr'20 has spent the last few years pushing it forward. Her dissertation at Penn focused on the subject, and in 2020 she produced two related short documentary films: Our Philadelphia and Club with No Name.
"Sometimes I don't think we give enough credit to the role of friendship in young people's lives," Gross says. "Losing a friend is a really big deal developmentally, and I don't think we even have language for what it means to be 19 and need three hands to count the number of friends you've lost."
Directed by McFarland and two of his former classmates, with Gross serving as producer, Our Philadelphia centers on students from an all-boys charter school in West Philly talking openly about their shock, sadness, fear, and pain.
"It made me depressed," McFarland tells the camera at one point. "Got to the point where I wanted to take my own life."
"I just wish we could have another moment together," says a teen boy, remembering his close friend who was murdered.
A second short documentary, which Gross directed and produced, gathers three Philadelphia moms around a dining table. The women in Club with No Name are still raw from the trauma of losing their young sons to gun violence—whose deaths are featured in Our Philadelphia—but they've also found ways to channel their pain into purpose.
The film makes it clear that these bereaved moms are part of a grim and growing "club" throughout the city. Philly's homicide rate in 2020 was substantially higher than at any point since the early 1990s, and victims are skewing younger. In August, the Philadelphia Inquirer reported that nearly one in 10 Philly shooting victims had been under age 18 in 2020, and almost all of those children and teens were Black.
A few years into her dual PhD programs at Penn (education and sociology), Gross began to wonder how these victims' close friends were processing their individual grief, how entire school communities were affected, and whether schools could possibly provide enough support. "I found that there wasn't a lot of scholarship, especially ethnographic scholarship, around the way that grief and loss of friends to gun violence impacted young people in general and in their schools," she says.
By 2016, she was spending most of her week inside a school that had lost one of its students to gun violence over the summer. By the time she finished her research there in 2018, two more students had been murdered—including a boy who had been participating in Gross's research study.
She interviewed 65 students during her two years embedded in that school, but also spent time simply observing. "One big finding—which shouldn't have to be a finding—is that these boys are really experiencing all the complexities and nuances of grief, and it lasts a long time," she says.
Gross identified three stages of school-wide grieving: Easy-Hard, when the whole school unites after a loss; Hard-Hard, when some are more ready to move on than others; and Hidden-Hard, when grief becomes an undercurrent around the school. You'll see it only if you look closely enough: on fresh tattoos of a friend's name, on pieces of jewelry that once belonged to that friend, on names of the lost scrawled onto shoes.
Gross also discovered the role that social media plays in the peer grieving process. "Instagram, and especially the temporary 'stories' posts, seem to create freedom," she says. "There are a lot of confessions and emotional sharing: 'I think I might be depressed. I think I might have PTSD. I'm having a hard time now and need support.' It's really different from what other research is suggesting about how teens use social media."
While Our Philadelphia echoes a number of Gross's research findings, she realizes the value of these thoughts coming straight from teens themselves, on camera for anyone to see. The film—which was funded by various programs and departments at Penn—was an official selection for the 2020 FirstGlance Philadelphia Film Festival and is publicly available to stream on YouTube.
"It's moving and powerful to see their faces and hear their voices," says Gross, who's currently adapting her dissertation project into a book. "My dissertation was 400 pages long, and hopefully the book will be a little shorter. Very few people are going to read that in comparison to who might be willing to watch a 15-minute film and how quickly the film can travel."
Gross has already spoken with a woman who helps the families of homicide victims, and who is planning to use Our Philadelphia as a training tool for others in her line of work. A local lobbyist also reached out about using the film to "put a face to this gun violence crisis" and push legislators and elected officials into action.
This arts-fused approach to scholarship is exactly what drew Gross to Penn for her PhD work. CAMRA, Penn's Collective for Advancing Multimodal Research Arts, "was just in its infancy when I accepted the offer in 2013," she says, "but it was clear from the fact that it existed—and from the fact that [Annenberg Dean John L. Jackson Jr.] was spearheading it—that Penn would be welcoming of my interest in thinking about research beyond text."
Now a core fellow and visiting assistant professor of sociology at Boston College, Gross says her goal for all of this work is to "give people who work directly with Black teenage boys more insight into the layers of their emotional lives, in the hope that they don't rush past things when and if something happens."
—Molly Petrilla C'06