Wake Up The Ghosts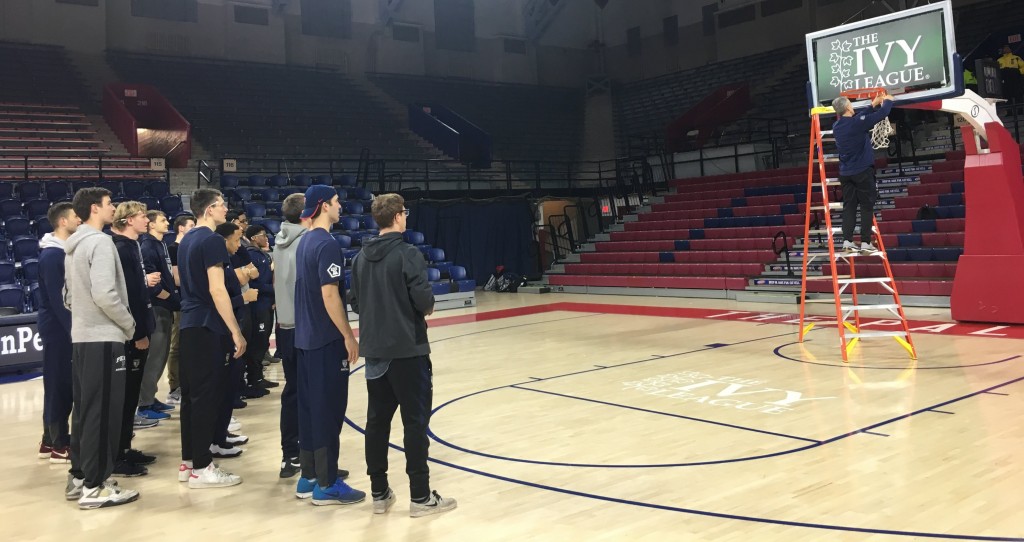 If there are ghosts in the Palestra, as the gym's former caretaker Dan Harrell insists, they didn't get a very good night of sleep this past weekend.
Around 2 a.m. on Sunday morning, the empty arena awoke from its slumber when several very happy basketball players, coaches and cheerleaders burst inside.
Earlier that night (or is it the previous night?), the Quakers won a share of the regular-season Ivy League men's basketball championship with a 99-93 victory at Brown — the program's first in 11 years.
Sure, they did plenty of celebrating up in Providence, and a whole lot more on the four-and-half-hour bus ride back to Philly (which included picking up some cheerleaders after their bus broke down). But it just felt right to do some more at home, and cut down the Palestra nets to commemorate the program's 26th Ivy championship — even if it was inside a mostly empty gym in the middle of the night.
"This is a big moment for us," head coach Steve Donahue said. "We're so proud of them and all of the things they've been through. This is great to do it at the Palestra."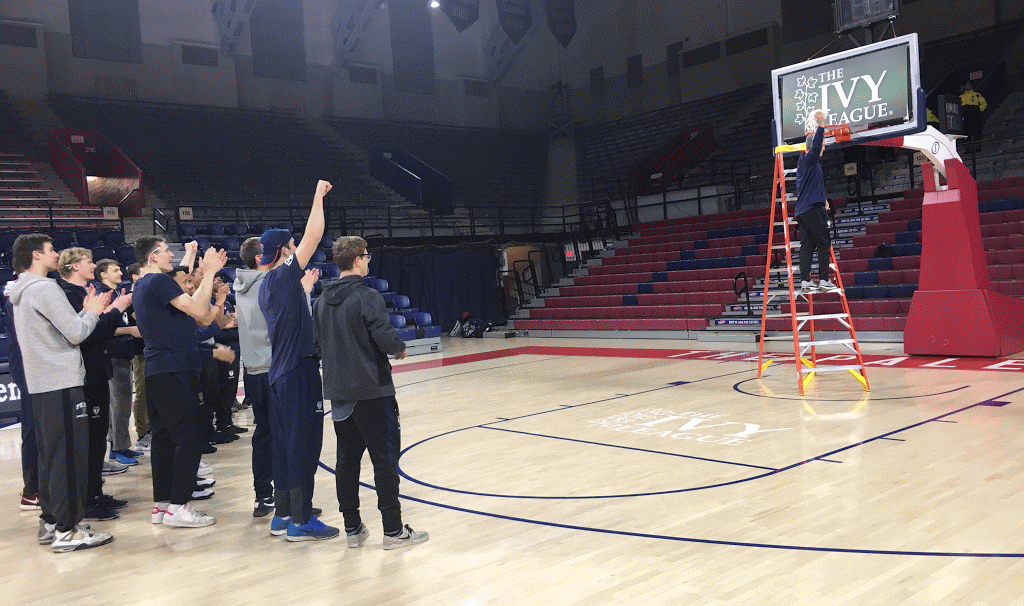 Donahue said Brad Fadem, the team's director of operations, suggested cutting down the nets at the Palestra and the head coach immediately said, "Absolutely." You could argue there are reasons not to do it, considering the Quakers still need to win next weekend's four-team Ivy League Tournament, where they'll be seeded No. 2 since they ended up on the wrong side of a tiebreak with fellow co-champ Harvard, to make it to the NCAA Tournament.
But Donahue still recognizes how much a regular-season title, even a shared one, means in the Ivies, where no tourney existed until last year. And he's especially proud the Quakers captured their piece of the crown a night after a very questionable refereeing decision led to a buzzer-beating loss at Yale, which Donahue called "the most difficult loss I ever experienced as a coach."
"I always said this league is like no other," the Penn coach said. "It's balanced, an even round-robin, back-to-back nights. Even though the format has changed, that's an incredible accomplishment. That's why we hang the banner for this championship. That was always the goal. Now it's more the dream to go the NCAA Tournament — that's what these guys dream about."
Sophomore forward AJ Brodeur — who helped usher in a huge turnaround as a key member of Donahue's first recruiting class — is certainly dreaming about the Big Dance. But there were still some pieces of March Madness he got to enjoy inside an empty Palestra — not to mention a big piece of the net that dangled around his neck as he talked to a trio of sleepy reporters.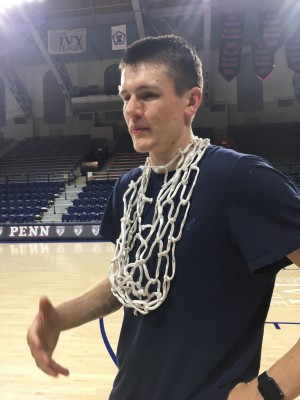 "Whether it's a packed Palestra or no one's here, at the end of the day, it's our team," he said. "We got ourselves here. We all got here together, and as long as we're here that's enough for us."
To say the gym was completely empty isn't entirely fair. Given the time of day and the timing of it being spring break at Penn, hardly any fans or students made it to the Palestra to watch the net-cutting ceremony. But a couple of diehard fans and longtime season-ticket holders, Allan Bell C'81 and his wife Dale Borenstein Bell MT'81, did show up to cheer on the Quakers. Allan, who was on campus during Penn's Final Four run and estimates he's been to over 500 games since, even got choked up thinking about the long wait since Penn's last championship in 2007.
But for as many times as the Bells have been to the Palestra in their lives, being there that late was certainly a unique experience. It was also a first for Brodeur, who joked that, "As much as I'm sure a lot of people would like to think I'm here till 3 a.m. getting shots up, I can confidently say this is the first time I've been here this late."
But even in the middle of the night, he felt the historic building come to life.
Said Brodeur: "It's still as amazing as it is during the day."
— Dave Zeitlin C'03