Vice Provost for Pipelines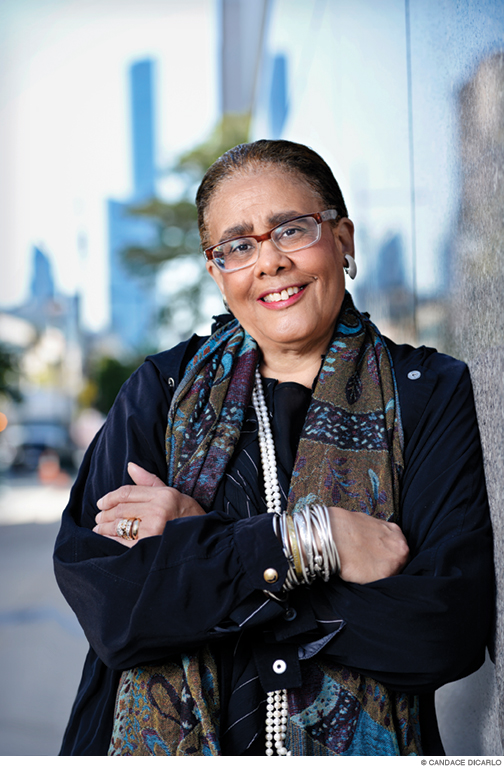 ---
Heading a new office of student engagement, Val Cade returns to where she started at Penn.
---
Valarie Swain-Cade McCoullum says she loved her 25 years serving as Penn's vice provost for university life. But she's much more interested in talking about her new job focused on student engagement—and especially about the Penn Rising Senior Summer Academy (PennRSSA), a free virtual college readiness program serving Philadelphia public and charter high school students that she and a small staff put together on the fly, supported by Penn's schools and a team of graduate assistants, that ran from July 6 to July 31.
Officially as of July 1 but in effect since shortly after the campus shut down last March because of the pandemic, Cade has been the provost's distinguished senior fellow of student engagement at the Graduate School of Education and vice provost for student engagement, charged with developing and implementing "a comprehensive strategy for Penn pipeline K–12, college preparatory, baccalaureate, and pre-doctoral access and preparation programs offered through Penn's 12 schools and academic divisions," in the words of Provost Wendell Pritchett Gr'97's February announcement. She'll also assess the effectiveness of existing programs across the University that serve K–12 populations, and she will teach at GSE. (She taught her first class last spring—"Modeling Resilient Institutional Leadership through Campus Crisis, Calamity, Calumny, and Catastrophe," which turned out to be a prescient title.)
But PennRSSA has taken up most of her attention, with the disruption caused by COVID-19 on the Philadelphia School District adding a measure of urgency to the program. "What we wanted to do is combat the inertia and the sadness and the lack of electronic access for thousands of students in the region, and particularly in this city," Cade says. With so much focus on getting the high school Class of 2020 through their senior year and graduated, she and Pritchett—both native Philadelphians—were particularly concerned that then-juniors could get sidetracked. "We thought maybe our strongest contribution could be to that rising class of kids who would be seniors in the fall."
Cade and her team sketched out a proposal to "give students high-quality instruction that assumed that every single student in the city has talents," she says. The program would set high expectations for participants, while recognizing the inequities in resources in schools across the district and other potential hardships students might face. It would be free of cost, and there would be no special entry requirements. "We weren't going to look at grades," she says. "We weren't going to look at test scores."
They settled on a two-track approach. Students could participate in a virtual "academy" offering four weeks of daily classes involving multiple instructors that combined real-time and recorded coursework in four subject areas: applied economics and finance, applying to college, career pathways, and storytelling. The content was developed in Penn's various schools, and graduate and professional students served as graduate assistants working with groups of 25–30 high schoolers.
For students unwilling or unable to commit to that, there was "OpenRSSA," which offered the online course "How to Apply to College," developed by Penn Admissions Dean Eric Furda C'87 and Sean Vereen GEd'00 GrEd'05, president of Steppingstone Scholars.
"We ended up with about 1,700 kids who applied," Cade says. "To our surprise, most of them wanted the four-week program." Some applicants turned out to be ineligible or opted for the OpenRSSA. Official enrollment in the academy was 787 students, according to program figures, two thirds from families with incomes under $50,000.
Plans call for continuing PennRSSA next summer—with a goal of recruiting 1,000 students for the academy and 3,000 OpenRSSA participants—and meanwhile continuing to provide support during this academic year. Looking ahead to next spring, Cade anticipates more programming around career options, but the first priority for fall is facilitating "their applications to college and also nurturing their sense of aspiration," she says. "I use 'aspirations' a lot," she adds, "because nobody talked to me about them—outside of my family, who were fabulous—as a kid growing up in this city."
Philadelphia's public schools opened virtually in September, and one looming uncertainty is how this year's version of remote learning will play out. (Average daily attendance for last spring's improvised effort was officially about 60 percent.)
"We still don't know what the rates of access of the kids are now for their new program this academic year," Cade explains. "So in addition to ongoing looks at different careers, in addition to a strong focus on getting as many of those kids as possible to apply to a post-secondary program, we also want to fill in wherever we think we might be able to on some of their actual coursework because we don't know what's happening. These are really, really tragically challenging times for so many families."
When Pritchett first approached Cade about this new role, his pitch was based on her history as a product of Philadelphia public schools—Masterman and Girls High—and the fact that the job offered the opportunity to concentrate on the kind of access efforts she's championed throughout her career.
"My new life really is where I started at Penn," says Cade, whose first job was assistant to the vice provost for university life starting in 1977. "I wrote the initial proposals for the access programs—Upward Bound, Veterans Upward Bound, all these programs that phenomenally are still existing on campus. I started PENNCAP [Penn College Achievement Program] for first-generation, low-income kids," she says. "I did a lot of work moving around the city and the region, recruiting kids who were underrepresented."
Cade recalls some initial pushback when she broached the idea of applying for Upward Bound funding to offer college prep work to students at Philly high schools. But she took her case directly to then-President Martin Meyerson Hon'70, who gave her the go-ahead.
In those days, Cade was sometimes the only woman, and very often the only person of color, in the room, she says, and few shared her experience of having been a first-generation, low-income college student. Pointing to the Penn Compact, she praises the "sea change" in the University's approach to issues of inclusion and diversity under President Amy Gutmann, "with the strong support of the Board of Trustees," and the "amazing provost," whom she's known since he was a PhD student here. "Everything that our University holds dear as the core tenets of our mission," she says, "are just absolutely resonant with me as some of the work that I had the privilege to try and start all these now many years ago." —JP