Let Them March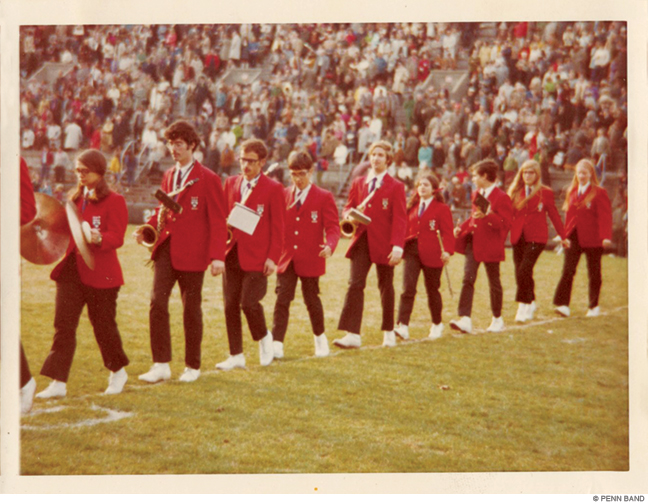 ---
After decades of superstition and pushback, the first group of women stepped onto Franklin Field with the Penn Band 50 years ago.
---
More than anything else, Lynne Leopold-Sharp CW'74 G'74 remembers the AstroTurf. It was new, having been installed the previous year in Franklin Field, which was then home to both the Penn football team and the NFL's Philadelphia Eagles. And it was hot. Scorching, actually. According to the Daily Pennsylvanian, groundskeeper Charlie Quigley touched a thermometer to the turf and it registered 124 degrees on that late September afternoon when the Quakers opened the 1970 season against Lehigh.
"I clearly remember the Penn Band in the stands acting Penn Band-ish," Leopold-Sharp says, noting that they were allowed to take off their wool blazers and have some fun during the game. Meanwhile, the members of Lehigh's band, wearing military-style uniforms with high collars, "broiled in the sun the whole game," she recalls.
She didn't know at the time—or maybe she just doesn't remember—that the game was memorable for more than just the unseasonably oppressive heat, or the record 84-yard punt return from Steve Solow C'73 D'77 GD'80 that highlighted a 24-0 Penn victory. It also marked the first time that women in the Penn Band were allowed to march onto Franklin Field.
"I don't think I knew until they told us that there hadn't been women in the marching band before," says Leopold-Sharp, then a freshman flutist who would go on to build her social circle around the Penn Band and even got to march with her younger sister, Anne Leopold Finn C'76.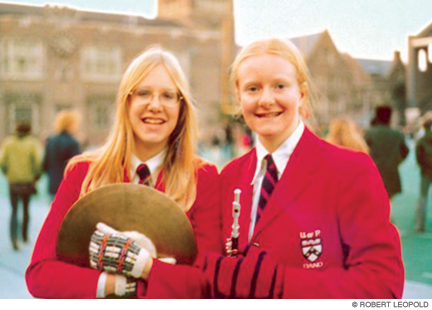 ---
Fifty years later, the Penn Band is honoring this overlooked slice of University history. In a project supported by a grant from the Trustees' Council of Penn Women (TCPW), students and alumni from the Penn Band have dug through newspaper archives and interviewed dozens of alumni to celebrate 50 years as a fully co-ed organization.
Initially, the Penn Band hoped to bring some of the key figures back to Franklin Field on the exact 50-year anniversary of that groundbreaking game versus Lehigh on September 26—but due to the cancellation of the football season because of COVID-19, that's been put on hold for a year. Until then, the band will share its research and photographs through social media, a glossy magazine-style publication, and a new display case on campus.
"It's an important chapter in student life here at Penn, at a time when people were becoming very aware of issues of equality and diversity in our community," says Penn Band assistant director Kushol Gupta C'97 Gr'03, noting the band's co-ed transition mirrored the timing of that of other campus groups, including the Kite and Key Society and the cheerleaders. "And it hasn't been celebrated yet. It's long overdue."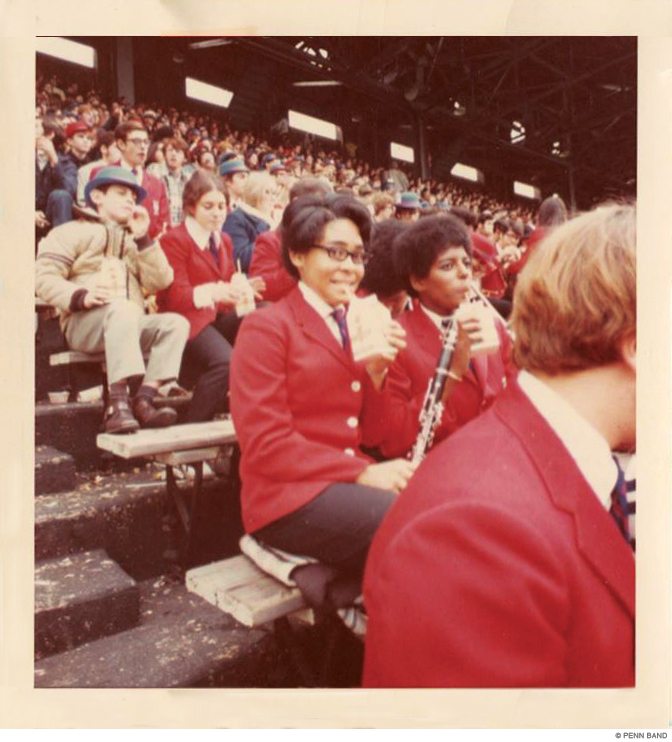 ---
As Penn Band researchers like Steve Birmingham C'91 GEx'04 have learned, the road to equality was filled with "some really horrible stuff." While other college bands began to accept women in the 1930s, the Penn Band—formed in 1897 as an all-male organization—resisted. In a 1937 letter to the Daily Pennsylvanian, "A Former Bandsman" wrote that accepting women would be "an unprecedented catastrophe," concluding that the proper course was to "let the women confine their musical talents to soup-cooling and soda-sucking, or at best to harassing the boyfriend with their piano-playing." Other DP articles in the 1940s and 1950s contained less blatant chauvinism, though band members were quoted as not wanting to upset tradition, even by adding "twirling drum majorettes" (which did happen briefly in the '50s until the University's Committee on Student Affairs, backed by the Women's Student Government Association, nixed that plan).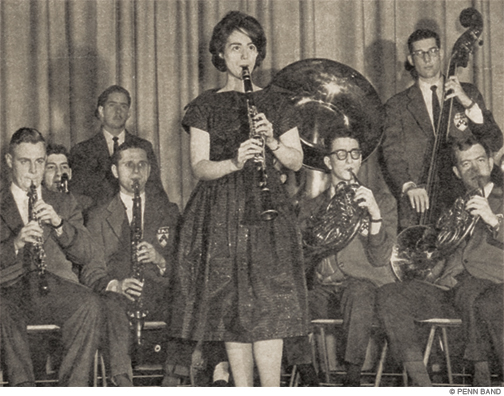 ---
It wasn't until a diminutive clarinetist named Louise Erlich Grafton CW'62 arrived on campus that things began to change. When she learned that the Penn Band didn't accept female musicians, she simply volunteered to be the organization's librarian—"a thankless, terrible, boring job," Birmingham says. But that entry point gave Grafton a way to "build some credibility and build relationships. And then she simply asked, 'Hey, can I play?' And they said, 'OK.'"
While Grafton was the first woman to perform in the Penn Band, she only played at concerts and was not allowed to wear a uniform or march on Franklin Field for the group's signature halftime shows. Still, her inclusion "opened the door for hundreds of other folks who otherwise wouldn't have been in the organization," Birmingham says. "Just on sheer force of will and character, she found a way to do an end-around and overcome the obstacles in front of her."
Although Grafton died in 2019, some of the Penn Band students and alumni have gotten to learn more about her through conversations with her daughter, Anna Grafton C'04. They include the current president of the Penn Band, Jessica Conway C'22, and a former one, Emily Elenio C'19, who says Grafton broke "an important glass ceiling" for herself and others. "Music was an integral part of her life and it was something she was really passionate about," Elenio says. "She was very persistent but also incredibly kind—and that's how she ended up being the first woman to play with the band."
A 1962 Philadelphia Inquirer article titled "She Can Play With the Penn Band, But She Can't March" details Grafton's contributions and also references an Ivy League rule that "apparently forbids [Franklin Field] to any woman, cheerleader or band member included." Elenio says she's spoken with students from the 1960s who believed such a rule existed, but she couldn't find any evidence of it. "I think it was a lie that was told by at least one person and then maybe believed and perpetuated," Birmingham says. Instead of any official rule, it seemed more likely that there was a longtime superstition that women on the field were believed to be bad luck.
At any rate, some of the women who joined the Penn Band after Grafton told Elenio that they didn't mind not being able to march on the field or put on a sweltering uniform. They still got to play music in the concert band, and some women were invited for performances at the 1964 New York World's Fair and 1967 Macy's Thanksgiving Day Parade. And while Birmingham notes there were still "some ugly undercurrents" through the 1960s, the Penn Band elected the first female member of its executive board, Marguerite Van Dyke Evans W'71, at the end of the decade in 1969, before voting to admit women into the marching band in April of 1970 for the following football season.
The march to equality was long and arguably remains incomplete. Peggy Schnarr Adams CW'73 recalls being physically barred from walking through a door before a 1970 game at Harvard. The Penn Band didn't have a female drum major until the 1990s, and there have always been far fewer women on the board than men.
But when Leopold-Sharp, Schnarr Adams, and seven other women took those symbolic first steps on Franklin Field on September 26, 1970, it represented a new chapter in the Penn Band's history—even if there was little fanfare to mark the occasion.
"If you look back through Daily Pennsylvanian articles from the '40s, '50s, and '60s, there was a ton of debate about this," Birmingham says. "And it almost seems anti-climactic to me when it happens in 1970 because there was so much buildup and then the change was made and everyone went, 'Eh, OK.' I was expecting people to say there was celebrating and cheering and dancing, but that was not the case."
Yet if any fan sweating through that 1970 Penn football opener listened closely, they would have heard these words proclaimed over the Franklin Field loudspeaker at halftime:
"Our theme today is new things on campus, as the band now bids a fond farewell to male chauvinism, and welcomes the liberated woman in the form of these girls who march with the band today … for the first time in its history."
—DZ