Uphill Battles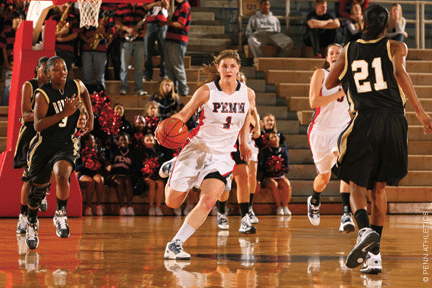 By David Porter | Renewal in its many guises formed the theme for the Penn men's and women's basketball teams in 2010-2011, on paper and on the court. Coming off seasons that set new lows, both teams resuscitated interest in their respective programs with their determined play; the challenge now will be to maintain that enthusiasm and build on it in seasons to come.
Twenty-four wins spread between two basketball teams is hardly a signature achievement unless it is considered that the number constitutes three times their combined number of victories from the previous season. Particularly for the women's team, 2010-2011 may represent a turning point for a program that, while not as successful over the decades as the men, had had its share of recent successes before a steep decline a year ago.
Coach Michael McLaughlin lived through that 2-26 embarrassment but refused to let it defeat him or change his message to his players: Keep striving to improve each day and the wins will come, a prophecy that was realized 11 times this season.
"Even winning two games I thought we had some success in that it was a positive environment," McLaughlin said. "That carried over into the offseason and the summer, and the returning players did a great job of showing the young players what we wanted to build for the future. This year kind of piggy-backed off some of those things."
It didn't hurt that one of those newcomers was Alyssa Baron, a talented guard from Miami who chose Penn over Princeton and wound up becoming the first freshman in history to lead the Ivy League in scoring, at 16.6 points per game. Her standout performance was a 38-point effort in a double-overtime loss at Harvard on February 5.
Baron carried so much of the load for the Quakers—no other player averaged double figures in scoring for the season—that she wound up with shin splints that were later determined to be stress fractures, necessitating a month's rest when the season ended.
Instead of putting last season completely out of sight and mind, McLaughlin decided to bring some of last year's seniors back to speak to this year's team about their experiences, a move that may have helped.
"They all talked about the hard work they put in, and that even though they didn't win many games they improved by the end of the year," Baron said. "It's never fun to lose, and this is probably one of the first times I've been on a team with a losing record. But it's a learning experience, and as long as you keep improving, it's something to build on."
The men more than doubled their 2009-2010 win total, but there was the inescapable feeling that this team had, at its core, the talent to do better than its 13-15 record. Inspired stretches (leading Kentucky by 11 points in the first half on January 3, pushing then-No. 12 Villanova in a 65-53 loss on December 8) and a four-game winning streak in late January were counterbalanced by an inability to close out crucial games against Harvard, Princeton, and Cornell, all overtime losses.
Nevertheless, excitement returned to the Palestra, along with fans—nearly 15 percent more than in 2009-2010, according to official statistics. The buzz is back, albeit tempered with more realistic expectations than in previous years.
"I think we did some good things, we showed some character throughout the season," coach Jerome Allen W'09 said. "I don't think the effort was ever a question. It's a process; Rome wasn't built in a day, and as long as you see a group ascending, regardless what pace it is, you can be happy about it, so to speak. We have a lot of work to do, but I'm enthused about the opportunity to roll up my sleeves and get to work."
The path ahead will have its hurdles, starting with the lack of a sophomore class, a residual effect of Glen Miller's three-years-plus tenure. If senior Tyler Bernardini returns as expected to join fellow guards, junior Zack Rosen and freshman Miles Cartwright, the Quakers will have by far the best backcourt in the league; Allen's challenge will be to field a frontcourt that augments their talents. At the center of it all will be Rosen, an All-Ivy first-teamer for the second straight season whose passion for the game is unparalleled.
"The offseason is when you really make the strides, and I'm looking forward to it. I love this thing. There's nothing like the summer in here," he said as he looked around the Palestra after the Quakers' season-ending loss to Princeton. "I'm a junkie. I'm looking forward to the process that it's going to take to hang another banner in here."
---
Owing to nothing more than an accident of birth, my undergraduate years at Penn were bookended by two of the most compelling sports stories I've encountered before or since: The Quakers' improbable ride to the men's basketball Final Four in 1979, and the football team's heart-pounding 23-21 win over Harvard in 1982 to clinch the school's first Ivy title in nearly 25 years. In an odd sort of symmetry, my time as the Gazette's sports columnist has followed a similar pattern, framed by 2002's Ivy basketball championship and the football team's second consecutive unbeaten Ivy season last fall. 
As I prepare to move on to other personal and professional challenges, I realize how truly fortunate I have been over these last nine years, both for having the opportunity to scribble my thoughts for such a dedicated and capable staff at the Gazette and for the pure joy of bringing to life the exploits of the young men and women who thrill and entertain us. The courtside seats don't hurt, either.
Why do sports continue to hold such sway over our daily lives? Among myriad responses, I would suggest that we project onto athletes our best selves, the daring, fearless, focused selves we yearn to be. When they surpass our expectations, as Penn's 1982 football team certainly did, they restore our faith in the possible. When they fall short, we eventually accept that their human frailties may not be so much different from our own.
When those athletes are still-unformed 18-to-21-year-olds, it becomes abundantly clear that, with the exception of the ban on postseason football, the Ivies get it right. All one need do is take a hard look at the mainstream college sports landscape to realize that, far from being quaint relics from a simpler time, the principles that continue to bind the eight schools together are the last defense against a world of skewed priorities and hard-wired cynicism. Here's hoping they continue to fight that good fight.

---
Dave Porter C'82 writes for the Associated Press.