Translating Success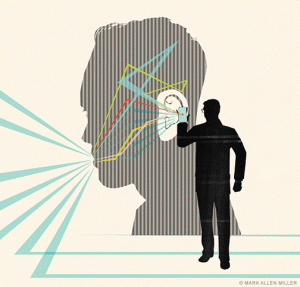 Class of '11 and '12 | Long before Ryan Frankel WG'12 and Kunal Sarda WG'11 appeared on national television as Shark Tank contestants, they were two Wharton MBA students, holed up in an empty Huntsman Hall classroom, tossing out ideas for a company that could change the world.
At some point during that first meeting, they got to talking about travel. Frankel told Sarda about the time his adventurous eating caught up with him in China. It was at the end of the annual Wharton Trek (student-run trips to different regions of the world), and he'd found himself inside a Beijing pharmacy, trying desperately to explain which medicine he needed to heal his ailing stomach.
It turned out Sarda had a similar story about losing his wallet in Paris. He'd wound up stranded and moneyless at 2 a.m., unable to pay his cab driver or find his hotel. Eventually he called up a friend who spoke the language and asked him to explain the situation to the angry French driver.
In short, "we connected over our individual travel horror stories," Frankel says, "and our mission became making sure that other travelers would never find themselves in situations where they couldn't communicate because of a language barrier."
Over many late-night meetings around campus, they slowly translated their experiences into VerbalizeIt, a "human-powered" Web service and mobile-phone app that connects panicked travelers directly to live interpreters.
They officially launched the company in June 2012 and one month later filmed a segment for the ABC reality series Shark Tank, in which budding entrepreneurs pitch their ideas to established investor "sharks" on national television. The episode aired this past May.
Standing before the sharks, the duo knew their sales numbers and profit margins by heart. They wore matching black T-shirts with the fledgling company's name and logo across the chest. They'd even memorized a few Spanish phrases and brought along Frankel's then-girlfriend— now fiancée—Erika to assist in some introductory patter.
"You press a button on your phone," Frankel told the sharks (in English), "and you're instantly connected to one of our live translators around the world. You tell that translator what you need, place the phone on speaker, [and] our translators communicate on your behalf."
"What's your background?" one investor asked. "Where did you come from?"
"We met in business school," Frankel said.
"What business school did you meet in?"
"Wharton."
The shark nodded slowly. "Wow."
After grilling Frankel and Sarda about the specifics of VerbalizeIt, three of the five sharks bit, then began to fight over who would land a piece of the company. Canadian financier Kevin O'Leary won out with his offer to pay $250,000 for a 20 percent stake.
Off-screen, however, no money or equity changed hands. Sarda and Frankel called O'Leary after the show and politely declined his offer. They were already enrolled in a start-up accelerator called TechStars at the time, and three months later they had raised $1.5 million in private equity funding.
But Frankel says his small-screen debut had other benefits. "That big national platform gave us some additional credibility," he says. "We had almost 25,000 new downloads [of the app] in a matter of weeks and our daily revenue went up substantially."
"The main comment we've gotten from people is how far we've come as a company in the year since that episode was filmed, and how fundamentally different we are now," Sarda adds.
VerbalizeIt has "evolved quite substantially from a pure travel app to a translation platform that also helps businesses take advantage of international opportunities," says Frankel. On top of its "on-demand" interpretation service, the company now offers text translation and audio transcriptions for companies and translation technology for software developers.
Sarda has assembled a network of 10,500 multi-lingual translators around the world, from stay-at-home moms to college students to professional interpreters. They cover 11 languages, with Spanish, Portuguese, Mandarin, and Japanese the most popular requests. The company has also partnered with big names in the international-communications field, including Skype and Rosetta Stone. (The latter offers its customers a limited number of free VerbalizeIt minutes to practice whichever language they're learning.)
In the past year, CEO Frankel and COO Sarda have evolved from solo entrepreneurs into head honchos of what is already a 12-person team. "We complement each other really well," Frankel says of the partnership.
As for the future, "I want the words VerbalizeIt and translation to become synonymous," Frankel says. "Anytime you are in need of breaking down a language barrier, I want the first thing you think of to be VerbalizeIt."
—Molly Petrilla C'06