Putting Long Island Wines on the Map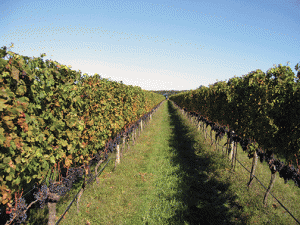 Class of '70 & '96 | It's hard to imagine a man more contented than Charles Massoud WG'70, now sitting on a small balcony overlooking his 103-acre Paumanok Vineyards on the North Fork of Long Island. It's a true family business, owned and operated by him, his wife Ursula, and his three adult sons—the oldest of whom, 41-year-old Kareem W'96, is Paumanok's head winemaker and marketer. And so Massoud, whowas born 70 years ago in Beirut, alternates between beaming at Kareem and the well-tended rows of vines.
When Massoud pere started growing wine on Long Island 30 years ago, he had no idea how his experiment would turn out. The North Fork wine region was in its pioneering infancy then, and few people took it seriously. Furthermore, Massoud's only winemaking experience had been during his years working for IBM in Kuwait, a dry country in every sense of the word.
"Colleagues of mine from IBM visit us here," says Massoud. "They say, 'We used to say Charles went crazy; he's planting a vineyard.' I tell them, 'I used to say the same thing!'"
Today Paumanok (the Native American name for Long Island) has "ended up exceeding our best expectations," says Massoud. The vineyard produces 12,000 cases a year, enough to make a "little bit of money," and Paumanok wines are served in such tony spots as Manhattan's Le Bernadin and the White House. (Daniel Shanks, the White House's director of food and beverage, recently told Kareem that the President enjoyed a bottle of the 2009 late-harvest Sauvignon Blanc with Mick Jagger and B.B. King during their 2012 visit. "They all started singing together apparently," says Kareem.)
In addition to winning numerous industry awards, Paumanok has been getting increasingly glowing reviews in the media. The Wine Advocate's David Schildknecht described the winery's 2005 red wines as "amazingly formidable," while The Wine Enthusiast recently named Paumanok a finalist for its top American Winery of the Year award.
"That's a huge accolade because there has never been a Long Island winery considered," says Massoud. "It was a very emotional moment for us."
Massoud has an explanation for why Paumanok has become such a positive brand: "They like the wines," he says. "And then there is the story…"
From an early age Massoud wanted to do something related to farming. His father kept a summer home outside of Beirut where he grew apples, peaches, pears, plums, and vegetables. After earning his MBA from Wharton in 1970, Massoud took a job in the marketing division of IBM in Lebanon, and when IBM transferred him to Kuwait, he began making wine—despite the fact that it's a desert country with prohibition laws. Most foreigners there made wine in their homes by fermenting grape juice purchased in supermarkets. But Massoud, who fancied himself a "purist," bought crates of grapes, crushed them with his knuckles, squeezed them, and let them ferment on the balcony. When friends would get together on the weekend and hold blind tastings to compare their homemade wines, the Massoud offerings frequently took top honors.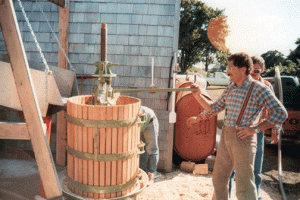 By then he had a winemaking partner in his wife Ursula, whom he had met when he was at Wharton and she was studying at Chestnut Hill College. Since Ursula's aunts and uncles owned a vineyard in Pfalz, a wine region of Germany well known for its Rieslings, she and Charles started visiting during the harvest and learning more about the process.
In 1979, by which time he and Ursula had moved their young family to Connecticut, Massoud read an article about Louisa and Alex Hargrave, a young couple who were growing wine on Long Island. "Intoxicated" with the idea of making wine in their backyard, the Massouds visited the Hargraves, talked to other grape growers, flew in Ursula's uncle from Germany to inspect the soils on Long Island, and hired a consultant. By 1983, they had closed on a 40-acre farm in Aquebogue, a stone's throw from the Hargraves' operation.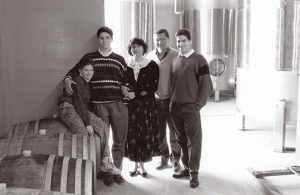 The next decade was tough for the entire family. For one thing, planting and tending vines is hard work. ("We thought it sucked because we had to come out here and work," says Kareem, a teenager at the time. "My joke was that in Stamford we had to mow the lawn just like our friends, but we had to mow the lawn twice and work in the vineyards.") Then there was the cost of buying land and winemaking equipment.
"If I put all the money it took to make this vineyard into a mutual fund," says Massoud, "I would probably have 10 times as much today."
But slowly they made progress. By 1991 Paumanok was selling its wine locally and through retailers in New York. The following year Massoud took an early retirement from IBM and moved the family to Long Island full time. By the end of the decade the vineyard was on stable financial footing.
In order to penetrate the huge New York market, the Massouds knew they had to make high-quality wines that could compete with the better offerings of Europe and California. They also had to make Long Island known as a wine region, which is why Massoud helped organize (and then served as president of) the Long Island Wine Council, a small group of vineyard owners who came together to "put Long Island on the map."
The Massouds "had the sensibility to understand the importance of pulling together and representing the region as a whole in a very positive way," remembers Louisa Hargrave.
Even today the Massouds still feel they have a battle to fight.
"After 30 years Long Island should have been proven and established as a strong, high-quality wine region," says Massoud. "It has and it has not at the same time, because you have these other guys who produce a lot of wine and the wine isn't that great. It's hard to make the case that Long Island is a very high-quality region because there is not enough that is high quality."
For years Massoud tried to convince his sons to get "real jobs," noting that for all the glowing reviews and the romantic lore associated with winegrowing, "the reality is that this doesn't produce a lot of money. And I didn't want them to short-change themselves financially. I wanted them to be successful and happy in their lives."
But according to Kareem, the sons inherited their parents' passion for working the land, and could not be convinced to take his father's well-meaning advice.
"I did private equity for two years," he says. "I just felt kind of bound and chained to my desk at the office, and I knew if I were back here I could be outdoors not just a few hours on the weekend. And the way I describe it is, when I left my job, my career in finance, I started doing what I already did on the weekends and vacations anyways. It's as if I retired 20, 30 years early, and that's still how I think."
Despite his initial disagreement, Massoud is now thankful for the choice his sons made.
"I guess we are lucky," he says. "My sons are more passionate than me, and I think they are going to take things further."
—Alyson Krueger C'07