Tiny Houses, Big Improvements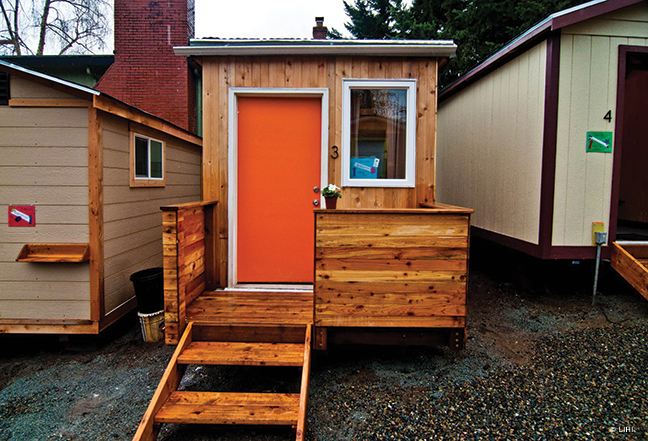 Class of '77 | Sometimes big challenges call for tiny solutions.
On Seattle's busy Aurora Avenue, 40 brightly colored wooden abodes—all of 96 square feet apiece—serve as a beachhead in the city's fight against homelessness. The Licton Springs Tiny House Village, which opened in April, is the third such residential cluster in town.
Sharon Lee C'77 is the founding executive director of the city's Low Income Housing Institute (LIHI), a nonprofit that owns and co-manages housing for low-income and homeless residents, and advocates for "just housing policies" at the local and national levels. There are an estimated 3,000 homeless people in Seattle (which declared a "homelessness state of emergency" in November 2015), and more than 550,000 across the United States. As a result, tiny-house villages for the homeless have sprung up in cities ranging from Syracuse, New York, to Los Angeles, to Detroit.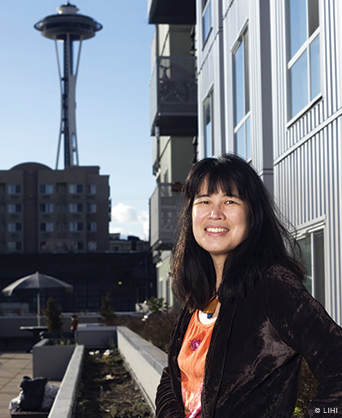 "With a tiny house, you can lock a door, you can keep your belongings safe, and you can keep yourself safe while you're sleeping," says Lee. "In a traditional shelter, you come in at night and have to leave in the morning. How can you go to a job, or go to school, if you have to lug all your stuff with you?"
Each tiny house is heated and has electricity. As envisioned, residents stay in the structures anywhere from a few weeks to a few months, enough time to access social services and subsidized housing or, ideally, gain full independence.
In January, the ACLU filed a class-action lawsuit against Seattle for shutting down unauthorized homeless encampments. Tiny-house villages, with the backing of city leaders, are offering incremental relief. But the challenges are myriad, with affordable housing limited in pricey cities like Seattle.
"We have a surge in tech jobs, and this influx of thousands of newcomers is putting pressure on the housing market, so we have huge rent increases," says Lee, who first developed an interest in affordable housing and anti-poverty programs while taking courses in Penn's Master of City Planning program. "If someone loses a job, they can't afford housing."
Tiny houses are proving to be a viable safety net. LIHI owns the land on which the Licton Springs village sits; each tiny home costs $2,200, with most of the structures paid for by donors and built by volunteers. Each village has a city-mandated community advisory committee made up of neighbors, businesses, and church groups that monitor village progress and offer feedback. The city pays LIHI to hire social workers to help residents once they're situated in a tiny home. Social workers help get kids enrolled in school and assist families in getting on waiting lists for permanent housing.
"Every couple of years, someone comes up with an architectural solution to homelessness," says Dennis Culhane, the Dana and Andrew Stone Chair in Social Policy at Penn, who has been studying homelessness for a quarter of a century. "This one seems to have much more wind in its sails than any other that has come along."
Previous interventions have included tents, truck containers, and mobile homes.
"There are some obvious issues that come up with respect to these approaches in general," Culhane says, "which is that ultimately there still has to be the political will to put the resources into the land acquisition and capital costs, whether it's tiny homes or other forms of construction."
LIHI owns and manages more than 2,000 affordable apartment units, and operates a trio of urban rest stops, which provide restrooms, laundry services, and showers for homeless people.
"We're on the front line, and our efforts are particularly innovative," Lee says. Her counterparts in Honolulu, which has one of the country's highest homeless rates, have looked to her as they develop their own urban rest stops.
Doing nothing, it turns out, comes at a price. The Department of Housing and Urban Development reports that each homeless person costs taxpayers up to $40,000 annually—expenses that include hospitalization and medical treatment, and law-enforcement costs. Several states have reported that providing residential interventions, be it tiny houses or permanent digs, can lead to taxpayer savings. Housing the unhouse-able has become the new mantra among policymakers and public health officials, who previously required addicts and the mentally ill to demonstrate that they were successfully addressing their challenges before receiving housing. So-called Housing First policies reject that line of thinking.
"What happened is the most vulnerable people who had the most severe addiction and mental-health problems could never access housing resources," says Culhane, who is also director of research for the National Center on Homelessness Among Veterans. "There were too many hurdles put in their way. Despite all of the efforts to address chronic homelessness, there continued to be a significant pool of very vulnerable people who were not able to succeed in housing programs.
"Certainly, it's a good thing to have more housing options," he says of tiny-house villages. "And it's a good thing to have mobilization of political will around housing development that is scalable and affordable to achieve reductions in homelessness."
Lee's efforts haven't gone unnoticed. "So many cities are tired of seeing homeless people on the street, living in their car or under bridges, or being exposed to the weather," she says. "We have a groundswell of support. We'll do a Facebook posting and say, 'OK, come by this Saturday and Sunday and help us build, paint, and tile more tiny houses.' We'll have 150 people show up."
No one has ever accused her of thinking small.
—Andrew Faught