Doing Miami Nice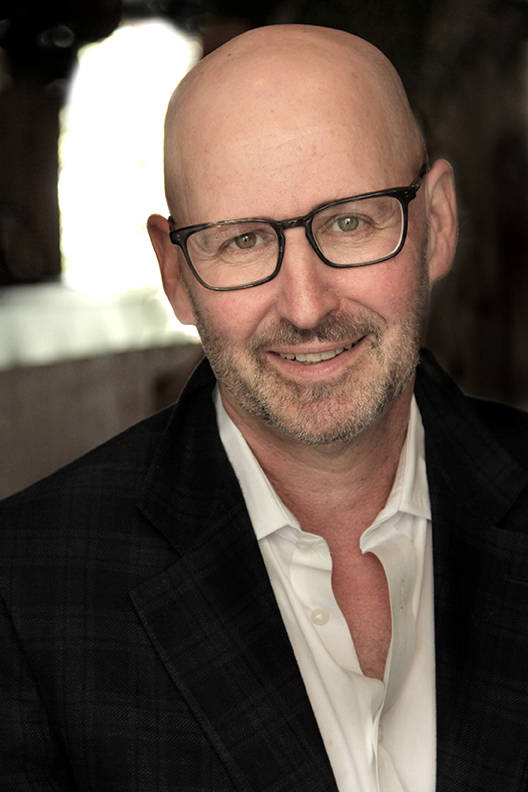 Class of '78 | Jonathan Plutzik WG'78 enters the new conservatory space of The Betsy, the Miami Beach hotel he's owned since 2005, and strides over to the bar to turn off the music.
"That's not Betsy music," he says, slightly peevishly, of the standard-issue electronic stuff the bartender has selected to keep himself company while he readies the still-empty room. "We don't play techno here," Plutzik continues. "We play Marvin Gaye, or Vic Damone, or opera."
The incident is just a tiny skirmish in the determined battle that Plutzik and the family members who share in the hotel operations with him—wife Lesley Goldwasser, son Zachary, sister Deborah Briggs—engage in daily. Their mission: to class up their end of Miami Beach.
As custodians of a Colonial-style building (built in 1942 and originally named The Betsy Ross) with columns and a porch that sits smack in the middle of the row of Art Deco structures that line Ocean Drive, these hoteliers already stand out. But beyond architectural distinction, they're striving for more. Instead of catering to the suntanned and the soused by proffering huge margaritas adorned with upside down bottles of Coors, they offer a packed calendar of discussion groups, jazz trios, and poetry readings.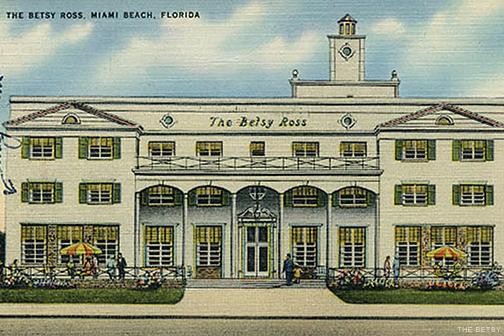 The arts run thick in the family blood—especially through the genetic conduit of Jonathan's late father, the poet Hyam Plutzik, a three-time finalist for the Pulitzer Prize. When he died at 50, his wife, Tanya, was left to raise their four kids, none of them yet teenagers, by herself. An immigrant who came to America from Belarus when she was a toddler, Tanya (now 98) kept Hyam's fire burning in the kids' hearts, according to Plutzik. But she was no slouch herself. She studied with psychologist Abraham Maslow, became a social worker, then ran a nonprofit. "She spent her entire life doing important stuff—but the first thing about her is that she was very, very left-leaning," says Plutzik. "She took the view, Money bad, creativity good. It's how we grew up."
In spite of that adage and his father's literary accomplishments, Jonathan was drawn to a career in finance, majoring in economics at Brandeis before coming to Wharton. An internship in the Philadelphia Treasurer's Office was "life-changing," he says. "I became smart about markets and business." He landed in New York, working for Credit Suisse/First Boston and doing deals to extract the Big Apple from its financial crisis in the wake of the "Ford to City: Drop Dead" era.
After 25 years as a Master of the Universe, though, the appeal of finance had faded. Plutzik had one of those Is this all there is? conversations with himself before he left the bank—and an even more charged one, sparked by a diagnosis of lymphoma, six months after departing.
"I was very lucky to have survived—but also to have had it," Plutzik says over lunch in The Betsy's lobby (soundtrack: "Blue Velvet," "Make Someone Happy"). "We're all going to be challenged, and often people do great things after those challenges."
He reaches over to a nearby table and proffers a copy of a 72-page-letter written by his father, which was recently published in book form as Letter from a Young Poet.
"It's about finding oneself," Plutzik says. "My father wrote it to his mentor, poet Odell Shepard, on December 11, 1941, right after the US entered the war, and in it he talks humorously, passionately, emotionally about Nazism, anti-Semitism, what's going on in his life, his personal struggles. It's a 29-year-old coming to the realization that life isn't linear, that it's a long, complicated arc."
Plutzik's life arc was enhanced by certain investment opportunities, which lured him and Goldwasser to Miami Beach. First, they helped some friends renovate a hotel and flipped it; then they bought The Betsy; and eventually they shut it down in order to put their own stamp on it.
"The great hotels of the world are often colonial—whether in Singapore, Hong Kong, or Nairobi," Plutzik says. "They share a certain design sensibility and a relaxed pace, and we wanted to embrace that."
So instead of the gleaming lacquer bars and signature terrazzo floors of Miami Beach's iconic Deco hotels, this one sports rattan furniture, plantation shutters, dark hardwood floors, jute rugs, zebra prints, and languorous ceiling fans. A few years ago Plutzik bought an adjacent hotel, renovated it, and this winter opened it as an addition to The Betsy. The project featured a public art component that includes a bridge that connects the two buildings and looks like a glowing orb from the outside, and a rail leading up to a new restaurant that's made of steel panels laser-cut with quotations from poets associated with the area.
The art commissions, the jazz concerts, a writer-in-residence program, and the salons—one night featured a discussion on the "comfort women" of World War II; the next morning a roundtable on women in architecture (both in celebration of Women's History Month)—are all part of the hotel's PACE program, which stands for Philanthropy, Arts, Culture, and Education. Plutzik's sister, Deborah, oversees much of the programming as well as a mailing list that's grown to about 66,000 area residents—many of them retirees who come to several events a week—and loyal Betsy guests from around the world. She joined the hotel's operations in 2008, after a long career in the nonprofit world.
"It's been a privilege to see Jonathan's vision for a unique hotel brand come to fruition," she says. "While we lost our father young, we both draw upon his legacy in our own work. It just feels right to place the arts front and center—it's what connects all of us to each other."
For Plutzik, the hotel's attempt at "elevating" Ocean Drive recognizes that "Miami Beach is much more than skinny women in bikinis—it's a crossroads of the world and a cultural capital. It's not like I ever spent a lot of time thinking, 'Oh, I want to run a hotel one day,'" he continues. "The impetus was more that there wasn't anything here that wasn't shiny and sparkly and noisy. It's given me great pleasure to create something based on my own choices and to see nice, thoughtful, interesting people coming together and having a good time talking to each other."
—JoAnn Greco