Thread Heads
In The Stories We Wear, the Penn Museum probes humanity's penchant for dressing up.
---
What do a melodramatic 19th-century Chinese opera star, a groundbreaking 20th-century contralto, and a flamboyant 21st-century drag queen have in common? For one thing, a penchant for show-stopping shades of red and fuchsia. Their lavish gowns—velvets and satin, sequins and lace—triumphantly introduce The Stories We Wear, on view at the Penn Museum through June 12. It's fitting that this sartorial trio appears in a section titled "Dressing to Perform" because, as the rest of the exhibits make clear, when we don clothes, we don roles.
The 250 pieces on view—ranging from clothing articles to jewelry, footwear, weaponry, and headgear drawn from the museum's collections—are assembled in character-driven displays to present representative outfits worn by about 20 different figures, some specific (like Marian Anderson and Eric Jaffe—the contralto and drag queen referenced above), some generic (that Chinese opera singer). In contrast to the museum's typical focus on a distinct geographic area or era, cocurator Sarah Linn Gr'18 says the "cross-cultural and diachronical aspects of this show were especially exciting" for her and fellow cocurators Lauren Ristvet, a Near Eastern specialist, and Jane Hickman G'00 Gr'08, an expert in ancient jewelry. Spanning 2,700 years and traversing the globe from Mongolia to Arizona, the exhibition explores the varied ways humans have dressed to work, play, conduct ceremonies, and rule over one another.
It was also conceived as a "fun and lighthearted" way to lure visitors back to the museum after a year of pandemic closures.
"We started looking at exhibitions we had done in the 1940s," explains Linn. "One was themed around vanity, centered on jewelry from the collection, and we wanted to do something similar—but flip the idea of adornment as 'frivolous' on its head. We're saying: let's take a look instead at how important it is, and how what we put on our bodies helps tell stories about who we are and the groups we belong to."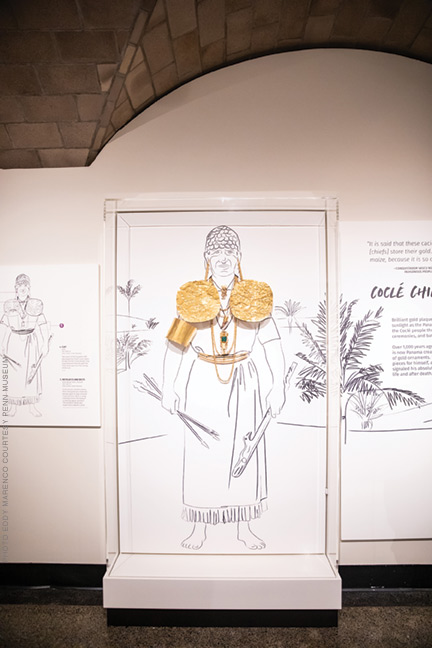 The oldest pieces on hand are a gold diadem and jewelry of a woman warrior from the 4th-century BCE Scythian tribe, a nomadic group that clustered around the Black Sea. "Archaeologists had assumed that the weapons found in burial sites in the area from that time must have come from men, but recent research and analysis of remains indicate that they belonged to women," explains Linn. "There's evidence that the Greeks may have created the Amazonian warrior [archetype] based on their interactions with these women from the Steppes." The Scythians were superb archers, she adds, and the exhibit includes some of their projectile points and blades, along with adornments like the gold leaf emblems that would have been sewn onto their weapons and burial clothing.
Objects such as these are most often showcased against sketches of the relevant personalities in action, an imaginative way to flesh out the personae. Elsewhere, a Buddhist priest's quite tangible silver and brass bell and wooden prayer beads nestle in his two roughly-illustrated hands. A Japanese samurai's steel sword and iron helmet are real, while pencil drawings stand in for the breast plate and leg armor such a figure would have worn. A loosely rendered Inka messenger speeds by in full profile—motion lines accentuating his legs and arms—wearing an ancient wool bag around his waist and leather sandals on his feet.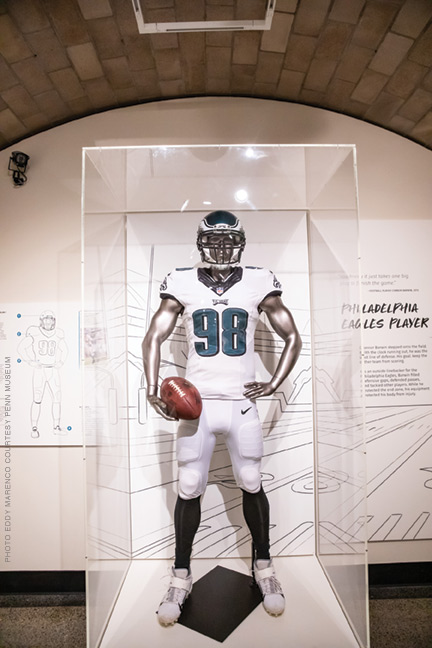 The design of such segments offers a fresh and frequently charming way to view costumery, but they don't pack the same punch as more traditional mannequins clad in actual garments—especially when it comes to well-known individuals. Take the uniform of Philadelphia Eagles #98, donated by linebacker Connor Barwin for the Work and Play section. Here in its full glory is the regalia of the helmet and jersey, the shoulder, chest, thigh, and knee padding, the Nike footwear and, even, the Wilson football.
At the other end of the corridor, a slinky Givenchy number from another local favorite, Princess Grace Kelly, holds court in the Rule section. Comprised of peachy silk studded with floral motifs crafted from real pieces of coral, "it's just incredible when you see it up close," observes Linn, who notes that the former actress wore the gown in the mid-1960s to a ball in Ireland.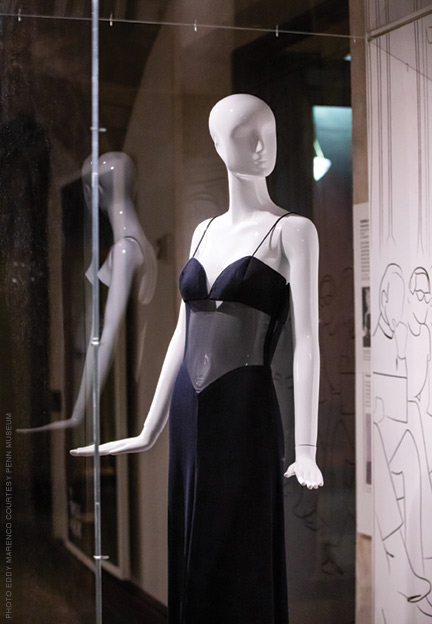 The history of fashion has plenty of room for serious scholarship, but it wouldn't be a costume exhibit without this sort of fun and froth. For evidence that erudition and entertainment can fit hand-in-glove, though, spend some time ogling the gold cuff, pendant, ear rods, belt and necklaces of what must have been one bedazzling Cocle chief from Panama, exhibited in the Rule section. Or consider the tattooing equipment used by Borneo's Kayan tribe, displayed in the Ceremony section. "It tells a story about group identity and offers clues to status, age, and class—whether married or unmarried women, enslaved people, or men who had accomplished something in battle," says Linn. "But at the same time, it's one of the more relatable elements that we tried to include in the show. We've even taken the opportunity to invite guests to digitally post images of their own tattoos."
Another chance for visitors to participate appears at the end of the exhibition in a side room that also includes a tribute to Philadelphia-born couturier James Galanos. Here, museumgoers are encouraged to stand before a full-length mirror, grab a piece of scrap paper and draw an image of what they are wearing. As might be expected from the culture of 21st-century Urbanite, there's a preponderance of jeans, graphic tees, and sneakers. Any dedicated follower of fashion will find themselves wondering what exactly this contemporary uniform says about today's men and women.
—JoAnn Greco