The Voice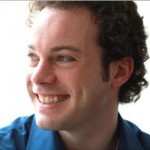 Listen closely to the next jewelry commercial you watch and you might hear Dan Taraborrelli C'01. "It's something I've always wanted to do," he says of working in the voiceover business. "I was always skilled at manipulating my voice and I love combining that talent with my acting ability."
The alumnus recently became the official voice for Reeds Jewelers and the announcer on Live Well Network's "We Owe What?". He frequently narrates explanation videos for web applications, and you can also hear him in this promo for the newly relocated Barnes Foundation:
[youtube height="HEIGHT" width="WIDTH"]http://youtu.be/zYtN32Jhd1E[/youtube]
There are quirkier gigs, too: Tarborrelli provides the voice for ATMs that buy back used cell phones and narrated a tale for iStoryTime—"an interactive storytelling experience delivered to the convenience of your mobile device."
A double major in communication and theatre arts at Penn, Taraborrelli began looking for voiceover work in late 2009. With help from a local voiceover veteran, he set up an in-home studio and began auditioning for commercials and other projects. "It just took off from there," he says. "I've been able to consistently find work and I get better with each gig."
Describing his voice as "clean, sincere, intelligent, youthful, warm, natural, friendly, real,"  he says practice is crucial. He spends his free time listening to commercials and web videos from top brands, attempting to replicate their vocal deliveries. He also does his best to avoid shouting or anything else that might endanger his instrument. "I actually had laryngitis a few weeks ago and it was absolutely awful not being able to speak," he says. "I drank a lot of tea with honey."
Though he's kept his day job providing software support to a consortium of 12 arts organizations, Taraborrelli says voiceover business has been "very good" so far. He may even go full-time in the future. "I'd love to voice a cartoon character for an animated series," he says, "or do anything for Google, as I'm also a tech geek."
---
To hear more of Dan's voice work, check out his demo site: http://www.voices.com/demos/danielmt.