The Reign of Hodges Begins at the Penn Museum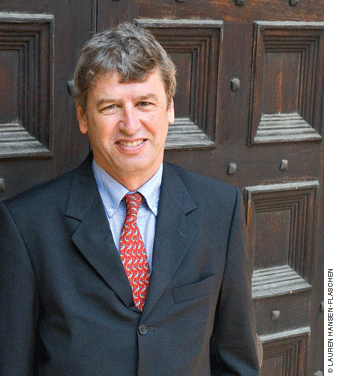 The University of Pennsylvania Museum of Archaeology and Anthropology has a new director: Dr. Richard Hodges, whose most recent post was director of the Institute of World Archaeology at the University of East Anglia in the United Kingdom. He took office on October 1.
"This is a great museum with a great history," Hodges told the Gazette in an email interview in September. "It is surely one of the most distinguished positions in world archaeology."
The 55-year-old Hodges, who earned his Ph.D. from Southampton University in 1977 with a thesis on eighth- and ninth-century ceramics, had served as director of the British School in Rome from 1988 to 1995. There he created new galleries for archaeology and contemporary art, modernized the physical plant, and reformed the school's charter.
A classical and early medieval archaeologist specializing in western Europe, Hodges is the author of 10 books, including Towns and Trade in the Age of Charlemagne and Wall-to-Wall History: The Story of Roystone Grange. He was a professor of archaeology at Sheffield University from 1976 to 1995 (when he was named an Officer of the British Empire), and over the last decade has been deeply involved in archaeological and cultural-heritage projects in Albania, including the creation of a large cultural-heritage institute in Tirana and an archaeological museum in Butrint.
Penn President Amy Gutmann called Hodges' appointment a "proud moment" for the Museum and the University, as well as "anyone who treasures the art and culture of the world's civilizations."
In a 1997 interview with British Archaeology magazine, Hodges described himself as "good at making things happen, and getting them in place," before moving on. Given that his predecessor, Dr. Richard Levanthal, ended up serving for less than 2 years ["Gazetteer," Jan|Feb 2007], we asked him how long a director should ideally stay on, and if he was willing to meet that ideal.
"Most positions require time to learn the ropes, then have a compelling period once learnt," he responded. "I propose 5-7 years in office is a good period." While it's "a little early" to say much about any possible new directions for the Museum, Hodges allowed that he was "excited about the proposed master plan and very much hope[s] we can launch this in the next two years."
Since he had served a stint as head of the Prince of Wales' Institute of Architecture in London (and once told an interviewer that architecture is "far more important than archaeology"), we asked him for his thoughts on the architecture of the Penn Museum.
"The Penn Museum is great architecture—just look at its lecture hall [the Harrison Auditorium]," he responded. "In many ways the building shaped the great tradition of archaeology and anthropology here. So it now needs a 21st-century architectural dimension to take the Museum onwards."
Hodges pointed to places like the Fitzwilliam and Ashmolean museums at Cambridge and Oxford universities as examples of older museums that are "being adapted to new audiences inside and outside their universities," and suggested that there "may be lessons here for Penn as it aims to serve its communities in a fast-changing world."
"Such great collections merit being better known and on the world map!"
—S.H.