The Fragrance of Ink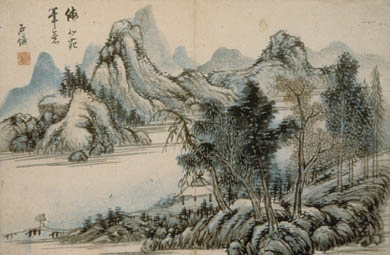 ---
An exhibition at the Arthur Ross Gallery—part of the Gallery's year-long "Celebration of Asia"—highlights Korean "literati" paintings from the Choson Dynasty.
By Dilys Pegler Winegrad
---
BETWEEN OCTOBER 18, 1997 and January 18, 1998, Korean screens, scrolls, and album leaves dating from the mid-17th to early-20th centuries will be on display in an exhibition of brush-and-ink paintings at Penn's Arthur Ross Gallery. Fans from this rare collection loaned by Korea University Museum will be shown concurrently at the University of Pennsylvania Museum of Archaeology and Anthropology. The exhibition is the fourth in the Gallery's year-long "Celebration of Asia," which has featured paintings, sculpture, and ceramics from across Asia, the works of contemporary South Asian architects, and exhibitions by both students and established artists of the region.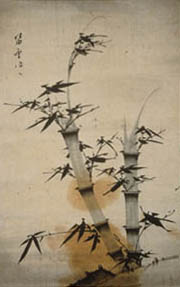 Literati painting was practiced by gentleman scholars steeped in the "Three Perfections" — calligraphy, poetry, and painting. Their works were distinct from those produced by either artisans or academicians, although professional painters of loweror "middle people" status also contributed to Choson literati painting. In China, where both the tradition and painting styles originated, scholar-artists customarily held positions in government; painting was a form of self-cultivation and relaxation, removed from the rigors of Confucian study and government service. The materials of the painter were identical to those of the calligrapher: brush and ink, paper and silk. To these, the artist added pale washes, and, on occasion, rich, opaque colors. Poems or descriptive text might be incorporated into the image, and these further enhanced the literatus ideal.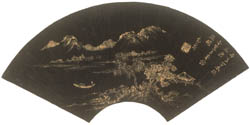 A period of peace and economic development during the eighteenth century was accompanied by a flowering of Korean art, which turned to local landscapes and every-day activities for its subject matter. While continuing to allude to the Chinese masters according to established custom, individual Korean artists — a large number of whose works are represented in the current exhibition — also adapted traditional methods of painting to create an independent style of expression.
Among the original currents, which appear in the representative selection of ink paintings are, fine examples of the "true view" style of landscape painting that developed in late 18th-century Korea. Another development in 18th-century Korea was the appearance of genre and folk paintings depicting scenes from common life. Professional and scholar painters alike produced albums on humorous subjects.
In addition to charming depictions of insects and flowers, a large number of paintings — on fans, screens, scrolls, or album leaves — are devoted to portraying the "Four Gentlemen," the name conferred on the four species of plant most frequently represented by literati painters: bamboo, chrysanthemum, orchid, and plum.