The Energizer Dean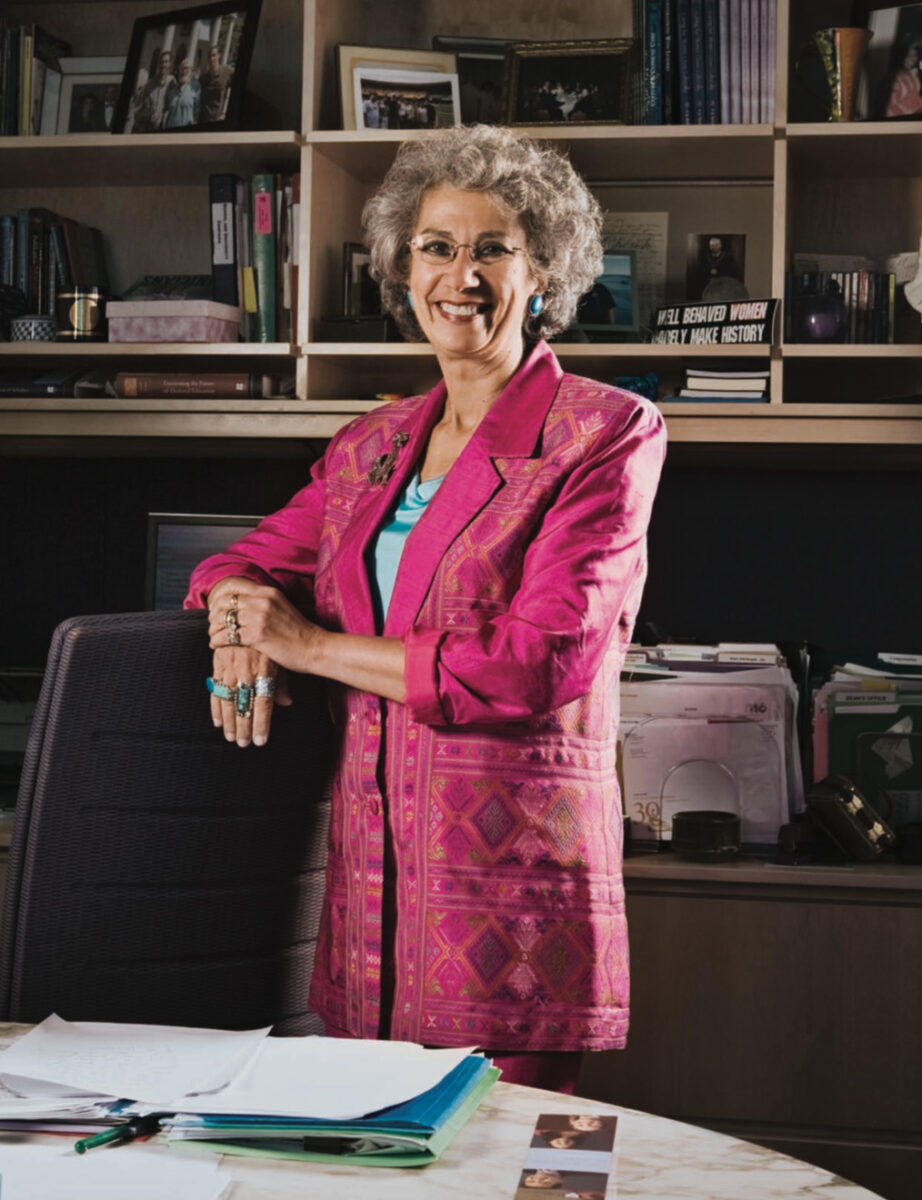 From her distinctive outfits to her influential research to her indefatigable efforts to raise the profile of Penn's School of Nursing, Dean Afaf Meleis commands attention—provided you can keep up with her.
By Caroline Tiger |Photograph by Chris Crisman
---
At several minutes past eight on a September morning, a dozen staffers from the School of Nursing await the dean's arrival in a private dining room at the Inn at Penn. None of them know why Dean Afaf Meleis has invited them to attend this staff breakfast, but instead of pondering that question they use this time to mull over the dean's legendarily bottomless energy reserves.
"What's her secret?" asks a woman who recently switched over to a job at the school from the College of Arts and Sciences.
"You should see her walk," says a longtime nursing-school veteran. "She walks like she's running a marathon. It's impossible to keep up with her."
"So much energy," says the third, shaking her head.
"And she doesn't drink any coffee or tea, just water," says the veteran. "Just hot water. Watch what she drinks."
The term boundless energy tends to come up very early on when people are talking about Meleis. U.S. Court of Appeals Judge and Pennsylvania First Lady Marjorie O. "Midge" Rendell CW'69, who recently stepped down as chair of the School of Nursing's board of overseers, nicknamed her friend the Energizer Dean.
"She calls from cabs, from airports, from her cellphone while she's walking across campus on her way to a meeting," Rendell says. "She doesn't miss an opportunity. The woman is always on the go."
If the Energizer Dean is known for not breaking step, she's also known for marching to the tune of her own drum. Her individuality is expressed concisely on a bumper sticker in her office that reads, "Well-behaved women rarely make history." It's also made clear by the many tales of moxie that illustrate her life story and by her irrepressible sense of style. Rosemarie Greco, Rendell's successor as chair of the nursing school's board of overseers, who directs Pennsylvania's Office of Health Care Reform, remembers the first time she met Meleis: "This extroverted constellation of energy, enthusiasm, warmth, and intelligence entered the room—along with this dynamic purple outfit."
Meleis's favorite color is purple, but this morning the 66-year-old dean is a blur of yellow and pink, as she swooshes into the dining room in a yellow suit with a pink blouse and matching scarf and hat. Gold rings and gemstones are stacked on her fingers, and a pink-and-green flower pin sparkles from her lapel. Her lipstick is a shade of pink similar to her fishnet stockings. Walking across campus in her bold ensembles, Meleis is a kind of living symbol for one of the goals she set when she arrived in Philadelphia in 2002: to raise the visibility of the School of Nursing.
The size of the faculty has increased 36 percent since 2003, and its impressive scholarly productivity is reflected in a recent National Institute of Nursing Research report in which fully five of a total of 10 listed "Landmark Nursing Research Studies" are under way at Penn. Applications to the school have tripled, and their quality has increased markedly. The acceptance rate for the nursing school's Class of 2011 was 26 percent.
Even the school's 1970s-era headquarters has undergone a long-overdue makeover. That building behind the Quad that's always been really hard to find is now much easier to locate since a hole was blasted through the biomedical library in order to extend the 36th Street Walkway next to the Quad directly to it. Rededicated as Claire M. Fagin Hall, in honor of the longtime nursing dean and interim Penn president in 1993-94 (now an emeritus professor), the building has an entrance that faces the heart of campus and beckons with a glass facade and lots of greenery, plus a lobby and mezzanine that buzzes with activity around its Internet cafe, and even boasts a rainwater-recycling roof. So far the school is ahead of its goals in the $60 million capital campaign it launched in 2006.
"Before she came," says Greco, "the school was just too quiet."
It's safe to say that era is over.
---
Before Meleis made her move to Penn, the world-renowned medical sociologist was rounding 34 years at the University of California at San Francisco. There she'd done various administrative stints—including chairing the status-for-women committee and acting as assistant dean for academic programs—on top of teaching and mentoring hundreds of students and conducting influential research on women's health. Back then, she was happy to have her administrative roles behind her and to embark on a phase of research and scholarship—specifically a study with 10 colleagues around the world on why doctors and nurses routinely miss symptoms of heart conditions in women.
"I was not going to be a dean again," she recalls from behind her desk in her very purple office in Fagin Hall. "I said, 'I will never leave San Francisco. I will never leave UCSF.'" But she came to Philadelphia and she fell in love with the University, the School of Nursing, and the city.
Meleis has never been afraid of change, possibly because of the inspiration offered by her mother, whom she saw make a very major one when Meleis was only 11. That's when the World Health Organization offered her mother, a nurse and educator in Alexandria, Egypt, a scholarship to Syracuse University. New York state was a long way from Alexandria and Afaf's younger sister was only two years old at the time. "No one thought that she would leave her family and go," says Meleis, who remembers watching her mother cry as she departed for Syracuse. "But she did, because it was really important for her to develop the nursing-education system in Egypt." When she returned, Meleis' mother established a master's degree program in nursing at the University of Alexandria and a program at the University of Cairo for nurses to earn their PhDs in education. She was also the first Egyptian nurse to obtain that degree. Even as a child, seeing what her mother was willing to sacrifice to advance nursing in her country, Meleis recalls, "I thought, 'This must be a fantastic profession.'"
To be fearless in support of your passion wasn't the only lesson Meleis learned at a tender age. When she finished high school at age 15 and was told she couldn't enter Alexandria University because the minimum age was 16, she pleaded with the school's chancellor. Even at 15, she was persuasive. A few days after their meeting, she learned that the chancellor had decided to let her matriculate since her age, according to the Arabic calendar, was 16. She offers this as an early lesson in the importance of creative problem-solving.
Meleis tested those skills again after she came to UCLA in 1962 on a Rockefeller scholarship to earn a master's of science in nursing and decided to stay on to pursue a master's in sociology and a PhD in medical and social psychology. (Advanced degrees in nursing science didn't exist then.) She was engaged to Mahmoud Meleis, a nuclear engineer who was still in Alexandria, and the government, intent on retaining the country's brightest youth, wouldn't let him leave. It had been two years since the couple had seen one another. One night, in total frustration, Afaf sat down and wrote a long letter to Egyptian President Gamal Abdel Nasser. Then she forgot about it. She didn't tell Mahmoud. One day he was called into his boss's office and handed a letter that looked like it was written by his fiancée. It was Afaf's letter, with a signed note from Nasser, who had written, "Could you please take care of this and let him out of the country?" Soon after, Mahmoud joined her in California.
After she and her husband both completed their PhDs at UCLA, she began her long career at UCSF. In addition to finding her niche there as a scholar and scientist focusing on global women's health, she honed her leadership skills.
Dr. Sandra Weiss, now a professor at UCSF's nursing school and then a doctoral student, remembers meeting the young assistant dean back in 1972. She recalls first being struck by "this gorgeous woman," she says, "dressed to the hilt in a miniskirt and boots," who walked into her doctoral seminar with UCSF's chancellor in tow. "It was so typical of Afaf," says Weiss. "She wanted him to meet some doctoral students. She thought the most important people at UCSF were the students." She was always questioning authority, always questioning the university president in her role as a leader of the academic senate, Weiss recalls. "She has done that throughout her life," she says. "For students, for faculty, for immigrants, for vulnerable populations. She has always been there making sure everyone has a voice."
At UCSF, Meleis found herself at the center of a dispute about the boundaries of establishing advanced degrees in nursing science. In the United States, nursing education has historically focused on clinical training and hands-on apprenticeship. This began to change during her early days in California. In 1965 UCSF became the first U.S. school to offer a doctor of nursing-science degree, and in 1984 its Doctor of Philosophy in Nursing was one of the country's inaugural three PhD programs in the field.
"When we went from having a doctor of nursing-science program to a PhD program," says Weiss, "I remember there was a lot of questioning from other disciplines—do we really need a nursing PhD? I remember Afaf talking with physiologists and physicians about the basis of the science in nursing. She's been a force throughout the country as doctoral programs in nursing became established."
---
It was at UCSF that Meleis developed Transition Theory, a now widely applied framework for assessing how to care most effectively for patients and their families. The first edition of her book on the topic, Theoretical Nursing: Development and Progress, was published in 1985. Now in its fourth edition, it's used throughout the world. Scores of scholars hang their studies on the Transition framework that Meleis and her many mentees have used to investigate scenarios as varied as African-American women's transition to motherhood, low-income Korean immigrant women in menopausal transition, and the roles of family caregivers looking after loved ones receiving chemotherapy.
The example she gives to illustrate the theory is one of a new mother for whom the healthcare system defines the "postpartum period" as six weeks. "Why is it six weeks?" she asks. "Because that's when the uterus goes back to normal. All the reproductive organs are back in place—so we discharge people at six weeks. But that's only the physiological point of view." Studies using the Transition framework have found that the shift to motherhood actually takes closer to nine months—that's when a mother understands her baby's clues and cues. That's the length of time it takes for a woman to grow comfortably into her new role.
In the American healthcare system, doctors schedule a postpartum visit with a new mom six weeks out and then she's on her own until she chooses to check in. "If we take a Transition framework," says Meleis, "then we see we need to bring the women in again at three months." Research demonstrates that women who are supported in some way until nine months postpartum are less abusive to their babies and to their own bodies, because they are happier and more satisfied as wives and mothers.
Meleis applies the Transition framework every year to help new students at the School of Nursing. Like new moms, they're assuming unfamiliar identities. There are ways to help them understand and adapt healthfully to their untried roles. These include providing a support network, which the school does in the form of a peer counselor; and identifying the point at which their self-doubt and regret is peaking. For new students, says Meleis, this is a month after arriving at school. This is when she throws the new students a pizza party.
"This is when you say [to the new students],'Okay, you probably think at this point that you shouldn't have been admitted, that everybody is smart but you are not smart,'" she explains. By having their fears named, the students are assured they're not alone. Then Meleis reassures them further by telling them they're doing a great job and that this transitional period won't last forever. "This is what the research in transitions in healthcare is all about," she says, "to identify those critical points for which patients and family need intervention from nurses."
The "Campus Conversation" dinner parties that the dean hosts at her Delancey Street home are another ritual that grew from her research. While studying populations of women in work environments in San Francisco and in Egypt, she saw that a major factor in their satisfaction was whether they were making valued connections in the workplace. At Penn she forges these connections by inviting 12 faculty from across Penn's schools and departments who have a shared interest in a topic such as globalization or violence for a roundtable discussion over dinner. In the course of a few hours, they get to know one another's perspectives and work. Even though they're on the same campus and their scholarship overlaps, most have never met.
Meleis always includes faculty from the School of Nursing. It's her ulterior motive. "I think people possibly didn't know so much about the fantastic productivity of this faculty and how they're involved in so many initiatives," she says, "And that we have faculty with different expertise—for example, bioethicists. This gives them a platform to showcase that expertise."
---
The monthly staff breakfastat the Inn at Penn also builds a sense of community and doubles as an efficient method for Meleis to keep her ear to the ground. This morning's group is here, they soon find out, because they have two things in common: their birthday month and the fact that they haven't recently attended a staff breakfast. Many are new to the school. Others have been working there many years. There are staffers from LIFE (Living Independently for Elders), the healthcare program for seniors in West Philadelphia run by the School of Nursing; from alumni affairs and development; from communications; and from the Office of Global Health Affairs, which has flourished beneath Meleis's global worldview.
Once everyone has returned from the buffet with French toast and omelettes, Meleis pours herself a cup of hot water and announces her two rules: Have fun, and what's said in this room stays in this room. She starts the dialogue with a question—what do you like most and least about your jobs?
After a long pause, a young woman offers that, as a new employee, she feels torn between the old and new regimes represented in her department. The dean offers some perspective. "How do we preserve what's really good that we once had and bring it into a new era?" she says. "Change isn't easy, but it's for a reason—so stay with your positive outlook because what was there wasn't working. We don't change things because they're working."
Others dive in, and a theme soon emerges: What people like least is that there are only 24 hours in a day. To which the Engergizer Dean has an answer:
"There's no such thing as time management, only energy management. Time is finite but energy is infinite," she explains. "So if you do something that energizes you, that will expand your time. If you do the things you're passionate about—if you do the things that have meaning—then you are expanding your energy."
The things that have meaning for Meleis continue to evolve even as the woman at the center of the whirlwind remains constant. This morning she is particularly passionate about: her spinning classes, the 40th birthday of one of her two sons, the nursing school's new partnership with the University of Botswana, the fact that the staffer sitting to her right has begun biking to work. Most of all, she is passionate about relationships. She sparkles even more brightly than her lapel pin when she speaks of the mentees she ran into while traveling over the summer. In Jerusalem she gave the keynote address at the very first International Conference in Nursing Science. Afterward, she was in Botswana for the International Council on Women's Health Issues conference on gender-based violence and HIV risk among adolescent girls. (She serves as Council General of the ICOWH.)
"I have mentees that came from around the world to these places, and I looked around and I said, 'I think I have really accomplished something,'" she says. "They are in leadership positions. They are a voice, they are strong, and they are making a difference not only in their country, but around the world."
Her longtime colleague and friend Weiss sees no real difference in her former mentor now that she has returned to the role of authority figure. Just as when Meleis was a professor at UCSF, she still considers the students to be her important constituents. They're the ones who become nurses, who influence healthcare policy, and who have the potential to provide the highest quality of care for patients. Even with the countless other activities she sees to on a daily basis—fundraising, Dean's teas, facilitating faculty networking—the students remain in her sights.
"She's still applying the activist spirit to everything she does," says Weiss. "Now she's just fighting for the school the same way she's fought for innumerable other causes."
---
Caroline Tiger C'96 is a freelance writer in Philadelphia.