Taking the Trouble to See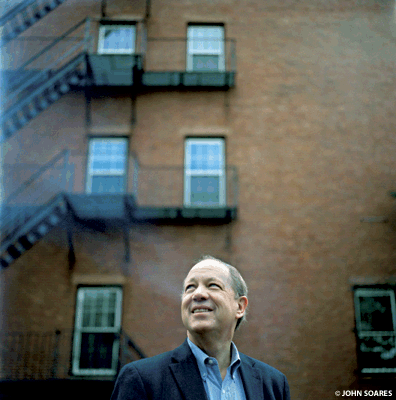 Bill Shore's candidates went 0-for-3 in presidential races, but with Share Our Strength the former political operative launched a unique campaign to fight hunger and created a new model for community service.
By Lewis I. Rice | Photography by John Soares
---
A few years ago, after reading a New York Times story about a photo exhibit that documented the fight to eradicate polio, William Shore C'77 (better known as Bill or Billy) hopped a train in Washington and traveled to New York for the express purpose of seeing the 38 photographs in the exhibit. His interest was more inspirational than aesthetic.
Shore is founder and executive director of both the nonprofit organization Share Our Strength, which has raised $180 million to fight poverty and hunger in its two decades of existence, and its for-profit subsidiary, Community Wealth Ventures. While the images of children receiving oral vaccine in places like India, Somalia, and the Congo didn't relate directly to his organization's mission of ending hunger, for Shore the photos chronicling a world on the brink of eliminating the scourge of polio meant that the work he has focused on for more than 20 years will someday come to a happy end.
Today the Washington-based Share Our Strength employs a staff of 40 that coordinates thousands of volunteers throughout the United States. A grantmaking process allows direct-service and advocacy organizations—such as food banks, school breakfast programs, children's hospitals treating malnutrition, and advocacy organizations seeking to change public policy—to apply for funding. Share Our Strength supports more than 200 nonprofits a year, including the Boston Food Bank, the Chicago Food Depository, Bread for the World, the Food Research and Action Committee, and Project Mercy.
"Images lead to action," Shore wrote in a letter about his trip to the gallery where the pictures were on exhibit. "Some photos cause funds to be raised. Others might lead to Congressional hearings. Eventually public consensus builds, presidents speak, laws are passed. And the world changes. Our vision of ending hunger is no less ambitious. It is no less complex. But it is every bit as achievable. Not this year, or next, and perhaps not during our lifetime. But when it happens it will be because enough of us worked to create both awareness and wealth, because enough of us took the trouble to see, and because we understood that the role each of us played was critical to the final outcome."
Shore travels frequently, giving more than 100 speeches a year, and he often writes letters like this one to his staff and board of directors at Share Our Strength. The letters are an important part of his work. (Many of them are available on the organization's website, shareourstrength.org.)
---
"The reason people are drawn to him is that he brings things back to everybody's understanding," says his sister, Debbie Shore, Share Our Strength's associate director. "He could visit monuments or war sites or an art gallery and he can appropriately and perfectly tie it into the work we do. That's his brilliance. That's what keeps me so inspired by him."
Besides inspiring his staff, Shore's letters have served as the basis for three books on social values and civic responsibility. The latest, The Light of Conscience, published last year, centers on decisions and their consequences—moments of choice that can change a person's life and the lives of countless others: A white ballplayer from the South, "Pee Wee" Reese, who chooses to put his arm around his black teammate, Jackie Robinson, to quell the racial invectives shouted from the stands. A doctor who picks up a fallen nurse infected with the Ebola virus and contracts the deadly disease in the process.
Or, in Shore's own case, a political operative who learns about a famine in Africa and decides to do something about it. In 1984, Shore read a story in The Washington Post reporting that 200,000 people would die that summer in Ethiopia. He had just finished working on the presidential campaign of Colorado Senator Gary Hart, for whom he'd begun working shortly after his Penn graduation, starting as an intern and ultimately rising to legislative director and political director. Prompted by the news story, Shore traveled to Ethiopia and saw people starving because the cattle they relied upon for sustenance had died in a drought. At first, he considered what his boss should say and what legislation he could introduce to help the situation. But then, he says, he began to think for himself about getting more people involved than just those in the Capitol building. He shared his idea with his sister Debbie, who had also worked on the Hart campaign, and together they started a different kind of nonprofit in Share Our Strength, one that would generate its own money to help the hungry without government or foundation support.
"We had to find our competitive niche and say we're not going to create something big and high-profile; we're going to create a long-term lasting institution and one that will be self-sustaining and a reliable source of funding," says Shore. "We didn't just want to fight for our share of the charitable pie. We wanted to make it grow. We had to find ways to create wealth. That was what was guiding our thinking."
Shore solicited chefs to cook for fundraisers, with the proceeds channeled to food banks and anti-hunger programs. In 1988, he established Taste of the Nation, an annual event in which chefs in cities around the country contribute 100 percent of ticket costs from food and wine tastings. Other programs include the Great American Bake Sale, begun in 2000, for which people hold bake sales in the summer and donate the proceeds to Share Our Strength; and Operation Frontline, a nutrition-education initiative started in 1993. About 18 percent of the organization's funding goes toward international development via organizations that apply annually for the funds raised through Taste of the Nation, the Great American Bake Sale, and other revenue-generating platforms.
Shore also established a for-profit consulting firm called Community Wealth Ventures, an idea that sprung out of his first book, Revolution of the Heart (his second book, The Cathedral Within, focuses on people who have improved their communities). Established in 1997, the firm educates nonprofits on how to generate their own money and advises corporations on investing in their communities. Shore cites one client, a childcare organization based in Washington, that expanded its existing food-service operation to schools and assisted-living centers, creating revenues of about $400,000 a year.
In fact, he says he finds the wealth spreading everywhere he goes. At a gathering in Minneapolis, a man who ran a family-service organization told Shore he had heard him speak about community wealth several years before. He then went into real-estate development to support his nonprofit, a venture that amasses 20 percent of its budget. Moments later, a woman Shore didn't recognize hugged him in an elevator. Inspired by Share Our Strength, she told him, the woman started a small beer company; 100 percent of the profits go to a program benefiting the working poor and at-risk youth.
"I think most people are looking to be challenged to think differently, to be inspired in terms of finding a connection between what they do and how to have meaning in their life," Shore says.
A major source of wealth for Share Our Strength is through corporate partnerships. For example, in a highly publicized campaign that ran from 1993-96, American Express donated three cents to Share Our Strength every time a consumer used its credit card, for a total of $21 million. AmEx, which continues to sponsor Taste of the Nation, did not do this purely out of altruism, of course. At the time, the company was vying to gain acceptance for its card in restaurants, and the charitable venture increased its reach. Another current partner, poultry giant Tyson Foods, Inc., has been criticized for its treatment of both chickens and the company's own workers.
Shore's students debate the ethics of these kind of corporate and nonprofit partnerships in a class he teaches on social entrepreneurship at New York University's Stern School of Business, where is he an adjunct professor. While he has at times rejected corporate partners who want to burnish their own company, as a social entrepreneur he doesn't object to helping a company's bottom line or reputation if it is also sincere about helping his cause.
Jeffrey Swartz, CEO of the Timberland Company and a Share Our Strength board member, says his partnership with Share Our Strength does indeed enhance the company. But not just on the balance sheet. "It gives us a chance to see ourselves—to use Billy's words—as cathedral builders and see ourselves living our own revolution in our own hearts," he says. "It's a very powerful thing that Billy and Share Our Strength grant us as a gift. We translate that in a form of passion and excellence both from the commerce side and the justice side that I think is very good for our shareholders in the end."
As a business executive who prides himself on a commitment to the pursuit of social justice as well as sales of his company's boots, Swartz shares a natural affinity with Shore, who also serves on Timberland's board of directors. The two men exchange e-mails frequently, often in the middle of the night, developing their passions and ideas, says Swartz. "[Billy] has the madness of vision. He pushes me, and I push him. He's my guru."
---
The guru who regularly travels around the country and sometimes around the world rarely got out of his neighborhood when he was growing up. Shore was raised in a working-class section of Pittsburgh, surrounded by Jewish families like his own. For the most part, he lived like the other kids, attending public school, playing in the street, going only as far as the local pool for summer vacation. Yet he was distinct from them in one way. His father, Nathan Shore, ran the local office for the district congressman. Shore recalls how simple errands with his father could last for hours, as constituents stopped Nathan over and over again to ask for services and help. His father met every request cheerfully, he recalls, promising to fix the problem and always following through.
The only time Shore remembers his father not being home with his family at night was when he rode a chartered bus from Pittsburgh to join Dr. Martin Luther King Jr.'s march on Washington, where King would deliver his "I have a dream" speech. Shore says his father never preached the importance of public service to his children or tried to influence their careers. Still, he adds, his example "gave me a very intuitive sense that my work was going to be about working with people and helping people."
As an undergraduate at Penn, Shore's vision expanded further. He marveled at a dorm mate who read The New York Times, not grasping at first why anyone living outside of New York would do such a thing. A political science major, Shore interned in his junior year for a congressional subcommittee chaired by his father's boss. That experience cemented his desire to follow his father's example of public service. Shore would also emulate his father by earning a law degree by going to school at night, attending George Washington University Law School while serving on Senator Hart's congressional staff.
Today most people remember Hart for his extramarital affair with Donna Rice and the associated media frenzy that doomed his presidential chances. But Shore speaks of a substantive politician brimming with innovative ideas. After Hart's first presidential run in 1984, in which he emerged as the strongest challenger to the eventual nominee, former Vice President Walter Mondale, Shore launched Share Our Strength while continuing his political work. He returned to the campaign trail to support Hart's 1988 run and was, he believes, the first person the candidate called after Miami Herald reporters discovered him with Rice. Shore says he hadn't known about the affair beforehand, and he still wonders if he should have managed the aftermath differently.
"I don't think it would have changed the outcome, but I felt that there are moments like that where you want to hone your reflexes to react in a certain way, and I didn't," he reflects. "I just kind of drifted with this very messy story."
Hart's political career was over—and so, it appeared, was Shore's. But he was recruited by Senator Robert Kerrey of Nebraska to work as his chief of staff from 1988 to 1991. Then Kerrey announced his candidacy for the presidency in 1992, and Shore embarked on another campaign. Kerrey would win only one primary in the race for the nomination that ultimately went to Bill Clinton. After that race, Shore turned his full attention to the fight against hunger.
Once the man working behind the scenes for prominent politicians, Shore now plays the most visible role. He never uses a prepared text for his speeches, but draws on the letters he's written and often his personal and family experiences. Through his talks and books, many people around the country have become familiar with the lives and occasional mischief of his children, Zach, 19, and Mollie, 15. (Shore also has a month-old son with his second wife, Rosemary, named Nathaniel Louis Atticus Shore for both grandfathers and Atticus Finch from To Kill a Mockingbird.)
In The Light of Conscience, he recounts a lecture he gave for the Fox Leadership Program at Penn. Students crowded the room, asking him broad questions about passion and leadership and following their dreams. Shore writes that he told them to act on their deepest emotions and trust their conscience. But they responded most powerfully, he adds, when he detailed his zero-for-three record in presidential campaigns and how, in the heat of the Hart scandal, he was photographed with tearstained cheeks on the front page of The Washington Post—examples that showed there is life after failure. "They're still a decade or two away from appreciating the value that can be extracted from the inevitable missteps, bad breaks, and stubborn charges up the wrong hill," he wrote.
The setbacks Shore experienced in his political life taught him to organize people on behalf of an idea, he says. But, just as his father was an inspiration to him, Shore also moves people through his example, says New York architect Wendy Evans Joseph C'77 ["Tweaked, Not Trendy," November/December 2000], who participated in an exhibit that raised money for Share Our Strength.
"He ups the ante for all of us in terms of what he's accomplished in the public sector," she says. "He's a reminder to everyone about the importance of public service and leadership in the public realm, and that's something people don't focus on as much as they should. I find it inspiring, and I always think about his work in terms of my life, too."
Shore recruited another Penn grad, Neil Braun C'74, president and co-founder of Vanguard Animation, to join the Share Our Strength board. Braun, a former president of NBC Television, took the post as much to work with Shore as for the cause, he says. And he has learned how Shore sustains belief in a cause that can seem unwinnable. "When he takes the time to write to the board, it always impresses me because it's about small things from which he extrapolates hope and optimism and the importance of what Share Our Strength does."
---
Lewis I. Rice is a freelance writer in Arlington, Massachusetts.