Sweet Memories
Tony Price W'79 is best known, at the Palestra and everywhere else, for being the star of Penn's magical 1978-79 basketball team.
But a year before that, he was part of another team that holds a special piece in Penn hoops lore — a group that won the Ivy League, made it to the Sweet 16, and helped set the table for the Quakers' stirring run to the Final Four the following season.
This past Saturday at the Palestra, both the 1977-78 and 1978-79 squads were honored — first in a pregame dedication for a beautifully done atrium adjacent to the gym, then during the program's annual alumni game, and finally during halftime of Penn's 59-50 win over Yale with the 1977-78 players coming out to midcourt in commemoration of that team's 40-year anniversary.
"You don't really think about the Sweet 16 [team] but now that you see how every year it's a dogfight in the Ivy League, it's a big deal to go to the [NCAA] Tournament and actually win a couple of games," Price said. "I'm glad I was on both teams."
Some argue the 1977-78 team, which I featured for Penn Athletics last week, was actually more talented than the Final Four team but was still learning how to win under Bob Weinhauer, who took over as head coach less than a month before the regular season began.
And while the Quakers had plenty of huge wins that season, including one over St. Bonaventure in their NCAA Tournament opener, it was one they didn't get that still haunts them — their season-ending loss to Duke in the Sweet 16 in which they blew a late lead to a team that made it all the way to the national championship.
"The year before got me ready for the next year," Price said. "I was so excited and pissed off about [the Duke loss] that I said, 'Next time, I go, I'm not leaving. You gotta drag me outta there.' And that's basically what happened.
"People thought I was crazy. But we played in the final four, a consolation game — as many games as you could without winning a championship. A lot of people thought I was hallucinating. But my teammates were with me."
The seniors on the 1977-78 team — Keven McDonald C'78, Stan Greene C'78 and Tom Crowley W'78 — weren't teammates with Price during the Final Four run. But Price still credits them for "motivating" him to get better, on the court and in the classroom.
That trio also enjoyed plenty of memorable moments of their own during their senior season, including a sweep of Princeton (and one of the best road wins ever at Jadwin — at least until this year's Penn team put a whooping on the Tigers on Tuesday); a couple of 100-point games, including one at Brown after the team had to get taken to the gym by the National Guard due to the Blizzard of '78; the Ivy clincher at Cornell in the final game of the regular season; and, of course, the NCAA victory over Bonnies at the Palestra in which McDonald poured in a career-high 37 points.
Greene said he remembers overhearing St. Bonaventure fans walking into the Palestra before the game and making their plans for the next round at Providence, which provided him with plenty of "fuel" to spoil those plans. Recently, he was able to digitize that game and now watches it on his phone. And he's still amazed at McDonald, who ranks second only to Ernie Beck W'53 on Penn's career scoring average list.
"Keven McDonald was a machine," said Greene, who sat next to McDonald and Crowley while coaching one of the alumni teams Saturday. "He was just about automatic. Just amazing to watch."
Greene himself was more of a defensive specialist on a potent offensive team that averaged more than 80 points per game. But he had his offensive moment in the sun too, burying the game-winning shot in a two-point win at Dartmouth.
Memories like that have continued to stay with him for 40 years. And he's glad a light was shined on them this past weekend.
"We were part of a team that laid the groundwork," Greene said. "We're proud of that."
Below are some photos I took of the newly decorated Tse Center Atrium, which connects the practice gym to the Palestra corridor and now serves as a shrine to the 1977-78 and 1978-79 teams.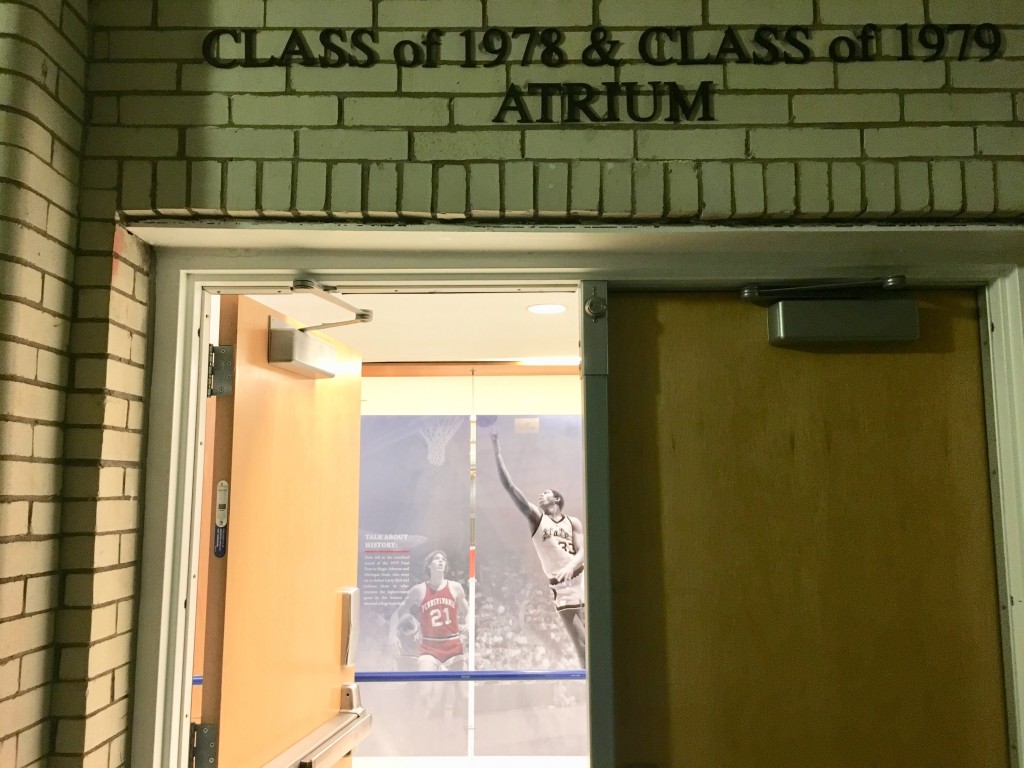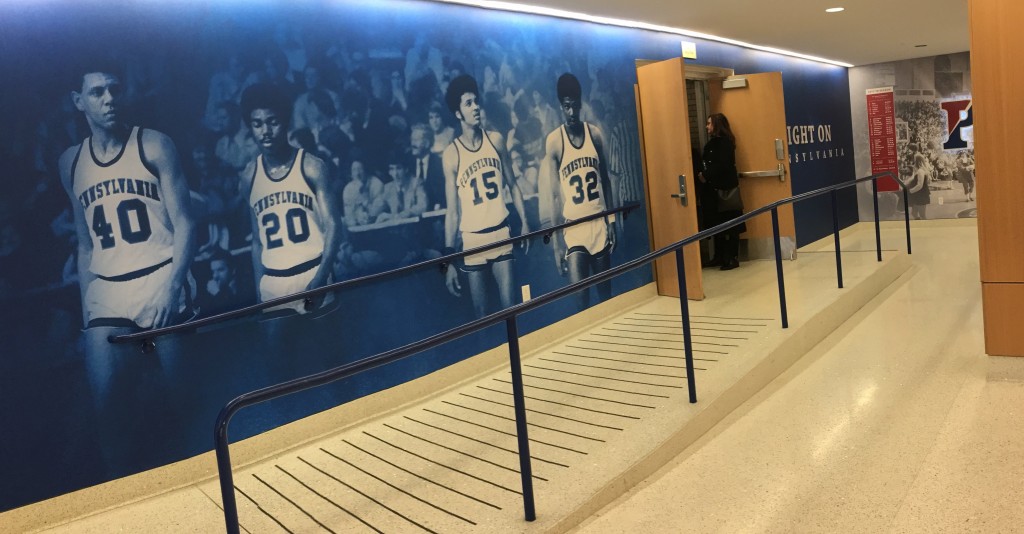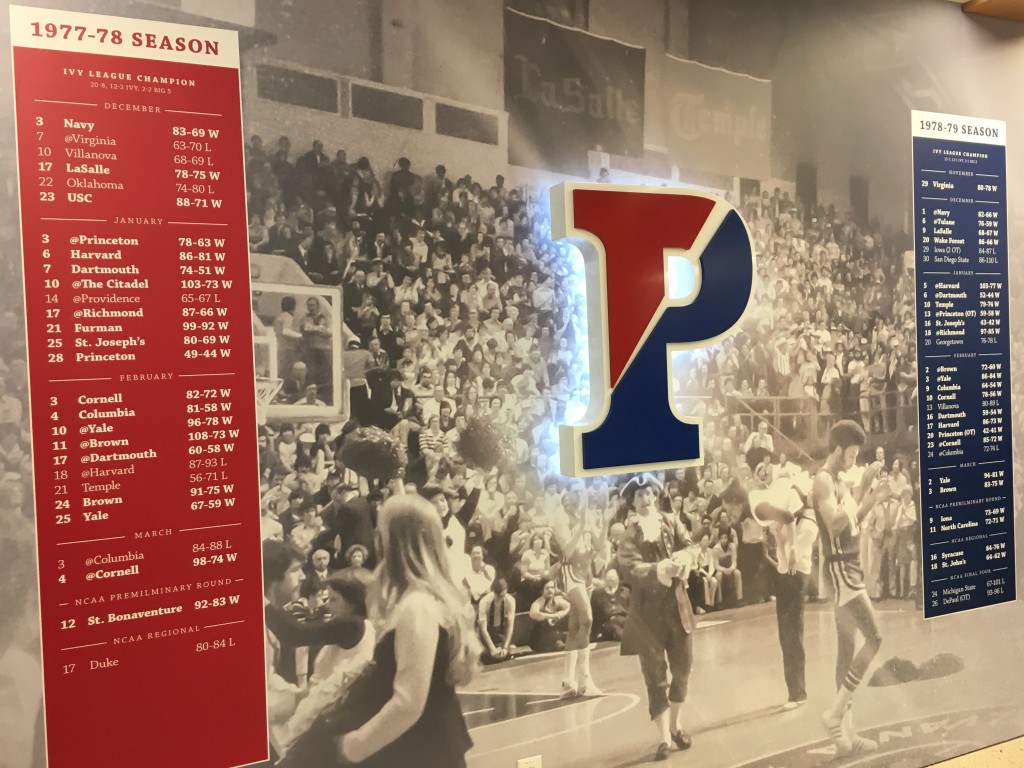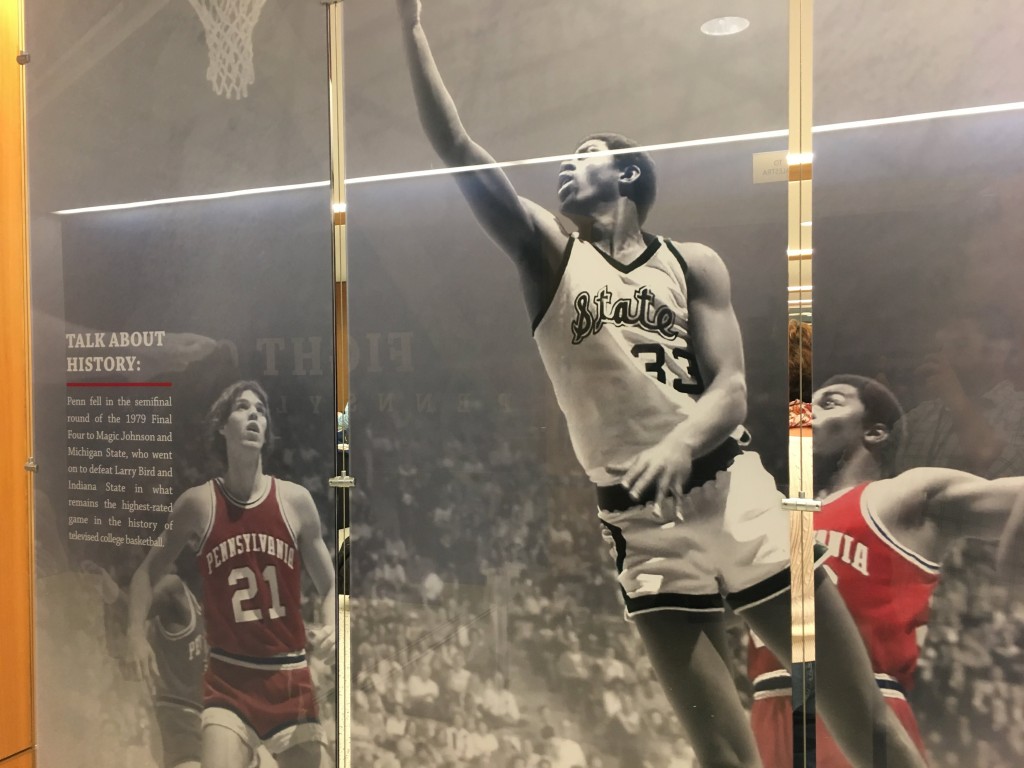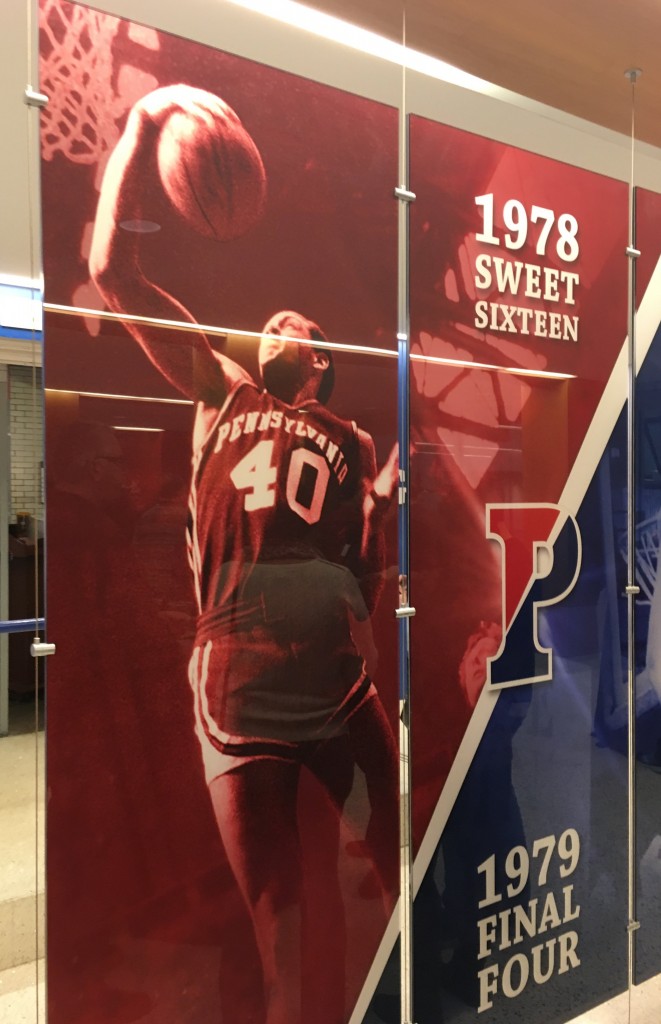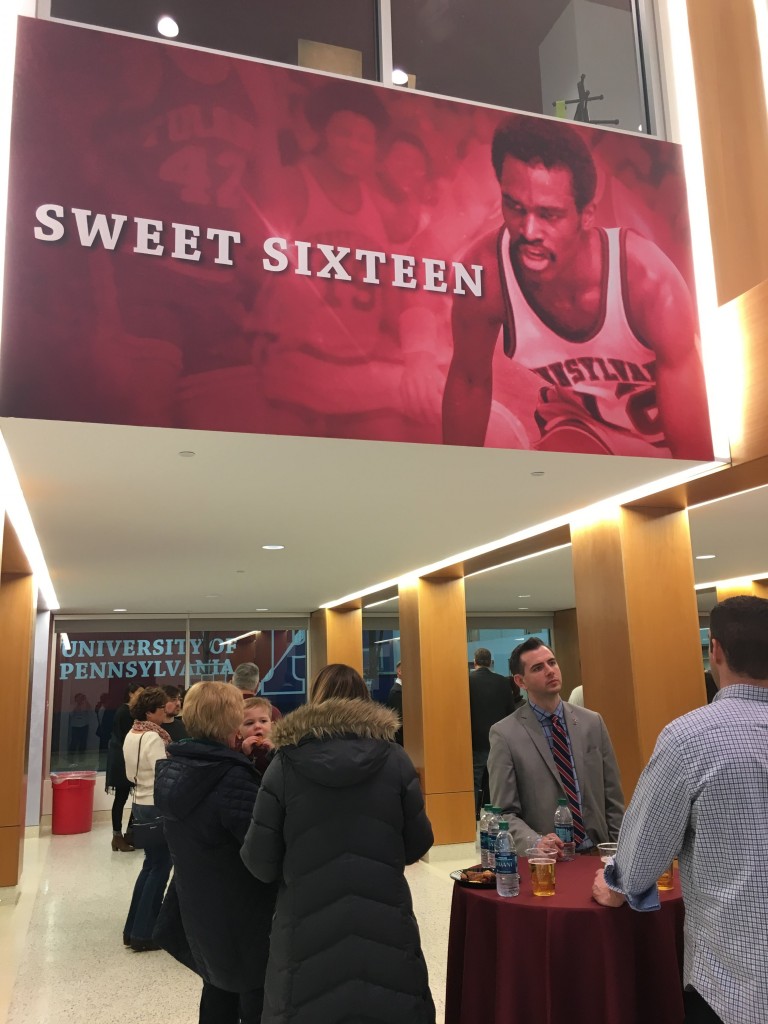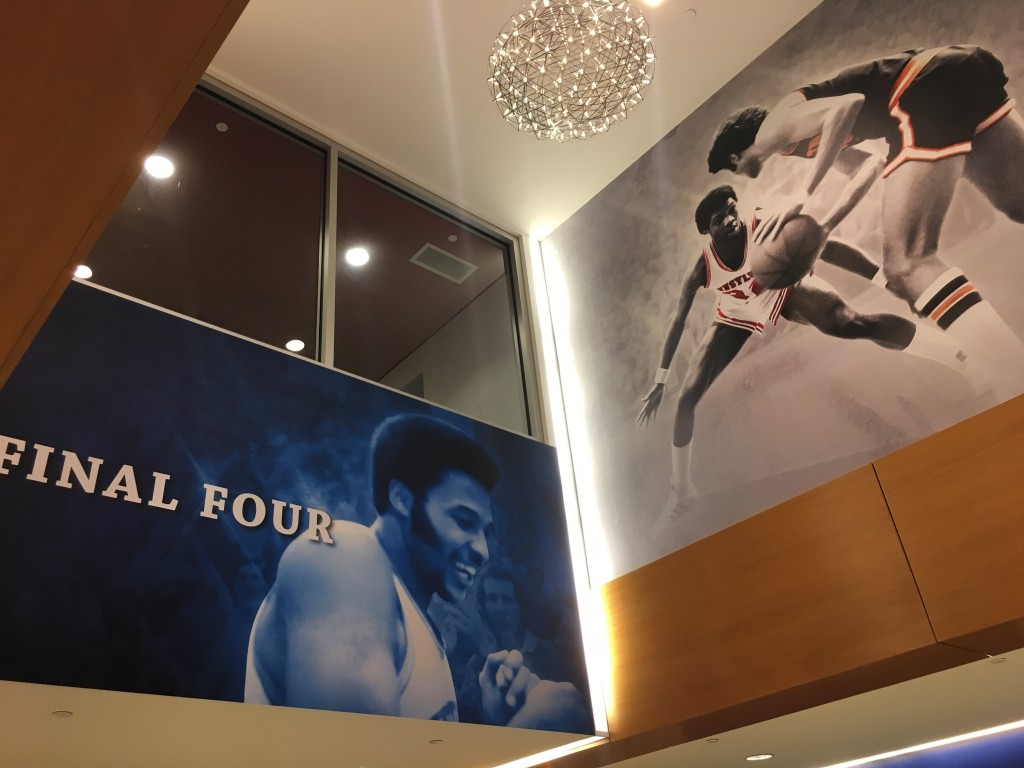 — Dave Zeitlin C'03