Sweet 16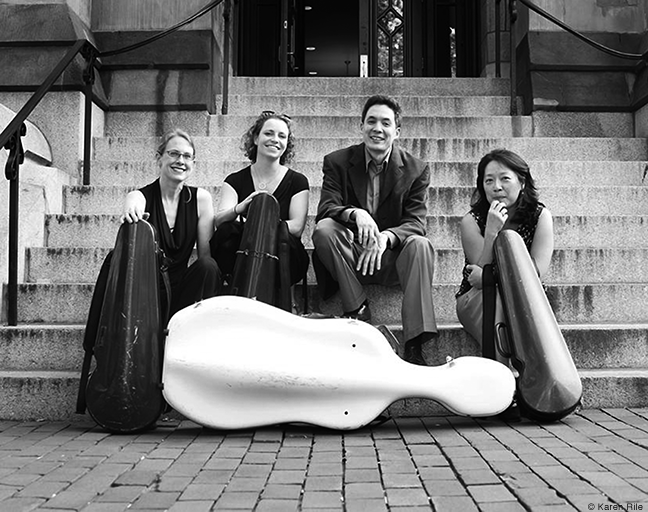 Penn's resident quartet takes on all of Beethoven's string quartets.
---
"I don't think you would have so many professional string quartets if you didn't have the 16 Beethoven quartets," says Min-Young Kim, a violinist in the Daedalus Quartet, now in the 12th year of its campus residency at Penn. "And you wouldn't have the Bartok quartets if you didn't have the Beethoven quartets. And you wouldn't have Shostakovich."
Beethoven's string quartets are a seminal achievement in Western music, and this year, in what is billed as a first for the city of Philadelphia, Daedalus is performing all of them in a single season. The settings are as varied as the compositions: from the Annenberg Center, to the Pennovation Center, to the Smilow Center for Translational Research—where in October Yale Cohen GEng'90 Gr'92, a professor of otorhinolaryngology and director of the Hearing Sciences Center, introduced the 13th quartet and the Grosse Fugue with a discussion of how Beethoven's hearing loss affected his brain and creative process.
Going beyond the music is a theme. In September, Daedalus incorporated poetic responses between the movements of the celebrated opus 132. College sophomore Mary Osunlana and graduate student Davy Knittle, along with poet Thomas Devaney and Philadelphia poet laureate Yolanda Wisher, used the composition as a springboard into reflections on subjects ranging from hurricanes to white supremacy. In February, the 14th quartet will be paired with a staged reading of Opus and a conversation with playwright Michael Hollinger. A complete schedule can be found at tinyurl.com/y84x2cky.
Kim spoke about the project with the Gazette's associate editor, Trey Popp. Their conversation has been edited for concision.
When Beethoven began writing string quartets, Haydn and Mozart loomed large over the form. How did Beethoven expand it over the course of his 16 compositions?
The Opus 18 quartets are definitely in the style of Mozart or Haydn. But there's a huge shift once you get to Opus 59, No. 1. Partly it's the scale: it's so much longer of a movement. The late Haydn quartets are technically quite challenging for the first violin—but not so much for the other players. So Opus 59 is more virtuosic for the entire quartet. For instance, the first of the middle quartets starts with a cello solo. And there are few enough quartets that start with a cello solo that it's a statement. It's more virtuosic in terms of the dialogue between the players too, rhythmically. And the range is just larger—dynamically, emotionally.
Beethoven scholar Joseph Kerman said that once you get to the middle quartets, you start to see each piece as kind of like a human being. The way he manipulates the music creates different kinds of conflict and resolution in a way that's different from Mozart and Haydn. That's something so characteristic of Beethoven, where you feel there's some big challenge, and then you achieve that, and it's so fantastic. There's something that could be seen as melodramatic, or cheesy even, about Beethoven, because he's so earnest about it. I don't know how it would have been if he were a writer. But in music, it's incredibly compelling. You can be that emotional, and looking for that kind of meaning, but since it's not literal, it's not a turn-off—where you're like, Oh God, this guy thinks he's so important. Who is he? Well, he's Beethoven.
What distinguishes Beethoven's string quartets from his compositions in other formats—his symphonies, sonatas, and concertos?
It's really hard to write a string quartet. It's sort of naked. There's nothing you can hide behind. In orchestral writing, you just have a much bigger palette to choose from, so you can make things make sense in a different way. And a string quartet is very bare. Beethoven was really drawn to it in a way not all composers are, and he kept seeing new possibilities in this combination of instruments that are so similar and yet can have a wide range.
In your program notes you quote Beethoven as having told a violinist, "Do you think I worry about your wretched fiddle when the spirit speaks to me?" How do the technical challenges of these string quartets stack up against those written by his predecessors—and today's composers?
The difference with Beethoven, especially when you get to late Beethoven—from Opus 127 on—is that all the challenges that are in both classical music and contemporary music are in his music. There's something contemporary about his late quartets that should sound avant-garde and new, and yet there is also something classical about it. We play a lot of new music, and you don't find that. There's something about his language at the end of his life that doesn't sound like anyone else. It doesn't sound like someone who is classical or Romantic—it sounds like there's something new about it that nobody else has been able to replicate. There's a combination of him reaching for the popular overtones of his time and at the same time being kind of far out. There's something really visionary about it. If you ever think, Oh, I know exactly what he's going for, it almost feels like you're missing the point.
How old were you when you first played one of Beethoven's quartets? Do you find that you understand any of them differently now that you're approaching them from middle age?
The first time I played a quartet was when I was 13. It was Opus 18, No. 1, at a music festival in France. But I don't know if I really understood it. The first time I really listened to the late quartets was in college—and I listened to Opus 132 a lot. I really love that piece. At that time I especially liked the slow movement, but now I think the second movement is amazing. I appreciate different parts of it. It's the kind of music that you can come to at so many different parts of your life.
Your performance of the 15th quartet at Kelly Writers House incorporated poetry readings between the movements. Why did you think poetry might pair well with that particular composition? And did any aspect of the readings catch you by surprise or spark an interesting thought?
We were originally going to have readings of famous poets who have been inspired by that composition: T. S. Eliot, Aldous Huxley, Milan Kundera. But it seemed more interesting—and also risky—to have something fresh. And it seemed more engaging of the community at Kelly Writers House and on campus. Yolanda [Wisher] was the first poet, and I think it's hard not to react to her talking about dead white males, which Beethoven definitely is. But poetry has so many similarities to music, because so much of it has do to with rhythm. And the way she used repetition—the rhythm of coming back to the same phrase, and the rhythmic interplay of words and phrases—felt very in line with Beethoven. So even if I weren't listening just for the meaning of it—which I was doing—it just made me listen in a certain way that made it interesting to go into the quartet. And her poem was not obvious. There's struggle and resistance in that music too, and she was searching in that way. It made for a rich audience. That's a big goal of ours with this way of doing the cycle, to bring different people together in a shared experience.