Streaking to a Surprise Championship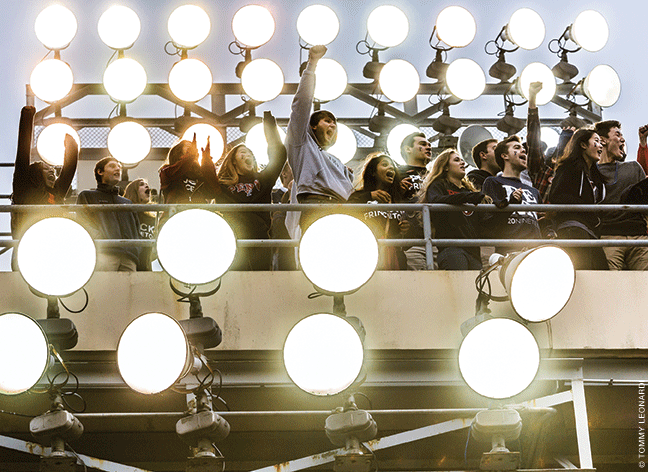 By Dave Zeitlin | When Princeton's Nolan Bieck lined up for a 35-yard field goal attempt with four seconds left in a tied Homecoming game at Franklin Field on November 26, it seemed likely that the Quakers' Ivy League championship hopes would be swept away with one kick. But Penn's players and coaches didn't abandon hope.
Instead, star wide receiver Justin Watson organized a huge mass of Quaker players near the line of scrimmage to scream as loud as they could in an effort to rattle Bieck during a timeout. "I think I lost my voice from that play alone," the sophomore recalled.
Not far from Watson on the Penn sideline, first-year head coach Ray Priore dug into his deep reserve of memories from the 28 years he had spent as a Penn assistant, thinking about the times the Quakers had rallied around one of his favorite mottos: Be prepared to win the game on the last play. Two memories in particular rose to mind: a game two years ago when a blocked kick at the end of regulation helped Penn beat Dartmouth in the longest game in Ivy League history; and a 1994 contest when a player named Michael Juliano C'95 was brought to Dartmouth specifically to block a kick, and did just that to help preserve the Quakers' second straight undefeated Ivy season.
On the field, junior linebacker Donald Panciello looked at the Princeton linemen, just waiting for someone to take a wrong step or turn his shoulders the wrong way so he could execute a kick-block tactic the team had been practicing. "I block that kick, or our shot at the Ivy title is gone," as he put it after the game. "And all our guys worked way too hard for our season to end right there."
Panciello burst through the line and blocked the kick to ignite the Homecoming crowd and turn Penn's sideline into what Watson described as "a dance party" heading into overtime.
The Quakers rode that momentum to an OT win over Princeton—and kept it going the following week with a stunning upset at Harvard to snap the Crimson's 22-game winning streak and move into a first-place tie in the Ivy League. They put the finishing touches on their campaign with a 34-21 victory over Cornell in their season finale on November 21, capturing the program's 17th Ivy League title and completing a remarkable turnaround from a 1-3 start to a season few could have predicted would end in a championship—albeit one shared with two other teams that finished atop the league.
"I thought the kids did a really, really good job dealing with adversity," Priore said a few days after his players smoked victory cigars on the field, stopping to take photos with fans who rushed from the stands to celebrate with them. "It's always easy to play when you're winning and good things are happening. How do you react when bad things are happening?"
Priore is a big reason the players handled that early-season adversity so deftly. He was already in a tough spot after assuming control of a team that had gone a combined 6-14 in former head coach Al Bagnoli's final two seasons. And it would hardly have been shocking if things had trended in that same downward direction after Penn lost three of its first four games this year, including a drubbing at home in its Ivy League opener with Dartmouth.
But at that point, according to Watson, Priore stayed level-headed and committed to the new schemes he'd implemented in training camp.
"There wasn't a lot of screaming or yelling, which is a little bit different for this program," the receiver said. Led by, among others, Watson, junior quarterback Alek Torgersen, and senior linebacker Tyler Drake—who was named the Ivy League Defensive Player of the Year—the players responded by closing the season on a six-game winning streak. It began with a big win over Bagnoli's Columbia squad, and was highlighted by a 35-25 victory at Harvard Stadium, which Watson spearheaded with a staggering 249 all-purpose yards and two touchdowns. On the second, a 79-yard run that sealed the improbable victory, Watson said he had "tears of joy" as he crossed the goal line.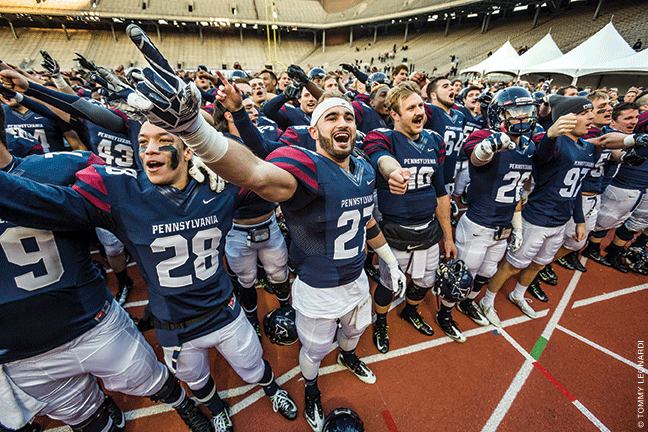 "I turned around and gave guys hugs; it wasn't even chest bumps," said Watson, who led the league in receptions (74), receiving yards (1,082) and receiving touchdowns (9), and was runner-up for Ivy League Offensive Player of the Year.
Things got a little bit crazier on the trip back from Boston, with players singing and "making a ruckus" while 4-year-old honorary captain Vhito DeCapria—a cancer patient who was adopted by the team this season—ran up and down the aisle "making everyone laugh," Watson said. (Vhito's favorite player, we should note, was Watson, whom he named many stuffed animals after.) And at a rest stop in Connecticut, Priore bought about 60 McDonald's McFlurries and a bunch of Auntie Anne's pretzels for his players—a gesture that reminded Watson of the time during preseason camp when the coach arranged for everyone to have a private surf-and-turf meal at the Hill House dining hall.
"He's a player's coach," the sophomore receiver said. "He's always got your back, he's always doing the little things so that you know he appreciates you."
Priore, who talks often about the Penn program being a "big family," would certainly appreciate that comment. And it seemed like a special moment for him when, after beating Cornell to secure a share of the Ivy title with Harvard and Dartmouth, senior captain Dan Connaughton turned to Priore during the postgame press conference to thank him for a "heck of a ride" that not only included an Ivy title but also the program's first win over Villanova in 104 years.
But the first-year head coach often felt uncomfortable when showered with praise—and, for the first time in his lengthy coaching career, Gatorade.
"I was lucky that I went into a new situation that really wasn't new," said Priore, who was named the Ivy League Coach of the Year and a STATS FCS Coach of the Year finalist. "I had been in the co-pilot seat for so many years, and now I'm in the pilot seat … I was confident I could do it. But until you get a chance to fly the plane, you never know."
Cross Country Hits National Stage
No matter what Penn's cross country team accomplished as a unit this fall, senior Thomas Awad would have gone down as one of the school's greatest distance runners.
But over the summer, Awad had a talk with Steve Dolan, Penn's director of track & field and cross country, and told him that he wanted to put the team above his own individual successes.
As it turns out, he was able to do both.
For the first time in 40 years, the Quakers qualified for the NCAA Cross Country Championships, where Awad finished 14th in a world-class field, joining Dave Merrick W'76 as the program's only two-time All-American.
"Really, he's better because of the team and the team's better because of him," Dolan said of Awad. "They train hard together every day. A number of guys trained together all summer out west. It's pretty special and magic to see them help each other to heights they wouldn't get to individually."
When Awad arrived as a freshman, Dolan admitted that the team was not yet "competitive at the regional or Ivy level." But it has blossomed over the past few years, culminating with a second-place finish (out of 25 teams) at November's Mid-Atlantic Regional that booked the Quakers' first NCAA spot since Merrick was around in 1975.
Awad—who had previously captured his second straight Ivy League individual cross country title—led the way with a fourth-place finish, and four other Penn runners finished in the top 25, including junior Nick Tuck, who placed sixth.
"That's the fun of it," Dolan said. "A lot of people think of distance running as an individual sport. But it couldn't have felt more like a team than it did that day."
At the nationals in Louisville, the Quakers finished 24th as Tuck followed Awad's 14th-place finish with a strong 73rd-place showing out of 252 runners. Ashley Montgomery was also at the nationals to represent the women's team, capping off an excellent junior season by placing 73rd out of 254 runners.
"She really went for it," Dolan said. "She actually ran in the top lead pack for the first half of the race. She really took a courageous effort to try to be an All-American. I'm really proud of her season and all of her hard work."
Dave Zeitlin C'03 writes frequently for the Gazette.