Stopping the Violence Cycle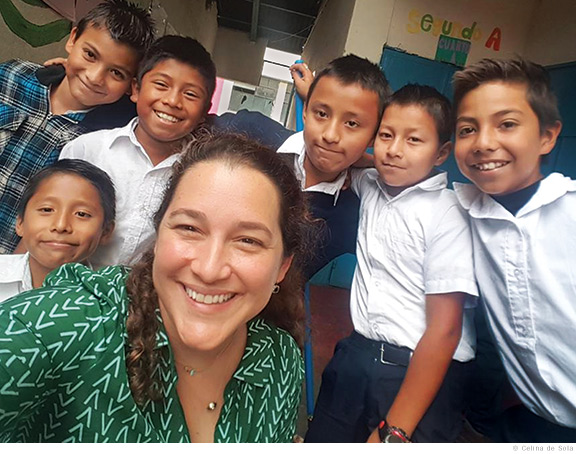 This Salvadoran humanitarian worker is on a mission to save lives in Latin America and beyond.
---
Here's a statistic Celina de Sola C'99 SW'00 often shares: Latin America, with just eight percent of the world's population, accounts for roughly one-third of global homicides.
"Just imagine the impact this kind of unrelenting violence can have on a person's health, productivity, and wellbeing," she told a TED conference in Vancouver in April. Or the blight it can inflict on entire communities. "We know exposure to violence can lead to more violence [and] that survivors of violence can be up to six times more likely to either be involved in violence or be revictimized," she continued. "It's literally the definition of a vicious cycle."
Celina de Sola, with over 20 years of experience engaging with trauma globally, does more than merely imagine the toll violence takes. The 45-year-old El Salvador native is doing something about it.
Since founding Glasswing International in 2007, de Sola has grown her international nonprofit, non-governmental organization (NGO) into a behemoth that this year will direct $36 million toward violence-prevention projects. Glasswing either develops these initiatives on its own or in collaboration with partners like the US Agency for International Development, the World Bank, the University of Chicago Crime Lab, and the International Organization for Migration.
Glasswing—whose stated mission is to address the root causes and consequences of violence and poverty through education and health programs—has served more than 1.5 million people in its 15 years of operation and continues to add programs today.
The organization deploys a staff of nearly 500 and mobilizes thousands of volunteers across violence hotspots stretching from Latin America and the Caribbean to several New York high schools. Beyond El Salvador, Glasswing operates in Trinidad and Tobago, Colombia, Costa Rica, Dominican Republic, Guatemala, Honduras, Mexico, Nicaragua, and Panama.
Before starting Glasswing, de Sola spent almost a decade with AmeriCares. As the director of emergency response for the nonprofit disaster relief and global health organization, she led teams mitigating humanitarian crises in places like Liberia, Darfur, Afghanistan, and Iraq, while also responding to natural disasters like the 2004 tsunami in Indonesia.
A fourth-generation Salvadoran—her family traces its roots to Sephardic Jews fleeing Spain's Inquisition to Holland, then to Curaçao, before settling in Central America—she fled during the Salvadoran Civil War when she was in preschool to relocate first to Guatemala and then to Short Hills, New Jersey. At Penn, where she arrived in 1995, she interned for the Social Impact of the Arts Project, which explores the impact of arts and culture on urban communities. She later worked in community development at the Center for Children and Families First in Wilmington, Delaware. "The beneficiaries there were mainly Mexican or Central American; the social workers mainly Puerto Rican," she recalls. "I was a resource specialist, helping families access services—school enrollment, healthcare, getting a crib for a baby."
Along with fellow grad student Dionne Delgado SW'00—who today runs Glasswing's New York high school initiative—de Sola also surveyed migrant families toiling in the mushroom fields near Kennett Square, Pennsylvania.
Trauma mitigation takes different forms. In many places, Glasswing works to keep teens in school—and off violent streets—by sponsoring extracurricular activities like glee clubs and robotics competitions. The organization also works with older teens and young adults, teaching them skills like how to apply for a job, and strives to create a corps of mental health workers that can buffer the impacts of trauma on the communities they serve. "The human opportunity that is lost if you can't feel safe where you live, that's tragic," de Sola says.
Glasswing also focuses on nurturing adult role models and counseling public servants like schoolteachers, nurses, and police officers who deal with violence and experience their own mental trauma. At a recent workshop in Guatemala City's teeming Villa Nueva district, Glasswing psychologists instructed firefighters on ways to calm down a crime victim taking out anger on a first responder, while engaging bystanders as helpers. Such exercises help in deescalating tensions—and perhaps averting a riot, or a revenge shooting.
Social Policy and Practice professor Peter Frumkin, director of Penn's Center for Social Impact Strategy, has been impressed by de Sola. "A lot of changemakers struggle to get started in the US. It's expensive," he says. "Celina demonstrates how changemakers can get to scale much quicker when they are abroad. Her results provide a real testament that geography matters."
In March Glasswing announced a $13.2 million grant from the Howard G. Buffett Foundation to pilot a service corps that aims to empower youth in Guatemala and Honduras to prosper in their own communities rather than migrate. Glasswing's Central American Youth Corps already has more than 1,300 people enrolled and intends to train and mobilize another 1,500 this year. Pending results from this initial investment, the program is looking to expand to include another 10,000 from the region.
"You cannot learn if you are afraid to walk home," de Sola says. "Your brain is programmed to flee. So, while there's no silver bullet to this, we work to build senses of hope, dignity, and opportunity."
—Joel Millman C'76