Star-Spangled Singing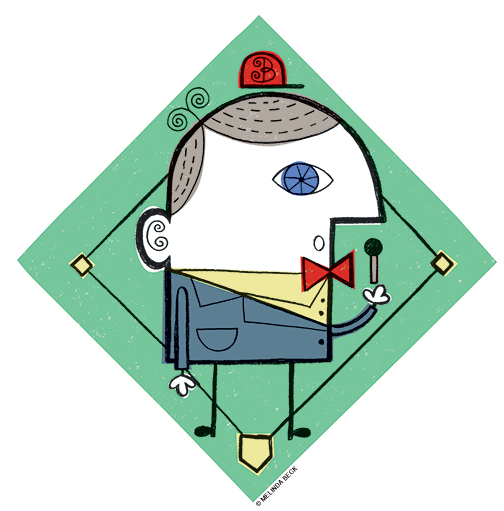 Class of '71 | In the summer of 2001, Bill Squires C'71 saw a story in his local paper that the Pittsfield (Massachusetts) Astros baseball team was seeking people to sing The Star-Spangled Banner before home games. The notion resonated.
"Some folks had complimented me on my singing in our synagogue just before I read it," recalls Squires, who lives in the town of Longmeadow. "I thought that since it was in Pittsfield, 60 miles west of my home, I wouldn't be embarrassed if it didn't go well."
Apart from the synagogue, he hadn't sung much in public since his last two years at Penn, when he sang with the University Choral Society. But the Pittsfield team didn't even ask for an audition, so Squires—along with his wife Nancy, their three daughters, and his in-laws—piled into the car and drove to the minor-league park.
"There must have been 275 fans in this 1890s wooden ballpark," he says. "After I finished, some stranger, just a regular fan, said, 'That was a terrific rendition, fella.' It was great to hear that, and I started sending out cassette tapes."
Since then, Squires has sung the national anthem—as well as O Canada, America the Beautiful, and Hatikvah—at nearly 300 sporting events. From the Palestra to Fenway Park to the Boston Garden, with appearances at Gillette Stadium and other venues throughout New England and Florida, Squires has become a regular performer at sporting competitions.
Despite the difficulties some singers have had with The Star-Spangled Banner, Squires, whose vocal range covers an octave and a half, says he never has had a problem with it. Or, as he puts it: "I never have been booed."
There have been a few glitches along the way, though—including, on several occasions, malfunctioning microphones. At such times, improvisation is mandatory.
"If we're indoors I just sing as loud as I can," he says. "When that happens outdoors, I put down the mike and motion for the whole crowd to join in."
His biggest test came when he was performing for a Shriners circus.
"A lion started roaring," he recalls. "I sang louder. The lion roared louder. I sang even louder. Finally, after I finished singing, I told the crowd, 'Everyone's a critic.'"
Squires, who retired three years ago after 40 years as president of the family-owned Esquire Gas Products in Enfield, Connecticut, recently got to fulfill a long-held dream—to sing at Boston's Fenway Park. For years he had been sending in his tapes and CDs, to no avail. Then, this past June, after singing the national anthem for the Pittsfield Suns (owned by Marvin Goldklang W'63 L'66), he got an email from the Red Sox asking him to sing God Bless America during the seventh-inning stretch on Father's Day.
"I started to cry," he says. "That was something I had wanted for so long.
"It was such a perfect Father's Day," he adds: "exhilarating, exciting, and slightly nerve-wracking. I walked out into right field, just past first base, inside the foul line. After I finished singing I literally got goose-bumps—37,000 people were cheering for me in Fenway. When I went back to my seat I got high fives from everybody nearby. It was just wonderful."
While Squires' repertoire is limited, he currently is learning the Australian national anthem—Advance Australia Fair—to sing at the University of Hartford (Connecticut), whose basketball team features several Aussie players. He can also envision himself singing Broadway tunes at a club somewhere. But for now, he says: "Anywhere, anytime is my mantra. I just want to keep singing as long as I can."
—Stephen Marmon C'71 WG'81