Seeds of a Quiet Revolution
It was twilight as we climbed the swampy, rutted road to the farm.Vapid 1970s pop music played on the radio. The road was full of people: mostly farm workers with their ubiquitous machetes, but otherwise families and girls arm in arm on their way out for Saturday night. They emerged in the haze of the headlights like blots of watercolor paint. Tarditi's heart was in the pit of his stomach. This would be his first time back to the farm since he had left the summer before. Duilio in front was quiet. Together, they seemed an unlikely pair: Don Duilio, as the Sandinistas say, an "oligarch," and Mateo the "radical."
These sorts of paradigms make Ravitch acutely aware of the complexities of her role. "I know I'm walking into a fraught history," she says. "And there are tensions. We need to understand these tensions, not judge or hide from them."
Early on Ravitch and Tarditi learned that there was enormous value in developing personal bonds with the Baltodanos, just as they were doing with the farm community. "I know how much the Baltodanos want to do this for the country," Tarditi says. "I wanted to support them, learn from them, help them learn. I thought I could be a bridge between two worlds," meaning the elite and the rural peasant. "The differences can be very shocking, and I wanted to help each of them understand the other."
Daylight at Buenos Aires is coaxed by the pounding of corn masa into tortillas. On coffee-picking days, when there might be 500 or 1,000 people to feed, it starts at four. The kitchen is a vast wood and concrete building nestled into the lush hillside, with a long window where the workers line up to claim their meals. Inside, it feels labyrinthine, like a far section of a North African medina, and no less elemental: there are two wood stoves, recently repaired to reduce smoke ash; great pots of bubbling coffee; and fat balls of masa, mounded like the heads of snowmen.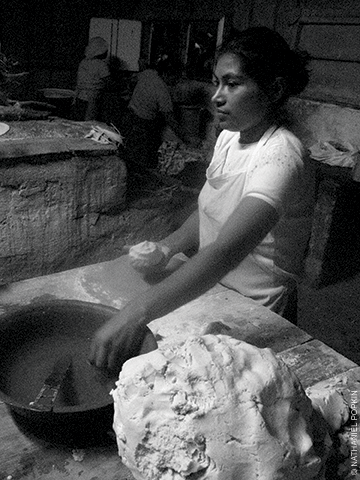 On coffee-picking days, as many as 1,000 workers may be fed from Buenos Aires' kitchen.
---
On a busy day, five women prepare the tortillas, beans, and coffee, but this was Sunday and the kitchen staff was reduced to two. I had been wandering around the farm—it was the first I had seen it in daylight—when a four-year-old boy named Jason, with a runny nose and a florid cough, came running up to me. "Mateo! Mateo!" he called, delighted that his great friend had returned. "Mateo, Mateo!" he shouted to me—another gringo with a beard, yet not at all sure what to think of the chele before him—and gave me a big hug. "Mateo! Mateo!" he called back to me as he ran down the dirt path and into the kitchen.
Last school year, which ended in December, there were about 95 students enrolled in the Buenos Aires school, including Jason's older sister Marjeris and a few other children of permanent farmworkers. The rest of the students live in the small wooden houses (most of which have plots for growing corn and beans) scattered across the rolling remains of the rain forest. In rural communities, fundamental obstacles to schooling remain. "In my town," said Michele Aquino, a Peace Corps volunteer on a nearby farm, "a young mother who cannot read tends not to care if her young children go to school.  She didn't do it, so why should they?"
In picking season, despite vague rules against child labor, children become cortadores or watch their younger siblings while their parents go off to work. Heavy rains and frequent holidays interrupt lesson plans. Teachers often don't show. Nicaragua's fertility rate is two points higher than the Latin American average, in part because of profound child sexuality. One of Buenos Aires' top sixth-grade students told Tarditi he was leaving school to go to the "escuela de papas," and indeed he had gotten an older woman pregnant and was expected to care for the child.
Each first- through sixth-grader at Buenos Aires has a laptop (Baltodano installed a solar panel so that the XO laptop batteries could charge each night). Nearly everyone I spoke with was careful to qualify the XO as an enhancement, and not a replacement for the traditional role of teachers; nothing, they told me, replaces the learning dynamic of a classroom. "Es máquina, no es mágico," cautions Martha Alicia Moreno, who is project manager of the CISA Corporate Social Responsibility division.
But if there was magic in the XO, it was in its power—as an emblem of progress—to attract both children and adults to the school. Tarditi's first job was to involve community members in every aspect of the project. "I come in with a certain set of skills and knowledge," he says, "and they come to the table with a certain set of skills and knowledge and experience. What this project does is create the conditions for people to empower themselves."
The project was unlike anything else the school parents, teachers, and CISA facilitators had seen before; the mere fact of being involved was energizing and for the first time they began to imagine a better future. Parents participated in joint class sessions and collaborative classroom projects, and received regular home visits from Tarditi, CISA school-facilitator Nayibe Montenegro, and the teachers. Castro Lopéz, the grandparent who was so welcoming to Tarditi at the start, took note of the impact of this approach, which was unprecedented since the early years of the Sandinista regime. "Now," she told me, "the school is the heart of the community. It wasn't that way before."
Late on Sunday morning, a reserved, wiry man called Don Gonzalo arrived at the farm to escort Tarditi and me to mass at the Immaculada Concepción de María church. He wore a perfectly pressed pair of navy chinos, a crisp white polo shirt, and a Haddonfield little-league baseball cap (Tarditi's parents have contributed a great deal to the community, including a MacBook, which the teachers use for lesson plans and to assess student performance). Don Gonzalo and his wife Rosa de Montenegro had 21 children, eight of whom survived. The youngest, Otoniel, was in the fifth grade at Buenos Aires.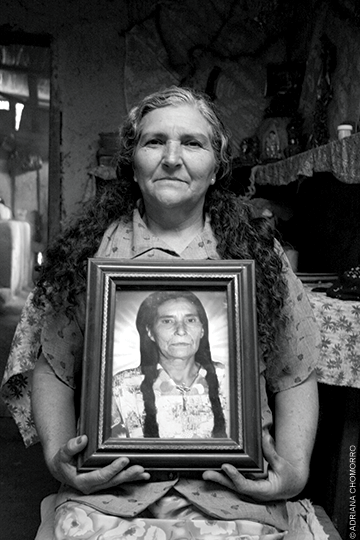 Doña Rosa de Montenegro, with a photograph of her mother. Her youngest son, Otoniel, is a fifth grader at Buenos Aires school.
---
Don Gonzalo has been a cortador at a small coffee plantation for nine years. "I am a poor man," he said. "It's easy to imagine changes, but harder to do them. If I want to build something I need wood, but how to get it? It's expensive, and concrete—forget about it. Patrones don't even have enough to pay their workers." But Semillas Digitales had given them hope, in part because it had given the students so much confidence.
The day was warm and humid, and the church, which was a wooden box with a tin roof and a dirt floor, had the claustrophobic air of a stable. Bed sheets and dollar-store figurines took the place of stained glass and statuary. After the service, Don Gonzalo and Doña Rosa took us to see the progress of a new, much larger church with cinderblock walls and a concrete floor that the community was building just up the hill, a project that had already taken five years (a roof had recently been added).
Doña Rosa had the civic activist's soft intensity, grounded in a belief in human goodness and a blunt willingness to ask for more. Oto, she said, was getting a fine education at Buenos Aires. "But past sixth grade, what happens then? There are many intelligent kids in the community who should be in high school. If there was a secundaria a lot of kids would go."
The idea of bringing a secondary school to Buenos Aires was voiced frequently by the community members I spoke to and strongly endorsed by Ravitch and Tarditi. They have begun to assess the possibility with the Fabretto Children's Foundation, which operates a mobile, agrarian-based curriculum in remote areas of Central America. At lunch, Tarditi raised the idea with Baltodano, who didn't see the immediate imperative. After all, only slightly more than 40 percent of Nicaraguan children complete sixth grade. Baltodano wanted to keep the focus on K-6. "Better to load up the pipeline in primary school," he said.
"Clearly, you'd like to do that initially," responded Tarditi, "but at some point you have to open the valve." Eventually, he believes, Duilio will support a secondary school. But what if, in the co-constructed model, co-constructors disagree?
In class on Monday, the third through sixth graders were asked to write an essay describing their trip to Managua using the XO's draw function, which would enable them to present their experience simultaneously in text and video, with photographs and original drawings. Work began slowly, and at first it seemed that the laptops were a distraction. Couldn't they learn as effectively with pencil and paper?
I wandered outside. Cortadores in single file walked into the arbor. It began to rain. When I returned to the classroom, Tarditi was demonstrating something to the teachers on the MacBook and the kids were writing, placing their essays into bubbles as if they were to be part of a Venn diagram. Wrote Hector Uriel, a sixth grader, "To me, the presentation was lovely because I got to meet different kinds of people from other places." And that was it, precisely: the computers were a writing tool that simultaneously taught these remote children how to communicate in the language of the wider world.
---
After lunch at Buenos Aires, the children were dismissed. Tarditi, Moreno, and Montenegro got in a pick-up truck to drive to the school at Abisinia. In the narrative of capacity building and sustainability, this was the rubber meeting the road. Moreno and Montenegro are both 40. Moreno has short hair and a sharp wit and Montenegro long hair and a knowing smile. As they drove across the valley, Moreno described the challenge before them. Abisinia was a former Sandinista military encampment that had become a loose and somewhat lawless community. It was isolated, and unlike Buenos Aires, unprotected. There were few jobs and as a result the community was beset by alcoholism, delinquency, child sexual abuse, extreme violence, and rape. "Everything out there finds its way into the school," she said.
"I've been doing a lot of thinking about the transition from Buenos Aires," said Montenegro, a former school principal. "Abisinia is another world."
The school, which was freshly painted, is the size of a small, 1960s era American elementary school. It sits at the edge of a wide field, where horses and donkeys graze. There are vegetable gardens and a large library, improvements that have resulted from a partnership with the French bank Société Générale, set up by Dania Baltodano, the former CEO of CISA's export division. More than 500 children attend the school, but because the facility can only accommodate about half that, high-school students come in a second shift, after lunch and on the weekends.
During the meeting in the school's library, Tarditi sat quietly, taking notes. Moreno and Montenegro asked questions about the electrical capacity, Internet connection, and the plumbing (it was constantly out of order). Montenegro pulled an XO out of her bag and Moreno demonstrated the laptop's math game, "Tuxmilla," a takeoff on the old pinball arcade game, "Asteroids." The teachers gathered around to give it a try. Electronic explosions—indicating they were completing the math equations correctly—scored the air. Moreno, meanwhile, explained how the computers were integrated with the Ministry of Education's curriculum.
"The kids are playing," she noted, "but at the same time they are learning." And then she leaned forward and smiled. Of course, she reminded them, the skill of the teacher is what's important. "The computer is really no more than a complementary tool."
---
Inmid-2011, management of the project was handed over to Moreno and Montenegro of CISA. They are the lynchpin of the capacity building and professionalization strategy. Initially the transition was bumpy±—fraught with cultural miscues, miscommunication, and the blurring of roles—but during the 2012 school year, the second full year of Semillas Digitales, the Nicaraguan school coordinators began to assert control. Montenegro took over the role of lead facilitator, integrating teachers into the program, and Moreno assumed the position of overall program coordinator, in charge of methodology and the relationships with the Penn researchers and the national Ministry of Education.
As expected, the expansion to the school in Abisinia was challenging. They faced a climate of mistrust among the teachers and a severe lack of collaboration. The school's assistant director was accused of stealing four XOs from the school, and though they were later found over an hour away in her hometown, she remains in her position, probably due to political ties.
Yet, a core group of dedicated faculty has emerged and students' digital literacy has grown substantially. Last April, Abisinia students and teachers came to Managua to present to stakeholders. The progress was enough that Duilio Baltodano agreed to extend the project to the Flor de Maria Rizo school at the Los Potrerillos farm this spring, the first time Semillas Digitales will spread to a school outside the CISA network.
---
Nathaniel Popkin C'91 GCP'95 is the co-editor of Hidden City Daily and co-producer and senior scriptwriter of the documentary film series "Philadelphia: The Great Experiment." He is author of Song of the City: An Intimate Portrait of the American Urban Landscape, The Possible City: Exercises in Dreaming Philadelphia, and the forthcoming novel Lion and Leopard.