Science! Science! Sis Boom Bah!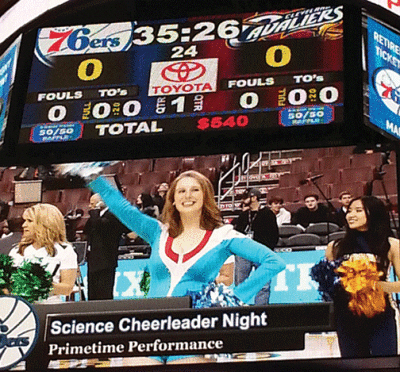 Class of '05 | Those who attended the Philadelphia 76ers game on February 18 probably weren't expecting to receive a science education, but that is exactly what they got. At halftime, the cheerleaders chanted cheers about basic scientific principles. At timeouts they shot microbe sample kits—with instructions on swabbing for particles—out of T-shirt dispensers. Along the concourse, beside the hot-dog and T-shirt stands, a science fair exhibited research projects that could be performed by ordinary Philadelphians. Real scientists were available to talk to young people and their families about what it means to work in the field.
This event was only one of many dreamed up by Darlene Cavalier CGS'05, founder of Science Cheerleader—an organization of more than 300 current and former NFL and NBA cheerleaders whose aim is to get more people involved in science—and SciStarter, a company that connects ordinary people with science-research opportunities. Through those two organizations, Cavalier has helped some 600 researchers recruit volunteers to assist with experiments and inspired hundreds of young women who didn't know they could be cheerleaders as well as serious scientists. News outlets including ESPN, NPR, BBC, CNN, and the Today show have highlighted her work, while Good Company Ventures, a Philadelphia company that accelerates and incubates businesses, named SciStarter one of the top startups in the city. Even congress listens to her ideas on citizen engagement.
"She's thinking really out of the box," says Jonathan Moreno, the David & Lyn Silfen University Professor at Penn (not to mention professor of medical ethics and health policy and the history and sociology of science) and a senior fellow at the Washington-based Center for American Progress. "It is really not necessary that people all have PhDs in biology, but it is [necessary] that they feel part of the process of discovery in a small way, and that's what she's doing."
From early on Cavalier—who at 44 still fits the cheerleader stereotype with her trim, petite figure; long, wavy hair; and peppy voice—understood the power that cheerleaders have to connect with the public. Having been a high-school cheerleader in Morrisville, Pennsylvania, as well as at Temple University (where she received her undergraduate degree) and with the 76ers (for whom she danced professionally for three years), Cavalier saw how communities rallied around teams and their cheerleaders on the sidelines.
The idea for Science Cheerleader started when Cavalier read a book about adult science literacy. She loved it, but knowing that most laypeople would never read it, she convinced the 76ers, her old squad, to make a video highlighting the main points of the book. A number of cheerleaders asked her how they could help spread positive messages about science.
When Cavalier began posting interviews with these women on the Science Cheerleader blog, it always led to a bump in traffic. Then she recruited volunteers to perform at youth football games and cheerleading competitions and to mentor elementary-school girls. In December the Science Cheerleaders released an e-book on the science behind cheerleading and football to get these kids interested in knowing more.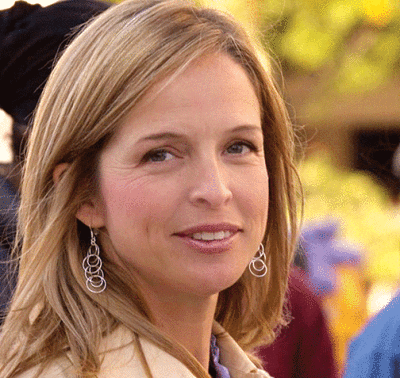 Cavalier's passion for science really began in the early 1990s when she joined Media Management, which handled administrative work for magazines like Time, Fortune, and Discover. While going through the applications for Discover's award for technological innovation, she was fascinated by what the researchers, mostly scientists from universities or government organizations, were doing.
After the Walt Disney Company bought Discover, she led and expanded the awards program. She organized a huge award ceremony at Epcot for the participants, created television specials about the winners for the Discovery and Disney Channels, and developed a junior awards program for elementary- and middle-school students. Cavalier's colleagues called her Tigger because she was so happy in her job, especially the part that involved meeting the scientists and finding new ways to educate the public about their work.
She began to question the public's role in science. Should readers simply read science articles in magazines or should they do something more with the information? What do people do who love science but don't have a degree in biology or engineering? Discover's then-editor-in-chief, Marc Zabludoff, encouraged her to find out if Penn had a program where she could explore some of those thoughts. Sure enough, in a Penn course taught by Susan Lindee, the Janice and Julian Bers Professor of History and Sociology of Science, Cavalier discovered that while there were organizations of experts that advised congress on science policy, there were none comprised of regular citizens—even though some laypeople actually have considerable expertise about certain issues. (Farmers, for example, often know more about their own land and its relationship with weather patterns than anybody.) She studied a group called Citizen Scientists who did research in their free time (volunteer water-quality monitoring groups, for example) but did not collaborate with scientists working on similar projects. Along the way she discovered that the public's attitude toward scientists (who "seem so mysterious and distant," in Moreno's words) was an obstacle to securing science funding.
SciStarter began when Cavalier was still at Penn, trying to keep track of the various citizen-scientist projects she had read about. She created an online project finder so that more people could find opportunities in their area, then asked partners such as Discover and the National Science Teachers Association to send their audiences there. Once she had a following, she recruited science researchers to add their own projects. Now, some eight years later, more than 650 projects are advertised and researchers are getting the help they need. And the public is getting the message that it is important for them to be involved.
But Cavalier knew it wasn't enough to just get citizens involved in science projects; they also needed to relay their input to policy-makers, particularly elected officials. And so, along with such organizations as the Boston Museum of Science, Cavalier created a network called the Expert and Citizen Assessment of Science and Technology (ECAST) that has worked to find ways for laypeople to give congress their opinions of individual policies. Last year the network held a pilot program in which people in four locations around the country were invited to weigh in on policy related to biodiversity issues.
And last month, ECAST got its first big assignment: working with NASA on its Asteroid Initiative, an effort to land humans on asteroids by 2025. ECAST will run public conversations that give citizens an opportunity to weigh in on the mission, as well as create ways for ordinary people to participate in the research. The project is an ideal opportunity for ECAST, says Cavalier, something that is "beyond my wildest dreams."
"She has a new idea every few seconds," says Moreno. "It's just brilliant."
—Alyson Krueger C'07