Right Foot, Left Foot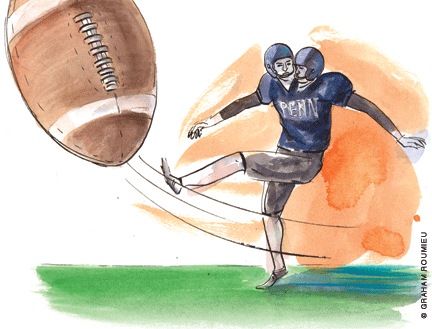 Dueling kickers on the other varsity football team.
By Mark Dziemianowicz
---
When a spectator commented after the final game of the season, "Sprint-football games are really much more exciting than the varsity games," Coach Bill Wagner was ready with his response: "You mean the Fat Boys?"
As any of Wagner's sprint-football players can attest, that is how we refer to the squad that typically goes by the name of Penn. In turn, the Fat Boys dismiss us as the "lightweights." It could be worse. Everyone else asks, "Spring football? And you're already practicing? Wait, is that like flag football? Do you wear pads?"
Well, not everyone else. Some people simply look us up and down and ask, "You play football?"
Yes, we wear pads. In fact, sprint football is a varsity sport and abides by the same NCAA rules that govern every other varsity football program in the country. The sole difference is that we must weigh in below 172 pounds before each game. The only players likely to pass that test in "fat boy" football are kickers—who often get tagged with names that make lightweight sound downright complimentary by comparison.
Like most people, I knew little about sprint football when I joined the team, so I came into my freshman season with a couple of dumb assumptions. The first was that, at 165 pounds, I would be one of the larger kids on the team. The second was that I would be the best kicker by a mile.
There is a certain alienation that comes from playing the only position on the field where physical contact is penalized. Kickers are often stereotyped as fragile and weak. I will not attest to the latter, but I cannot honestly dispute the former. After I made a point-after attempt in my junior year of high school, an opposing linebacker dove into my kicking leg and broke my fibula. It was one of only two times I was hit all year. It took approximately 20,000 collisions that season to produce my team's only other broken bone.
But perhaps sprint football would be different. A kicker on the regular varsity could conceivably be half the size of his heaviest teammate. But on the sprint team, there might be as little as a plate of spaghetti separating me from the nose tackle.
Unfortunately, this truth had no bearing on the actual social dynamics of kicking, as I quickly learned.
On the first day of practice, I was one of the last to arrive in the locker room. After receiving my gear, I joined the group gathered for our first meeting. Then another player entered the room and reality hit. I knew immediately who he had to be. He wore a faded green-and-yellow shirt and a wristband that sported a Brazilian flag—the marks of a soccer player, in this context a kicker, no doubt. I had been told over the summer that another freshman kicker was trying out, but I hadn't worried about it. Anyone who hadn't been recruited couldn't possibly have a stronger foot than I did. My ego blinded me.
"Call me Brazil! I'm from Brazil! Call me Brazil!" These are the words most of us remember from our first encounter with our kicker-teammate Raiam Santos. Although "Brazil" didn't actually take any kicks at the first practice, that didn't stop him from offering me feedback. "Forty-five yards? Not bad, but aren't you going to move back to the 50?" Brazil had kicked a 53-yard field goal over the summer, and he made sure I knew it the minute I stepped on the field. His brashness was in stark contrast to my self-contained, stereotypical kicker's personality.
Brazil and I were friendly on the field, but the silence of our rivalry made it all the more heated. Every week we competed for two spots: place kicker and punter. Practices became fierce battles for the positions. Whoever could kick farther and more accurately the day before the game would get the spot. Thursday night practices were intense.
As the rest of the team went through the motions, sure of their spots on the depth chart, a single mistake could cost Brazil or me a starting role.
What would it take for one of us to beat the other? Four of four from over 35? Punts over 40 yards? Each week the competition grew tougher. Our nerves were strung much tighter during these practices than during the games themselves.
The first official test was in Ithaca, against Cornell. Surprisingly, it did not involve kicking. As any NFL fan knows, most of a kicker's life is spent warming up. Well, the pros probably have assistants responsible for lugging those gigantic kicking nets to and from the field. Although they only weigh about 50 pounds, they're incredibly bulky and difficult to carry. Brazil and I decided that the easiest way was to hang the contraption between us and walk side by side. Suffice it to say that tight doorways and narrow halls turned this into a comedy of frustration that made us two of the last players into the locker room.
When we finally reached the field, it felt like a weight had been lifted—because, well, one had. Unfortunately that feeling would not last. Cornell was by far our worst game of the season. Thanks partly to a thunderstorm, each of us suffered a blocked punt, I missed a point-after attempt, and Brazil missed a field goal. The team's 23-18 loss intensified our silent rivalry to an extreme.
That's how it remained at the mid-season point, as we headed into the so-called "championship game" against Army. In the 74-year history of the sprint-football program, Penn had only beaten Army four times. If we fell to the Black Knights again, a league title was highly unlikely.
We struck first, scoring a touchdown in the second quarter. But Brazil's point-after attempt sailed wide right. Our performance needed to be flawless if we were to conquer the perennial powerhouse. Suddenly, Coach Wagner relegated all kicking duties to me.
With just over four minutes left in the game and Army leading 12-6, our junior quarterback Mike D'Angelo threw a 34-yard touchdown pass to sophomore Clarke Armatis to tie the game at 12. The game-deciding point-after attempt was now mine to make or miss.
I stepped onto the field. The team lined up. The snap was good.
My kick sailed through the uprights, sealing the win—and my starting position as kicker for the upcoming games against Cornell and Navy. In the final game against Princeton, the league doormat, Brazil and I once again split the kicking duties.
It may all have happened beneath the radar, and neither one of us emerged the clear victor, but our quiet competition pushed us to higher levels than we would have achieved otherwise. The team finished with a strong 4-2 record. Brazil ended up kicking the third-longest field goal in a league dominated by upperclassmen. I achieved first-team honors as a punter. It hardly mattered that we were outcasts from the physicality of football. Our battle was more intense than pushing and shoving.
We may not have been doing it for the Fat Boys, but the result was varsity-worthy indeed.
---
Mark Dziemianowicz is a College freshman from Radnor, Pennsylvania.