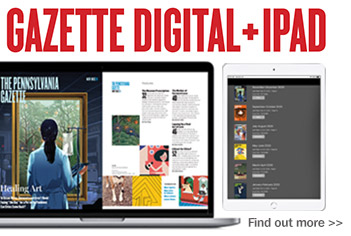 The Pennsylvania Gazette DIGITAL EDITION is an exact replica of the print copy in electronic form. Readers can download the magazine as a PDF or view it on an Internet browser from their desktop computer or laptop. And now the Digital Gazette is available through an iPad app, too.
Besides providing all the content of the printed magazine, the Digital Edition also offers added functions, allowing readers to view thumbnails, search within the issue, link to websites mentioned in articles and ads, and share the magazine or individual articles with others.
We've contracted with a company that works with a number of other publications as well, to distribute the Digital Edition and maintain an archive of past issues that readers can access by entering their email address and a password.
To be added to the distribution list, please email us at digigaz@ben.dev.upenn.edu. Put Gazette Digital Edition on the subject line and type your full name, Penn school(s), class year(s) and your preferred email address as the message. That will allow the Alumni Records Office to identify you and add your email address to the Digital Edition distribution list.
When a new issue of the Gazette is published, you'll receive an email notification that it is available, along with instructions for viewing or downloading the magazine on your computer or iPad.
You can also download the iPad app directly from the app store. Just search for The Pennsylvania Gazette and follow the instructions to download.
Please let us know what you think of the Digital Gazette on your computer or iPad (or, as always, anything you see in the magazine), by emailing us at gazette@ben.dev.upenn.edu.