On the Menu: International Relations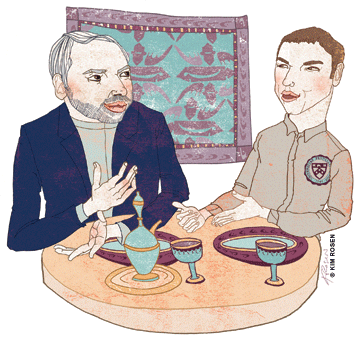 Class of '00 and '07 | At first glance Stephen Danley C'07 thought it was one of those joke e-mails. The subject line read "Iranian ambassador," and when the Penn senior opened it up, he found a dinner invitation to the Upper East Side home of the Honorable Javad Zarif. A few weeks later he was admiring Persian mosaics and talking politics between courses with Iran's ambassador to the United Nations.
Danley owes his unusual opportunity to three Penn alumni—Seth Ginns C'00, Neal Nathani W'00, and Ali Gunusen W'00—who won a "private dinner for 10" with Zarif and his wife, Maryam, at a charity auction. Ginns, an investment analyst in New York, is involved with Network 2020, which held the auction of diplomatic dinners last summer to support its mission of improving foreign-policy understanding among young professionals. When he and his friends saw the event with Zarif listed in the auction's prospectus, they thought it would be especially timely given the recent headlines about Iran's nuclear program. They pooled their money (an amount they prefer not to disclose) and Gunusen put in the winning bid.
After they each rounded out the dinner list with a couple of friends or colleagues, there was a 10th spot to fill. "We all had Penn in common," Ginns says. "Penn has played a very important role in all our lives, and we came up with the idea of talking to various departments at Penn and seeing who had a student they felt might be appropriate for this dinner, and who would find it interesting."
Danley, a philosophy, politics, and economics major who is also a star forward on the Quaker men's basketball team, was among those nominated by the Center for Undergraduate Research and Fellowships. He made a great addition to the gathering, Ginns says. "Stephen wasn't shy at all." Actually, the entire group had a lot to ask the ambassador.
"I don't think he ate much," says Nathani, "because there were questions constantly thrown at him, whether regarding nuclear proliferation, regarding Israel, regarding the Bush administration, or regarding ethnic groups or feminism. The questions were diverse because the crowd itself was diverse."
"He was incredibly bright and he made you want to believe everything he said," Danley adds. "The biggest thing is that he explained their position in a way that made them seem like rational actors."
At the time of the dinner, on September 9, Iran had just passed a U.N. deadline to halt its nuclear-enrichment program. "I directed my questions around topics that were from the last few weeks of developments at the U.N. with regard to alliances between countries that were involved with negotiations on sanctions," Ginns says. "I think he handled everything in stride. My questions were all diplomatically served and diplomatically responded to.
"One thing which we discussed, which I thought was interesting, was the Iranian government's interest in striking some sort of government agreement to continue nuclear enrichment with monitoring, which, I think, at that time was not widely discussed," Ginns adds. "I think his point with regard to that option was that the actions that they would be taking in enriching material for nuclear power fall within the non-proliferation treaty [that Iran signed in 1970] and the Western world is better off with a monitoring role than they are with a government that is moving in that direction where they don't have a monitoring role."
When the dinner conversation drifted to American politics, Danley, who had worked as a White House intern, felt more comfortable jumping in. He was also interested in what Zarif had to say about Israel's 33-day war with Lebanon.
"[Zarif's] point was that the whole war had essentially erupted over Hezbollah taking a number of Israeli soldiers prisoner, but he wanted to point out the large number of people Israel keeps in their prisons without any sort of trial," Danley says. "I would be inclined to side with Israel, [feeling] like they were the reactor, not the aggressor, in that situation, but it's not black and white. He brought out a lot of gray."
The ambassador's wife entertained questions about her country's culture and their art-filled residence. According to Danley, she also injected some levity into the evening: "It was really funny. She said that in Iran women were not allowed to drive, but when they're in the United States she didn't ordinarily let the ambassador drive. She doesn't think he's aggressive enough."
For Nathani, the dinner was the kind of experience that prompts one to be "more probing" about what is reported in the media. "I think young members of our society need to be constantly engaged and challenge themselves to look beyond the television screen and the front-page articles to really understand the issues," he says.
Danley, a Rhodes Scholar finalist who is interested in graduate school, teaching, and politics "down the road," is already thinking in those terms. "If you hope to change anything, you have to understand the rationale behind the action," he says. " I'm not sure that's always done, especially to the extent where negotiations don't even get started. The need for dialogue was very apparent."
—Susan Frith