Next Stop, Paradise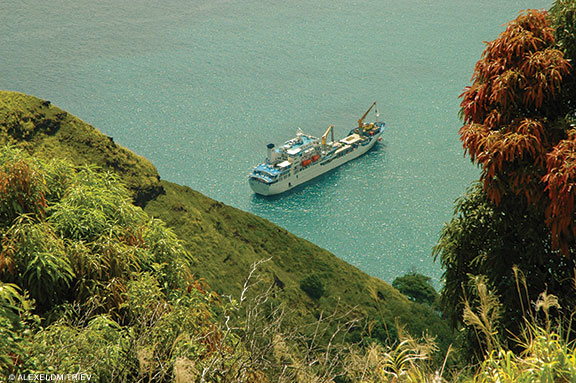 Chasing tropical bliss to the farthest edge of French Polynesia.
---
By Alexei Dmitriev | Paradise may not have GPS coordinates, but that's never stopped a certain breed of believer from insisting that it's a place on earth that one can reach. A remote, exotic, tropical island, to be exact. Or, to be exacter still, Tahiti.
Rising above blue waves near the Tropic of Capricorn in the middle of the Pacific Ocean, Tahiti has captivated the Western imagination for almost 250 years. In 1768, a Tahitian maiden climbed aboard a French frigate commanded by Louis-Antoine de Bougainville and made perhaps the most sensational first impression in the annals of European exploration. Striding across the quarterdeck, she nonchalantly let her barkcloth wrap dress slip to the deck in front of 200 men who had not seen a woman for four months. The poor souls felt that Providence had guided them to the Gates of Eden. Bougainville claimed the island for France, published a sensational account of his encounter with the uninhibited locals, and the utopian myth of dreamy Tahiti was born.
Left in the shadows of history was the captain's daily log, which had recorded the event with a different spin—that the young girl had proffered the view and the promise of what might follow in exchange for some nails, iron being a rarity in the South Seas.
But the romantic account was just too good not to be true. So perfectly did Tahiti exemplify Jean-Jacques Rousseau's notion of noble savages living in harmony with each other and their surroundings that luminaries on the order of Diderot and Lord Byron were happy to sing its praises, despite never actually traveling there.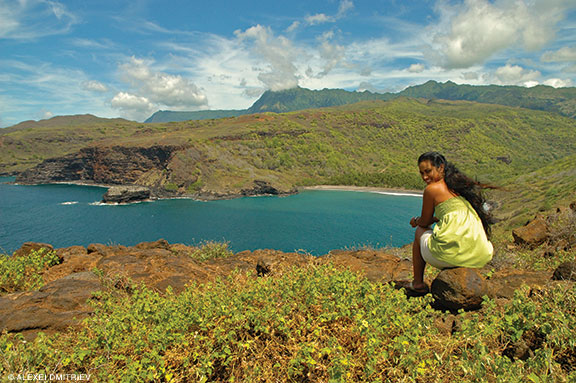 Herman Melville did visit, and embroidered his first book, Typee, with images of "nymphs" clinging to the sides of his ship, "their jet-black tresses streaming over their shoulders, and half enveloping their naked forms." Having heard that the novelist Pierre Loti was happily cohabiting with a local teenage girl, Paul Gauguin soon packed his bags for Polynesia. Somerset Maugham followed, as did Belgian singer Jacques Brel, trying to escape fame and cope with a mid-life crisis. Marlon Brando filmed The Mutiny on the Bounty there—and then married his Polynesian co-star and bought a nearby atoll.
The myth of Tahiti has been going as strong as ever; every year 160,000 people visit the islands. But as I found while joining them, the more people call a place "paradise," the less it starts to resemble one.
Protestant missionaries got an early start. Coopting a local ruler, they banned tattoos, outlawed dancing, and began stamping out polygamy. The French colonial administration picked up where they left off, and proved themselves no slouches in the fear-of-God department. Beginning in 1960, they carried out 193 nuclear tests that exposed Tahiti to more than 500 times the maximum allowable level of radiation. The program's cessation in 1996 had a different sort of fallout. Thousands of suddenly unemployed islanders, who had migrated to Tahiti's capital from all over French Polynesia to earn nuclear-program wages, set up slums whose state of nature Rousseau would not have found all that noble.
Even on romantic Bora Bora, the paradise has started to lose its luster: the Tahitian "mama" mixing my drinks made her impression by way of extra pounds and missing teeth. I learned that the seriousness of a suitor's intentions for a local girl are sometimes tested by a request that he pick up the cost of implants—dental ones in this case.
But no need to lament Tahiti's fall from heavenliness. Paradise has not been lost completely, it just moved 850 miles northeast, to an even more remote archipelago, the Marquesas. So I hopped aboard the Aranui, a cargo vessel that makes 17 trips a year to supply those still-more-remote islanders with everything, from diapers to TVs, that can make life in paradise easier. Good deeds may pave the road to the metaphysical heaven, but it was a freighter that was to take me to the earthly one.
Behind the entrancing names of Nuku Hiva, Ua Pu, Ua Huka, Hiva Oa, and Fatu Hiva hide islands believed to be the most stunning in the world. The cold Humboldt Current prevents the growth of coral reefs, so waves hit the volcanic rocks with all the might gathered on their long path from South America. The lack of good beaches and pesky "no-no" flies keep the hordes of mainstream vacationers away. The locals follow suit. Their ancestors consumed human flesh as late as 1925, and the descendants show no signs of embracing the Club Med customer-service ethic.
Nuku Hiva is the second largest island in French Polynesia after Tahiti, but sustains fewer than 3,000 souls. I hired a jeep and went to the Taipivai Valley to see the ruins of a settlement where "long pigs" were eaten in cannibal feasts, and later a few episodes of Survivor were filmed.
Melville abandoned his whaling ship here in 1842, and lived among the cannibals. He wasn't the only creative type who got stuck on the Marquesas. In 1901 Gauguin escaped Tahiti so as "not to see Europeans," and built his "House of Pleasure" on Hiva Oa, where a replica remains the main attraction. Over the entrance, the artist carved the slogan "Be in love and be happy"—about himself—and "Be mysterious," about the locals. He loved the mystery in them, but they did not reciprocate, calling him "taata-vahine" (man-woman). He bought a 14-year-old girl from her parents and she gave birth to a daughter. Locals approached me with reproductions of his paintings purportedly showing their great grandmas, and offering to take me to his grave.
Tahiti Tourism should have built a monument to Gauguin and inlayed it with black pearls; without his paintings, French Polynesia would not have a tenth of the romantic aura it enjoys today. But there is no monument; his grave features a small statuette of Oviri, the goddess of death and mourning whose name also means "savage."
Jacques Brel found eternal rest nearby. The Belgian chansonnier stepped ashore on Hiva Oa in 1975. When the island's two gendarmes had no reaction to the name in his passport, he is said to have borrowed a guitar from some teenagers hanging out on the dock to perform his hit song "In the Port of Amsterdam." After nobody cared, he wanted to stay forever, and did.
Fatu Hiva is the archipelago's greenest but least accessible inhabited island. In 1936, Thor Heyerdahl—before his Kon-Tiki fame—decided to honeymoon here with his wife by going native. After a few weeks, malnourished and sick, they had to be rescued by missionaries.
I walked 10 miles across the island without meeting a soul. But as much as I embraced the impulse behind the Heyerdahls' plan, I came to experience the reasons for its failure when some small but vicious creature stung me in the rear in the elegiac creek where I hoped to relax after the long hike. Still, it was easy to follow Brel's lyrical advice—"gémir n'est pas de mise/aux Marquises" (It's not cool to moan in the Marquesas)—when in the frame of hibiscus flowers I saw cliffs colored every hue of green dropping into Hanavave Bay, the most beautiful anchorage in the South Pacific. Its basalt spires inspired French sailors to call it Phallic Bay (Baie des Verges), but missionaries rushed to insert an "i", turning it virginal (Baie des Vierges), befitting their own favored idea of paradise.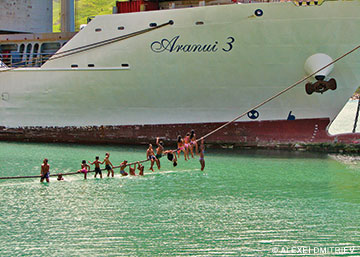 When Aranui again stopped at Nuku Hiva on its way back toward Tahiti, I emulated Melville and waved the ship goodbye. After settling in near Anaho Bay, which Robert Louis Stevenson called home for a month in 1888, I befriended a local man who took me hunting for wild goats. They proved to belong to someone else, so we had to retreat fast. Aside from this adventure, the sojourn was uneventfully mundane. Feasts of pit-roasted pig turned out to be an event reserved only for when Aranui passengers were around; in between the islanders subsisted on cassava and taro. For amusement the men played petanque for Hinano beer and battered their girlfriends. Paradise never quite pans out the way you think it will.
I did not last until the Aranui's next call, and instead took a flight to Papeete.
"Flying back today? Dommage!" said a smiling matron at the Nuku Hiva airport. "Until Aranui calls again you'd have plenty of time to start a family," she added, dangling that old promise of bliss that had initially lured Europeans to Tahiti. I let it pass me by.
I was so far away from anywhere important that there was no security control; passengers just got on the plane as though it were a bus. A family of well-off Marquesans sitting next to me was clearly heading abroad.
"So where does someone living in paradise go on vacation?" I asked them.
"Disneyland!" the mom exclaimed.
---
Alexei Dmitriev G'88 is a documentary filmmaker in Potomac, Maryland.