New Penn Alumni President: Ann Reese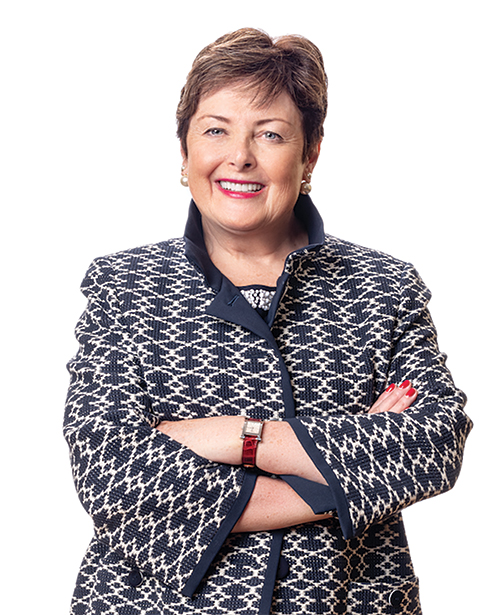 A CFO and adoption advocate—and former Penn financial-aid student—seeks to advance first-generation and diversity efforts.
---
In the spot where many alumni might reel off the extracurricular activities that filled their "free" time on campus, Ann Reese CW'74 recalls the places she held down jobs as an undergraduate: Accounts Payable in the Franklin Building, Just Ice Cream, xeroxing at the Copy Center, and (her favorite) La Terrasse.
"The way they calculated financial aid in those days basically meant that my family—who lived on Social Security survivor's benefits—would have had to give up a third of their income for me. So I worked full-time the whole time I was at Penn," she explains. "I kind of went to class, and I did jobs. I wasn't really involved in any student groups or anything."
Since achieving professional success post-graduation during a 25-year career as a finance executive and chief financial officer, Reese has made up for lost time, serving in a variety of volunteer leadership positions at the University. She began her latest one on July 1, when she took office as the president of Penn Alumni, succeeding Julie Beren Platt C'79, who served from 2013 to 2018.
"Julie has been just a positive, amazing, connected, and productive personality to have in that role," says Hoopes Wampler GrEd'13, associate vice president for alumni relations. "The energy and commitment she's brought to it have been extraordinary." He then cites Reese, along with former presidents Paul Williams W'67 and Lee Spelman Doty W'76, as further examples of Penn's "deep bench" of senior alumni leaders who have been willing to take on an assignment that's "really fairly demanding—these presidents hear from everybody, not just staff, about what alumni life is like at Penn."
Since Penn Alumni presidents must also be University trustees, that's on top of those responsibilities—Reese serves on the executive committee and chairs the audit & compliance committee—not to mention the rest of life's demands. Among the current eligible group, "Ann popped up as somebody who we thought would be fantastic," Wampler says, "so we were lucky she said yes."
"I'm excited to take on the role," Reese said in an interview shortly before she began her term. "I feel like it's a real benefit to me to be able to meet more of the alumni than those I've gotten to know, and to figure out how we can support additional alumni engagement.
"If you have a cause, if you have an interest, chances are that there is someone at Penn or some activity at Penn or some way to direct your philanthropy and your interest through efforts going on at Penn," she said. "And it's never too late to get involved."
She credited classmate Susan Danilow CW'74 G'74, who reached out in advance of their 25th Reunion, with sparking her own involvement. "I had had some career success at that point and wanted to give back to the scholarship program," she recalled. "And through that conversation, as part of the Reunion, [Susan] started to talk to me about the Trustees Council of Penn Women," where Reese helped launch TCPW's career-networking program.
Danilow also introduced her to Richard Gelles, the Joanne and Raymond Welsh Chair of Child Welfare and Family Violence and former dean of the School of Social Policy and Practice. Gelles' work on adoption policy and his 1996 book, The Book of David: How Preserving Families Can Cost Children's Lives, especially resonated with Reese. An adoptive parent of two children, now college age, who were born in Romania, she is co-founder and co-executive director of the Center for Adoption Policy (CAP). That connection led to her joining the SP2 board of overseers, which she chaired from 2009 to 2017.
Though she was still familiarizing herself with Penn Alumni's role—and looking forward to huddling with Platt, Doty, and Williams for help in "learning what to do," she said—Reese did point to a couple of key priorities for her tenure, in support of the Power of Penn campaign's overall goal of increasing alumni engagement. Those include advancing the University's expanding efforts to better serve first-generation and low-income students, along with ramping up and broadening participation in diversity programs for students and alumni and achieving even more diverse representation in alumni leadership circles.
"I was probably pretty ill-prepared for my experience at Penn, although I was a top student in a parochial high school on Long Island," she recalled. "When I got to Penn I was kind of in over my head. That's why I'm really committed to the support that we are giving to first-gen students.
"Listen: Without support, without anything, Penn opened doors for me that I'm so grateful for. I might have had a better opportunity to participate in the intellectual life at Penn if I'd had some of the kind of pre-entry support that we're starting to put in, and just a little bit more coaching in knowing where to go to advocate for yourself."
Reese said she was interested in exploring "formal programmatic ways to engage first-gen students with both first-gen mentors and the broader alumni population, and to keep them engaged right after school." She described as "shocking" the fact that founders of the first-generation and low-income student group Penn First had confided to her that they still sometimes feel they don't belong. "They can struggle to feel like they fit in," she said. "And, you know, if they struggle to feel that way in school, there's probably some additional efforts that could be helpful if we want to engage them as alums."
While she noted that she hasn't yet seen supporting data, anecdotally and from her own experience Reese believes that "first-gen students are inclined to give back, because coming to Penn as a first-gen student has more of a chance of really changing your life than if you're on a different trajectory."
Reese also suggested some possibilities for more broadly engaging diverse alumni groups, forging alliances among them, and promoting greater awareness among the overall alumni population. "It could appear that some of these [groups] are siloed—but even if they are not, I think we could all benefit from doing some cross-programming," she said. With so much going on at the University, "it's hard to find your place. I want to continue to support outreach efforts."
Wampler calls those "two big areas for us as it relates to current and future operations."
In addition to attracting more first-generation and low-income students, Penn is increasingly focused on offering them "support, guidance, and an ultimate path to success," he says. Connections with alumni—former first-gen, low-income students, and others who want to be supportive—will be key to ensuring that their "path here is successful and that they translate that into success in life as far as careers and professional and social networks," he adds. "We're going to work actively with that effort to make sure that alumni connections and transitions are a part of" the services offered to students.
Wampler also welcomes Reese's "energy and enthusiasm" for increasing the engagement of diverse students and alumni, which is "something we've been very focused on" both here on campus and in regional settings. Finally, he says, Reese "is just a really nice person, and that matters. That's what we've gotten used to, and we're glad we found another."—JP