New College House
It was still three weeks from move-in day, but the New College House was getting ready for its close-up. As carpenters installed the final slats of white-oak millwork and window-washers squeegeed the sun-flooded stairwell towers, architectural photographers scouted shots of Penn's first undergraduate dorm since Stouffer Hall and the high-rises were completed in the early 1970s.
Much has changed in the intervening decades, including the University's approach to urban planning, its ideas about fostering community on campus, and the expectations of a new generation of students.
The New College House is the first residential building on campus specifically designed and built in line with the College House program, which was created 18 years ago ["The Dorm Transformed," Sept|Oct 1999]. It will house 340 undergraduates from all class levels and 10 resident advisors, along with three faculty fellows, house dean Trina Nocerino, and their families. (All the undergrads will be freshmen this year, however, to accommodate those displaced by the 15-month renovation to Hill House ["Gazetteer," Mar|Apr 2016].)
The redbrick exterior, trimmed with Alabama limestone around window openings, exudes a somewhat conservative mien over 34th and Chestnut streets, but projects a livelier spirit over the 125 Years of Women at Penn Walkway, which was preserved in its entirety. From the grassy flanks of that path, the J-shaped building conveys openness and invitation, with lantern-like glass stairwell towers presiding over a publicly accessible "lifted lawn." This grassy slope culminates in a patio overlooking an interior courtyard whose dimensions (and gingko trees) pay homage to the lower Quad.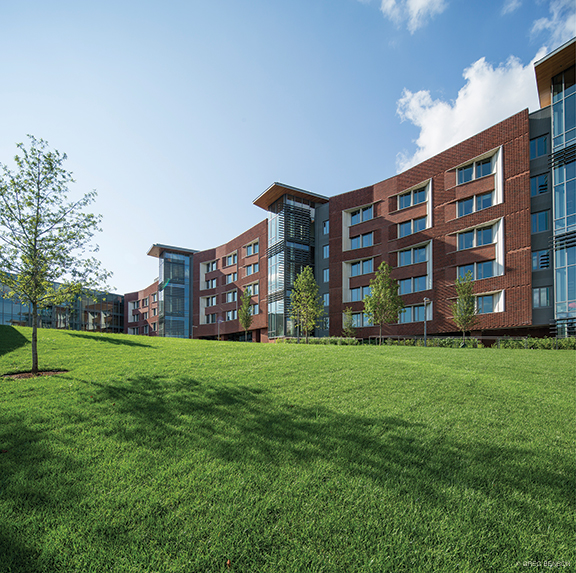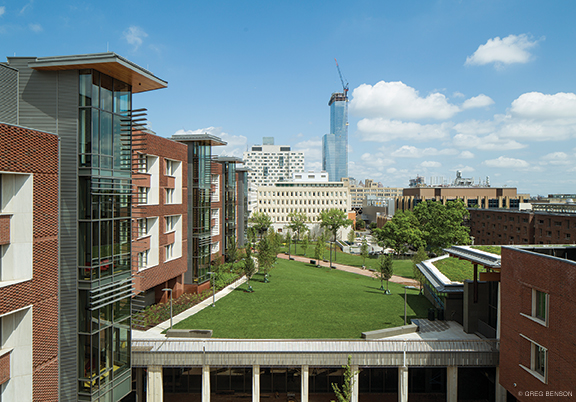 A staggered brick pattern adds depth to the façade, accentuating gentle undulations intended to counteract the potential monotony of a building that stretches the length of a long city block. Ceilings of Douglas fir carry through into deep eaves. Their semi-rustic warmth is echoed in more urban terms by muscular columns of board-formed concrete whose surfaces bear impressions of wood grain. And in marked contrast to the moat-protected Hill House next door, the New College House features a public stairway about midway along its long Chestnut Street run that allows unfettered access to the lawn (though does not provide entry into the building itself).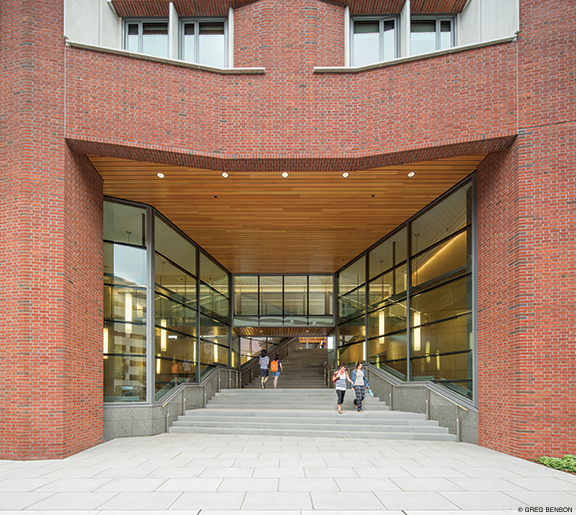 Inside, the University's intent to promote sociality is clear in the quality and diversity of common areas designed by project architect Bohlin Cywinski Jackson, a Philadelphia-based firm best known for designing Apple stores, but which also designed the dental school's Robert Schattner Center.
A free-flowing atrium floored with black granite and lined with white-oak slats leads to a dining room designed to function as a 24-hour gathering space. To one side of the interior courtyard, a broad natural-gas fireplace and end-grain mesquite wood flooring mark a sumptuous "living room" that will house a grand piano. There are two separate music practice rooms, a screening room, two seminar rooms, two group study rooms, and a reading room.
Upper floors, primarily occupied by three-, four-, five-, and six-bedroom suites, are also dotted with common areas—this one outfitted with a pool table, that one offering a few comfy seats for reading or quiet conversation. Two community kitchens, which will be managed via a reservation system, will scratch Top Chef fans where they itch.
Compared to all the generously appointed common areas, the rooms themselves are spartan. Each single bedroom contains a twin bed, a desk, a wardrobe, and a flexible drawer unit that can be stowed under the bed or stacked up beside it. But for a wall-mounted flatscreen TV in each suite's living room, those too are plain: a boxy, linoleum-floored space whose tightness may test the spatial reasoning of five or six undergrads who all want to sit on furniture at the same time.
Plainly, Penn's first purpose-built College House is no place for a hermit. But with its lushly appointed and inviting community spaces, LEED Silver designation for environmental sustainability, and architectural openness to the city around it, the New College House looks to be a strong candidate for the most-requested housing option on campus. —T.P.