$80 Million to Restore Hill's "Wow!"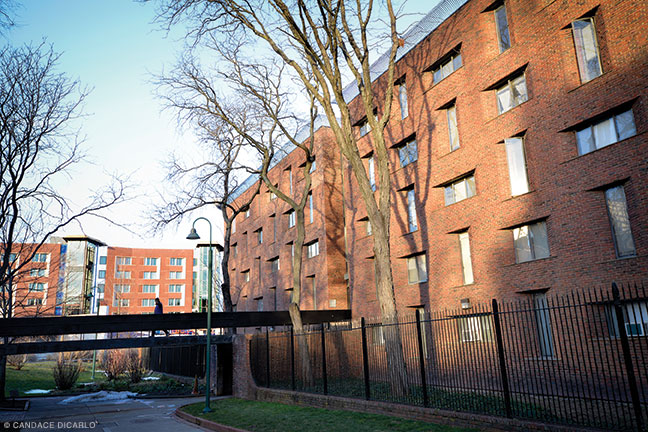 Reactions to Hill College House have always been, well, mixed.
When the building first opened as Penn's women's dormitory, the February 1961 Gazette ran a multi-page photo-essay headlined "A Starkly-Plain Outside But a Wow! Inside." One charmed resident likened the airy interior—with its dramatic atrium, "wrought-iron balustrades [and] louvered shutters," and "green tropical plants"—to being "in a Mediterranean town."
But in the course of a press conference that was also covered in the issue, architect Eero Saarinen was questioned about the meagre size of the rooms and the building's overall "severeness." (In a bit of vintage sexism, one reporter sniffed that it was "unfeminine," with nothing "pink and puffy" about it.)
A half-century later, in a New York Times article listing "Dorms You'll Never See on the Campus Tour" that ran last July, Hill was described as "a brick fortress surrounded by a moat," with "small and narrow" rooms that are "unbearably hot in the early fall."
When all your friends are raving about living in the Quad, one student said, "Hill sucks." On the other hand, that student went on to say that he loved living there. Go figure.
A sampling of student comments forwarded by the Division of Business Services echo the theme:
Hill facilities need to be improved but the overall atmosphere of the house is great.
The rooms are small, but the community atmosphere is awesome.
Hill was a good experience because it allowed me to meet many new friends who are in the same year as me. However, the facilities here along with my room are quite bad …
I love Hill. I would never live here again, but I highly recommend it to all freshmen.
The "unbearable" heat—and many other issues—will be addressed in an $80 million, 15-month renovation project scheduled to start in May. Besides installing air-conditioning for the first time, the project will upgrade electrical and heating systems, add elevators and lifts to improve accessibility, completely redesign and replace the bathrooms, provide new furniture, and refurbish and enhance the building's study and lounge spaces and dining hall. While these measures won't make the rooms any bigger (or relocate them across Spruce Street), they should go a long way to restoring Hill's "Wow!"
Penn staff involved in the project—from facilities and real estate, business services, and the college house system—didn't actually need last summer's Times hit-piece to know that Hill was overdue for a major upgrade. Planning was already under way, spurred in part by the imminent construction of the New College House virtually next-door ["Gazetteer," Jan|Feb 2014]. The prospect of that "potentially unfortunate juxtaposition," says University Architect David Hollenberg GAr'76, "made it really apparent that, if the building didn't get some attention quickly, we'd have this glittering new facility next to something that hadn't had anything comprehensive [done to it] for years."
To save precious floor space, air-conditioning will be provided through a valent system installed above and near the windows. "Basically, it's a coil, and by the physics of the air, it will just go across that coil, so it works without a lot of moving parts," says Michael Dausch, executive director of design and construction management. "And it's a very quiet system, so it will cool without having a loud fan noise or compressor, like you'd have in a hotel room."
Accessibility turned out to be more of an issue than one might guess from the stark exterior, on account of the building's "amazing" number of half-levels, Hollenberg says.
Hill's existing elevator, used mostly during move-in/move-out and to access the loading dock, is at the back of the building. The renovation will provide "an entirely new elevator that will go the full distance," says Mariette Buchman, director of design and construction, while lifts will be installed at the "interim levels that maybe just have a half-flight or three or four steps to them," as is the case with some of the lounge and study spaces. "The combination will allow the entire building to be accessible."
The bathrooms are "a complete redo," says Hollenberg. When Hill went co-ed, the facilities were divided up into dedicated men's and women's rooms, which sometimes made for a fairly long trek to use them. The new bathroom suites will be gender-neutral and available to all residents, but with private toilets and showers. "The actual stalls are individual, lockable, full-height doors," says Hollenberg. "Then there's shared space."
The renovation took care to leave Saarinen's design mostly untouched, though a few rooms were sacrificed to make space for the new elevator and system upgrades, and the rooms adjoining a garden space on the building's upper level were converted into a yoga and exercise room.
Other public spaces will get new furniture and additional amenities, like a new study space (with private rooms equipped with monitors) as well as a common area, music practice rooms, and a "tinkering" room for students working on design or other projects. Some services that had previously been relegated to the basement—er, lower level—like an art studio and laundry room, "have been translated up into the building," says Hollenberg. Hill's dedicated ground-floor dining hall will remain, but the layout will change somewhat to offer more separate stations with different food options.
"We tried to keep all of the things that work about the existing Hill House, but modernize them and enhance them so that they're not looking old and have amenities that people want," says Buchman.
Hill's distinctive "moat" and entrance-bridge will also receive attention. The bridge will be disassembled and rebuilt. The original landscaping was done by Dan Kiley, a nationally respected landscape architect who worked on a number of projects with Saarinen, says Hollenberg. "It was very simple: this moat that surrounded the building planted with honey locust [trees] on a regular pattern, and ground cover."
Since honey locusts have become susceptible to blight, Hollenberg says that a different species will be used—possibly Kentucky coffeetree, "which has a sort of similar shape and a similar airiness, but at the moment is a much hardier tree."
Besides adding urgency to the renovation, the New College House—scheduled to be ready for move-in next fall—will provide swing space so that work can proceed on Hill through the academic year. "This was really sort of the golden opportunity to be able to get in and do the whole building at once," says Dausch.
Even so, "It's fair to say it's an incredibly aggressive schedule to do something of this scale that quickly," Hollenberg notes. "This building is not that forgiving. There's not a lot of head height, not a lot of dimension in any direction, not a lot of flexible partitions. And so weaving systems that weren't there before has been a real challenge."
The project designer was Mills+Schnoering Architects, of Princeton, New Jersey, which has a reputation for historic preservation, and according to Hollenberg has a "sort of subspecialty in mid-century modern." The construction manager is INTECH, a West Philadelphia firm that is also the contractor for the New College House and has worked on earlier residential projects on campus.
Patrick Li W'03 is a Hill House loyalist: he lived there for two years, made many of his (still) closest friends, and "ended up marrying someone who lived down the hall from me." He calls Hill an "architectural marvel" that pushes residents to get to know each other: "The small room size and stuffiness of it forces you to open your doors. All the common space around the dorm becomes an extension of your room. Gradually, you find that you've become a part of the community that is Hill House, and the design of the building itself has shaped and altered your interactions with other students."
For an opposing view, see the first online comment following The Daily Pennsylvanian story on the Hill renovation last fall, which began, "What an insane waste of money slapping lipstick on a pig. Hill was an ugly scar on campus the day it opened." The commenter proposed knocking it down instead.
But the building—which cost a reported $4 million in 1960—could never be replaced for $80 million today. The University's commitment to sustainability also favors renovation and reuse of structures. Besides: "We think it's a great building," says Hollenberg. "Both socially and architecturally, it deserves much more attention than it gets. It's actually a really rich design, and socially it's an incredibly rich design."
The renovation honors the building's retro appeal. "We're not trying to make it look like the Quad or some Harry Potter thing. It's definitely a Sixties aesthetic," says Hollenberg. "It's not a restoration by any means, but it honors the Saarinen spirit, with many of his colors and many of his furnishings. And I think there'll be a lot of affection for it."
While older alumni may look to the Quad for "what Penn is supposed to be," he adds, "I think this generation's going to maybe have a different feeling, between this and the New College House."
Work will begin as soon as possible after Commencement in May, Hollenberg says. "When the last diploma gets handed out, the first hammer falls." —J.P.