Morning Tweets and Arching Eyebrows: A Reporter's Story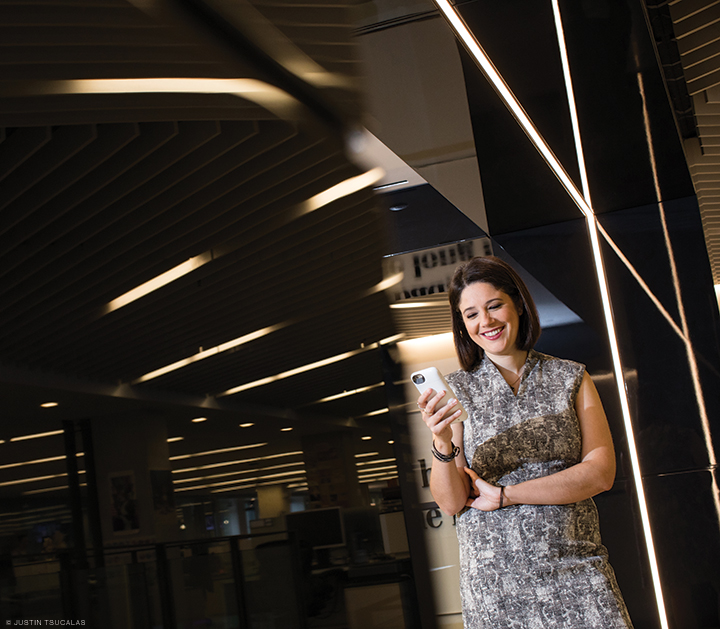 Ashley Parker C'05 sometimes wonders if Twitter is rotting her brain, especially when it hits her first thing in the morning. But she's not complaining—it comes with the territory. Which these days is never boring.
One of her duties on The Washington Post's White House beat—which she shares with five other reporters—involves setting her alarm every 15 minutes, starting at 6 a.m. The purpose of that rotating gig is to check the Twitter feed of President Donald Trump W'68 to see if he has fired off one of his famous 140-character fusillades. She and her colleagues call it the Hot Seat.
"It feels like a rotation created specifically for Donald Trump," Parker says. "Almost invariably, at some point between 6 and 7 a.m., there's a tweet." At which point she usually mutters a sleepy obscenity, sits up in bed, pulls out her laptop, and starts filing.
That part of the job may not be exactly what Parker envisioned back at Penn, where she cultivated a love for long-form narrative storytelling through writing courses and The Daily Pennsylvanian. But now the deeply sourced articles she writes for the Post—like the many she wrote covering presidential campaigns for The New York Times—have made her a well-known figure in the political world. So have her recent television spots as an MSNBC analyst.
Having planned on becoming a freelance magazine writer in New York after graduation, she suddenly found herself in the nation's capital after being offered a job as a research assistant for New York Times columnist Maureen Dowd, who is based in Washington. Then, while helping Dowd chronicle Barack Obama's first presidential campaign in 2008, she caught a serious case of political fever.
"I couldn't think of anything cooler than covering a campaign," says Parker, noting that Dowd ("a wonderful mentor") personally picked up her travel expenses to join her on the trail. "I feel like politics kind of has everything. Yes, you're doing fact-checks and hard news and blogging. But there are also all these amazing larger-than-life human-interest stories. And you're with a bunch of young people running around the country, in a new city every day."
After five years working under Dowd, Parker moved to New York to work as a general-assignment reporter on the Times' metro desk. She also "told anyone who would listen" that she wanted to return to the trail to cover the 2012 presidential campaign, and she got her wish in the late spring of 2011 when she was assigned to follow Mitt Romney, who went on to secure the Republican nomination.
Parker says she "loved the entire thing" and made some great friends while traveling the country. Professionally, though, she doesn't think she mastered the nuances of covering a campaign until shortly before the election—just in time for Romney to lose to Obama, and for Parker to ruminate over the trove of information she had unearthed.
"When you cover a candidate you become obsessed with them," she says. "Once the campaign ended, I had this whole stockpile of facts about Mitt Romney that no one else cared about. He just loomed in my life as this larger-than-life figure. I'd be at Thanksgiving with my parents and someone would say they had a running injury, and I'd be like, 'Oh, Mitt Romney has plantar fasciitis.' At a wedding, a song would come on, and I'd say, 'Little-known fact: Mitt Romney can moonwalk.' It occupied a huge portion of brain space."
Weird trivia aside, Parker did hone her reporting skills during the 2012 campaign. After a few years of covering Congress—which also came with a "steep learning curve"—she was able to put them to good use when she was tasked with covering then-Republican frontrunner Jeb Bush at the start of the 2016 presidential campaign.
That assignment turned out to be short-lived. But the day after Bush dropped out of the race, she received a phone call in her South Carolina hotel room.
"One of my editors called me and was like, 'OK, we want to move you to the biggest, the best, the craziest show in town: Donald Trump,'" Parker recalls. Two days later, she was on the Trump beat, going to the kind of supercharged, high-adrenaline rallies that became the hallmark of his campaign—the kind she never saw while covering Romney or Bush. "He was just attracting crowds that no other politician could have dreamed of," she says. "I know what Mitt Romney crowds look like. I know what Jeb Bush crowds look like. Trump's crowds were a phenomenon like nothing I had ever seen."
While the sheer energy and passion from the crowds told Parker early on that Trump had a real shot at winning the presidency—she saw people getting heat stroke while waiting in line for hours to see him speak—those rallies sometimes felt dangerous for reporters. Although she never felt physically threatened, she learned to be hyper-aware of her surroundings.
Once, at a rally in New Orleans, with Trump supporters and protesters shouting each other down, the arena began to feel like a "tinder box"—at which point she slipped her laptop into her bag so she could move quickly if the place ignited. Another time, in San Diego, Trump called out Parker and her Times colleague Maggie Haberman for "writing the most disgusting stuff about me," even asking if they were in the building.
"And everyone turns around booing and hissing and looking for this horrible woman named Parker," she recalls. "I'm a print reporter, so no one knows who I am, so I just looked around too. I was like, 'Yeah! Who is she? Where is she? Get her!'"
Parker can joke about that moment now, but she recognizes the danger in that anti-media hostility, when Trump labels news reports he doesn't like "fake news." The loss of press access to campaign events was equally alarming. But it wasn't going to stop her from doing her job.
"To be very clear, we're not writing stories to bring a candidate down," says Parker. "We're telling the truth as we best understand it in that moment. But normally stuff that would have brought any other candidate down, or changed their behavior, or prompted a national discussion, it just did not matter when dealing with Donald Trump."
Shortly after Trump's victory—a result that surprised Parker less than most people—she accepted an offer to move from the Times to the Post, still covering Trump. Haberman, a veteran political journalist, was sad to see her Times colleague go.
"Oh, I love her," Haberman says. "She's the best. She really was a fantastic partner. She's a very, very good-hearted person and she's incredibly in-tune with how people are feeling. She's got an amazing eye for detail. Especially with a story that is constant color like Trump, she was very good at picking up things—a lot of things that I missed."
This past April, Parker briefly became famous for her arching eyebrow. Shortly after leaving the White House briefing room one day, she glanced at her phone and saw a text from her mother: "Ashley, your eyebrows!" Knowing that her mom wasn't on social media, Parker wondered how she could have known about a clip of her raised-eyebrow reaction to a claim by former press secretary Sean Spicer. It turned out Parker's mother had heard NBC News anchor Brian Williams say something about the young reporter's raised eyebrow—at which point Parker realized she had unwittingly become a meme.
"As a journalist, you never want to be the story," she says. "But I don't think it was that big of a deal. I guess it was fun for people. Apparently my eyebrows seemed to channel the skepticism of a nation."
Trying to keep up with the 24-hour news cycle in the Trump era is certainly not easy, Parker admits. "I'm sure there's a tipping point at some point where my body will just crumble." But, for now, being part of the Post's political team and breaking stories that are eagerly devoured by readers around the country is both humbling and galvanizing.
"You're exhausted, but you're also like, 'Wait, what just happened?'" she says. "It's exciting. It's a huge story. It's fun. Everyone is reading what you're writing—and it sometimes feels like it's the only story."
— Dave Zeitlin C'03