More Than Just Dingle
The Penn men's basketball team is hoping to get plenty of scoring punch beyond last season's star.
---
The casual way in which Jordan Dingle talks about the uncommon feat of scoring 30 points in a college basketball game gives you the impression of a guy deciding his lunch order from a food truck.
"I have no problem replicating those performances again if that's what we need," says Dingle, who last season became the first Penn player since Ernie Beck W'53 to record six 30-point games in a season. "If not, I have no problem doing whatever else my coach decides. I'm just preparing myself for anything."
Dingle has the numbers to justify his confidence. The 6-foot-3 junior guard ranked 11th in the nation in scoring last season, averaging 20.9 points per game—the fifth player in Penn program history to average more than 20 points per game in a season.
But while Dingle has every chance to improve in his junior season, he'll likely be asked to score fewer points for the betterment of the team, which last season sputtered, especially down the stretch, because few other players could carry the offensive load. "That's not how we play here typically," head coach Steve Donahue says of Dingle putting the team on his back. "I also think Jordan will show another aspect of his game. I think he's one of our better passers. I think he's a high IQ player. I think he can do a lot more than just high-usage scoring."
Last season, in which the Quakers finished 12–15 overall but 9–5 in Ivy League play to qualify for the four-team conference tournament, was unique. Due partly to injuries, and partly to the pandemic having wiped out the entire 2020–21 campaign, the Quakers were among the most inexperienced teams ever, in Donahue's estimation, yet faced an early gauntlet of brutally difficult nonconference games. This year's schedule still has its share of challenges but includes 15 home games (compared to nine last year, most of which were played in a near-empty gym due to COVID attendance restrictions), including a Thanksgiving weekend Palestra tournament and three Big 5 contests in late November and early December.
The Quakers also return just about every key cog in the rotation, including junior guard Clark Slajchert and junior forward Max Martz, the only other two players to average in double figures in scoring last season. "It's always great when you have such an experienced group," Donahue says. "It's probably the exact opposite of last year. We flipped it so quickly."
Donahue is particularly optimistic about having a more seasoned collection of big men, barring repeat injuries to centers Max Lorca-Lloyd and Nick Spinoso that crippled the unit last season, and feels that this year's squad will shoot better from long distance. "One inconsistency last year was our inability to make people pay from the perimeter, which I think we can now do," the coach says.
For Penn to navigate an increasingly challenging Ivy League slate, which begins at Brown on January 2, and show why it was picked by the media to win the conference, Donahue hopes Dingle can be among the players to improve his three-point shooting, from 34 percent last season to over 40 this year, while also cutting down his turnovers and increasing his assists. "In terms of physical attributes, Jordan's really as physically talented as anyone I've coached," Donahue says. "But Jordan understands he's got to have a complete game for us to take the next step."
Dingle says he's ready to do that and has been working in practice to learn where each of his teammates like to catch the ball and shoot from on the court. "I'm trying to make it as easy as possible for them to score," the guard says—though maybe he'll still piece together the occasional 30-point game in front of the "amazing environment" of a packed Palestra (which he hasn't gotten to see much of since arriving at Penn), while continuing to emerge as a player whose reputation extends beyond the city and the Ivy League.
"I put in just as much, if not more, work than anyone else in the country," Dingle says. "I'm confident in my skills and my ability, and god willing, I'll be able to showcase them this year."
---
'The Book of Ted'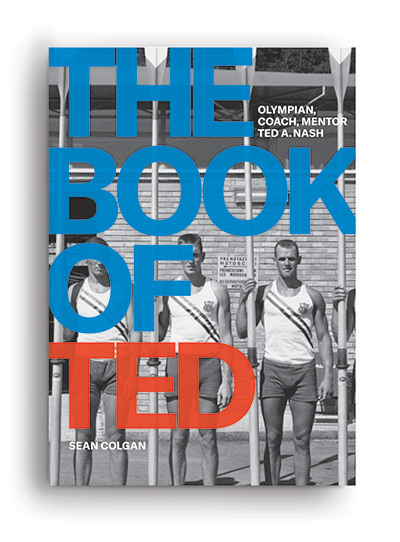 "Memories of Ted blur fact and truth into the Myth and the Man."
So said Alex Cook C'77 about former Penn rowing coach Ted Nash, in an oral history-style book of anecdotes and photographs compiled by Cook's classmate Sean Colgan C'77.
Cook—one of many former Penn rowers to share stories about Nash for Colgan's recently released and aptly named The Book of Ted—went on to explain how Nash, who had a Black Belt, once taught the athletes a supposed martial arts technique called the Grim Reaper. "Ted described the move as using only the fingers to penetrate the chest, grab an enemy's heart, and pull it out dripping hot. This move made quite an impression. The team forever and forward took up the name 'The Grim Reapers,' taking the heart out of all crew opponents."
The grisly metaphor was perhaps apt for the tall, energetic, larger-than-life former Army pilot Colgan likens to "a ferocious warrior on the water." Known as a legend in the sport, Nash won Olympic medals as a US rower in 1960 and 1964 and coached 12 different Penn boats to Intercollegiate Rowing Association (IRA) national titles while coaching the University's men's heavyweight varsity from 1970 to 1983 and the freshman team from 1966 to 1969. Among other achievements, he also helped to establish the women's rowing program at Penn and was a longtime Olympic coach.
Colgan had already been planning to write a book on his coach, mentor, and friend when Nash died in July 2021. "I think it's been in my brain for about 30 years," Colgan says. But it wasn't until the COVID-19 lockdown of 2020—which was especially restrictive in New Zealand, where he currently lives—that he found the time to fire off countless emails, collect stories and photos, and edit and condense them into a well-designed remembrance. "I thought this would be a fitting tribute to a man who attached himself to so many people in so many different ways."
Some of the tales have perhaps gotten a tad taller in the retelling, like when Nash leapt out of his car and dove into the Schuylkill River to try to save a drowning man, or fended off a gang of people attacking a woman near the Philadelphia Museum of Art. Others show his softer side: teaching himself to play the piano, knotting a freshman's tie on the bus, helping walk-ons love the sport even while insisting that practice go forward in the most adverse weather conditions.
Ken Dreyfuss W'69 GED'77 recalled that he had "never even heard of rowing until I got this letter from Ted Nash in the mail informing me that I was the perfect size and weight to be a coxswain at Penn. I literally had no idea what he was talking about. I had never played a sport in my life." But out of curiosity, he went down to the rowing tanks and "ended up staying with it"—to an undefeated season and appearance in Sports Illustrated as a freshman, to three straight heavyweight IRA team championships, to the Olympics, and ultimately to a coaching vocation of his own. "Ted changed the course of my life," said Dreyfuss, adding that his "tireless" coach would write him notes at 4 a.m., even long after he graduated.
Colgan hopes readers will enjoy stories like these "bite by bite, not all at once" and says he designed the full-color, hardcover book so that it "could sit on someone's coffee table for a long time." He'd like to see it gain traction in the Penn rowing community, which in mid-October celebrated renovations to its boathouse along Kelly Drive, but "I would hope it has a wider readership," he says. "I think it should be sent to every coach, of any sport, to understand how you can really mold athletes." —DZ