Monsters of Recycling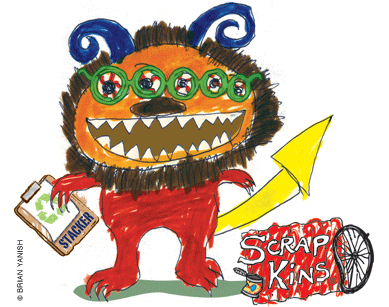 Class of '95 | A couple of months ago, visitors to the Bronx Zoo were introduced to a fellow with five eyes and two horns who lives in a recycling center. He is Stacker, a furry monster with a penchant for organization and an annoying habit of following all the rules. Stacker is a Scrap Kin, part of a team of monsters created by Brian Yanish C'95 to teach children about recycling.
"It started when I was five," Yanish explains. "When I was a kid growing up my favorite thing was to draw monsters." His mother tucked the drawings away and brought them back out more than two decades later. "She handed me a stack of about 50 drawings and said, 'I think you'll really like these.'"
Six of those childhood drawings became the Scrap Kins, oddly appealing monsters who live in a recycling center and build a world out of the things people throw away. Yanish brings the Scrap Kins to schools, craft fairs, and street festivals—and, occasionally, TV and radio—where they inspire children to make art out of recyclable objects.
"We're talking about the things that teachers have used in classrooms for years: paper-towel tubes, cereal boxes, milk cartons," Yanish explains. "My goal with the Scrap Kins is to take those ordinary objects that every kid is going to have and help them make something extraordinary. The kids' world is very full of the web and TV and video games, and they have lost the sense of building something—making something."
Yanish is building something himself. The Scrap Kins have developed a following, and he recently launched a line of back-to-school products that includes recycled stationery and an activity calendar. As an artist, he'd "rather spend 100 percent of the day drawing and coming up with stories," he admits, "but you gotta send emails, you gotta make phone calls."
He laughs. "Of course, as an artist, my goal is to eventually have a team of people who handle the business while I can spend more time at the art desk."
Each Scrap Kin has its own personality, and their creator designs craft projects around their quirks. The milk-carton pirate-ship project, for example, comes from Itcher, a "hygienically challenged" character with a vivid imagination who wants to be a pirate.
The thinking behind these projects is to empower children both creatively and environmentally.
"Kids see them and they say, 'I draw like that,' and adults look at them and say, 'I used to draw like that,'" says Yanish, who is careful not to preach, since he knows that nothing is worse than a character who wags a finger at children and tells them what to do. As they fall for the Scrap Kins, though, kids learn the value of reusing. After all, they are making a tote bag out of a pair of old jeans.
"I am not an environmental expert but I am a creative expert," Yanish says. "I get sad when I see the amount of stuff we go through these days. And tying this in to kids is really important because they are the ones who are going to live with what we have created." By pairing recycling and art, he hopes young people will come to realize that they can not only make art but also shape their world.
As the creator of characters that children are drawn to, "you really have this power and you have to use it in a responsible way," Yanish acknowledges. "It's one thing to be the next hot toy among kids, but if you can be the next hot toy plus you're teaching them something as a part of that, that's a really powerful package to have."
Yanish is mindful of the environmental effect of the commercial products, and tries hard to ensure that they are produced responsibly. There are plans to launch a plush line and a series of books chronicling the Scrap Kins' adventures. This past spring, Yanish appeared on KTLA in Los Angeles, and he was recently interviewed for The Wall Street Journal This Morning radio program. These are heady times for creatures who started as a little boy's crayon drawings.
"The one thing that's been consistent throughout my entire life has been drawing monsters," Yanish says. Those monsters have grown up with him, but they're stubborn—Yanish has finally given up trying to convince Itcher to take a bath.

—Emily Rosenbaum C'95 GEd'96