Memorializing the Civil Rights Movement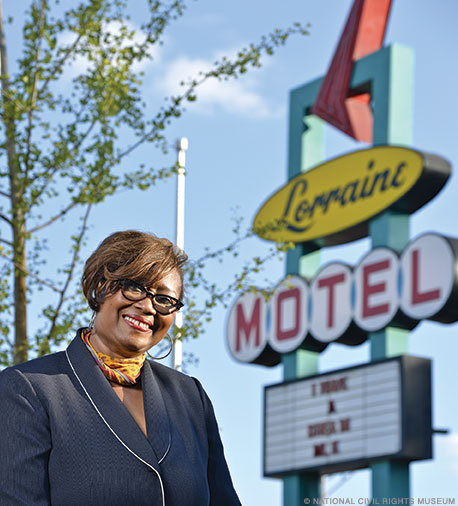 The National Civil Rights Museum in Memphis takes visitors on an emotional journey: from the beginnings of slavery in the United States to the aftermath of the assassination of Dr. Martin Luther King Jr.
There is a replica of a '60s era bus where, if you sit up front, a scary, booming voice tells you to move to the back, "because you are black." There is a coffee-shop counter where, in the spirit of that era's protesters, you can stage a sit-in and persevere while angry customers yell in your face.
Part of the museum is the Lorraine Motel, where King spent his last night. You can stand on the balcony where he was fatally shot, then cross the street and stand in the place of his assassin. A video replays his eerily prescient last speech, including the famous lines: "Well, I don't know what will happen now. We've got some difficult days ahead. But it doesn't matter with me now, because I've been to the mountaintop. And I don't mind."
Beverly Robertson, who served as the museum's executive director for 17 years, remembers that speech, which King gave shortly before his assassination. As a Memphis teenager, she had closely followed the civil-rights leader and pleaded with her parents to get involved in the protests. When she learned of his death, she vowed to make something of her life: "African Americans tend to be marginalized, taken for granted, or we are all seen as poor, unintelligent, unable to deliver excellence in that way," she says. "So for me it was a must-do; failure was never an option."
Robertson admits to being a little shocked when she got the call in 1997 to lead an institution whose legacy has been described by Stanford history professor Clayborne Carson as a key component of "our ritual for remembering one of the greatest freedom struggles in human history." After all, she had no expertise in museums or historical education. She was a businesswoman whose résumé included 19 years at Holiday Inn Corporation and an executive-leadership certificate from Wharton, and as she told the museum's board of directors, she loved visiting museums—but had no clue how to run one.
"I really did laugh," she says. "But they said, 'You are a businessperson, and we need you.'"
Figuring she could do anything once, Robertson agreed to take on the role until they could find someone else. Almost two decades later she was still there, having checked off a long list of significant accomplishments: raising $44 million; starting the museum's first endowment; creating partnerships with Major League Baseball, HBO, and CNN; and bringing in the likes of Nelson Mandela, Rosa Parks, and Oprah Winfrey to receive awards. She stepped down last September only after she felt she had given it her all. "What else is there to do?" she asks rhetorically. "I have a lot to say grace over."
Robertson, a young-looking 64-year-old who speaks in a rhythmic, preacher-like voice, doesn't seem to know how to do anything halfway. She grew up in a home in Memphis where it was never acceptable to get Bs, only As. Her father was a truck driver with only some high school education, but he repeatedly told his five children he expected more of them.
After earning her bachelor's degree in education from the University of Memphis in 1973, she started working at Holiday Inn Worldwide: first as a receptionist, then rising through the ranks. In Hartford, Connecticut, she was in charge of scheduling. Back in Memphis, she developed educational curricula for directors and general managers. She created standards for a nationwide system-inspection program.
She also went through Whaton's off-campus executive-leadership program, sponsored by Holiday Inn.
When she took over the National Civil Rights Museum, she revamped the annual Freedom Awards, which honors icons of civil and human rights and serves as the museum's biggest fundraiser. Along with cutting the number of speeches and increasing the price of tables from $5,000 to $10,000, Robertson persuaded some serious heavyweights to accept the award. One was Mandela, whose presence required considerable persistence. First Robertson approached him when he spoke at her daughter's graduation at Southern University. Then she befriended his doctor. Then she visited his home in South Africa, during which time she reminded him about a letter he had sent to the museum before her tenure, vowing to visit.
"I know how important honor is to those leaders," she says. "All they have is their word." That event (her first one) raised $120,000, double the amount of previous years.
Without the multi-million dollar budget she was used to at Holiday Inn, Robertson had to get creative. She started fundraising campaigns in churches and black fraternities and sororities, and convinced CNN and HBO to run documentaries about the museum. She partnered with the NBA and Major League Baseball to launch big events in Memphis over Martin Luther King weekend; those were covered by ESPN, generating even more free buzz.
During the museum's expansion and later renovation (the new exhibits opened just last year) Robertson worked with scholars, designers, and staff to make sure they got the details right.
"It couldn't just be OK; it couldn't just be all right," she says. She pushed for more technology to appeal to younger people, as well as spaces for the community to gather and talk about racial issues as they arose. A Black Lives Matter event was recently organized at the museum; so was a dialogue between police officers and civilians in the wake of the events in Ferguson, Missouri.
"The Memphis museum took it upon itself to tell a story of how we got from there to here," says Carson, one of several scholars who helped with the redesign. "Beverly was obviously the guiding force in this; there were a lot of other people who believed in it and supported it, but they couldn't make it happen. Somebody had to actually guide the process of working with people like myself and the staff and the exhibits."
When Robertson felt drained, she would take breaks to wander the halls of the museum, drawing inspiration from the people whose work it celebrates. "I thought about the tremendous sacrifices they made, and the fact that they knew in some instances they may not come home and see their children ever again," she says. "They were willing to take a risk, so for me it was nothing to stay at the museum from early morning to 11 or 12 at night. I needed to make sure things were done, and things were done right."
Having stepped down as the museum's executive director a year and a half ago, she's now working with other organizations to advance their causes. As a principal of Trust Marketing and Communications Consortium, which she co-owns with her husband, she is helping Heritage Trail preserve Memphis history and the city of Memphis to decrease poverty. She's on the board of Teach for America and is working on a project to get school computers and lunches for all children. As vice president of her national sorority, Delta Sigma Theta, she's trying to get more black women to vote. Through her church she's talking to congregants about healthful eating and obesity.
"She's involved in everything," says her close friend Rose Flenorl, director of global philanthropy for FedEx. "There are very few places you can go in Memphis and not see Beverly there extending a hand."
Robertson doesn't dispute that.
"Somebody has to do these things," she says. "And it might as well be me."

—Alyson Krueger C'07