Letters
"Maybe all those medical-school-alumni hands reaching out across the decades were also reaching out to all University alums, even to me. No longer my Penn and their Penn, but our Penn."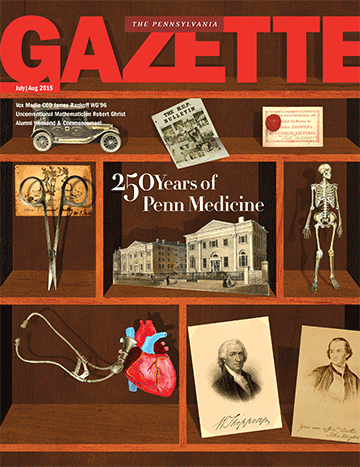 Part of the Family
The article celebrating the 250th anniversary of the Perelman School of Medicine ["The Link," Jul|Aug 2015] affected me on a number of levels. I didn't train at the PSOM but now work in the Penn Health System (not an uncommon scenario, even among some Penn Medicine physician leaders). Learning about the old Morgan-Shippen antipathy and the wartime and other high-profile contributions of alums and professors was not just interesting history, but also provided some welcome narrative foundation for the many memorialized names I now see and hear regularly. And Dean Jameson's description of the 100-year caring span represented (literally) by the 50-year alums reaching out to the new grads was not only poignant, but a little throat-lumping.
When the health system that employed me became part of Penn Medicine in 2013, I enthusiastically thought that, since I am an alum of the College, this would be a kind of homecoming; interestingly, when I started attending meetings and other functions on campus in locations with names such as Gates and Smilow (rather than Bennett, Stiteler, and Dietrich), it did feel something like going back to the old home region, but it was as if I'd ended up in a neighboring county rather than my own.
That's why, whenever time has allowed, after concluding my business at the Perelman Center or HUP I might walk the few blocks back to what I considered my Penn for unstructured strolls along College Green and up Locust Walk, just generally noticing what had changed and what was still the same. Logan Hall has a new name, but I can still see the auditorium where Tony Campolo described anomie in Sociology 1. Bennett Hall has added a name, but still has the Shakespeare mural. The University Museum Auditorium still looks as dark and mysterious as it did when John Witthoft climbed up to the Anthropology 1 podium in his big boots, looking fresh from a dig.
But the good news is that, after reading about the close and inclusive relationship that was intentionally created and has always existed among the medical school, hospital, and the larger University—how they are truly siblings rather than just geographic neighbors—I realized that perhaps I have always been family with Penn Medicine without recognizing it. Maybe all those medical-school-alumni hands reaching out across the decades were also reaching out to all University alums, even to me. No longer my Penn and their Penn, but our Penn.
Congratulations, PSOM. Per president Gutmann's aspiration at the Gala, here's to another 250 years and beyond (imagine that). My initial disorientation aside, I promise to work diligently and dutifully to try to once again be a worthy family member. Still, don't be surprised to see me gazing and wandering a little north and west now and then, perhaps across Spruce Street to Houston Hall, which still has the kind of comfy chairs where someone might nod off briefly and dream of another time when he didn't know that his alma mater's already rich and deep heritage was deeper and richer still.
Richard Donze C'74 West Chester, PA
Another Medical Alumnus
My wife, Ellen Herscher Gr'78, and I have read "The Link," by Dave Zeitlin, with interest. Congratulations on the 250th anniversary of the University of Pennsylvania School of Medicine!
One of my ancestors was a member of the medical school's Class of 1789 and eventually became a distinguished apothecary and practicing doctor in New Orleans during the Spanish, French and, finally, American periods in Louisiana. He was Frederick Zerban, born in Philadelphia in 1768 and died in Mexico City in 1810. Among his other accomplishments, he founded and was "military surgeon" at the clinic in San Antonio de Valero, Texas, 1805-1808, the site years later of the battle of the Alamo.
Frederick Zerban Brown, spouse Washington
How Could You Forget Franklin?
Because I have had a long-standing interest in the history of academic medicine in the United States, I read Mr. Zeitlin's article concerning the long history of medicine at the University of Pennsylvania with some interest. The article is well-researched, but glaringly lacking in terms of its failure to mention the extraordinary contribution to the formation of a medical school at the University by Benjamin Franklin.
Not only was Franklin instrumental in developing the concept of a medical school with both Drs. Shippen and Morgan, but he influenced a number of other individuals who came through the system and made significant contributions to the medical school. These people included Benjamin Rush, Casper Wistar, and Philip Syng Physick. A number of these people, in fact, lived with Franklin in London during their training with Dr. John Hunter, who was extremely influential in the whole process.
Not only did Franklin influence the formation of the first medical school at the University in 1765, but also the second medical school at Columbia University, in those days "King's College." His enormous influence on both Samuel Bard and John Jones was extraordinarily important in the formation of the medical school in New York in 1767.
I think it is fine to laud contributions of Drs. Shippen and Morgan, however, without Benjamin Franklin I am not sure that the medical school at Penn would have been established in 1765 or in the Edinburgh mold under which it was established.
Terry W. Hensle C'64 Teaneck, NJ
Include More Captions
I was looking through the latest issue of The Pennsylvania Gazette and slowed down for the article on Horace Howard Furness ["One of Those Prodigious Victorian Polymaths," Jul|Aug 2015]. The accompanying illustrations were attractive, but I looked in vain for captions that explained their connection to the article or identified their source. This is also true for "The Link."
I guess the reader is supposed to intuit or guess or—more creatively—make up a story about their connection or content. For us less-imaginative types, I would encourage you to consider providing captions in the future. If it's a matter of cost, perhaps you could just do away with illustrations altogether, probably an even bigger saving.
Henry A. Hespenheide Gr'69 Los Angeles
As a rule, we try to always include caption information in cases where we think it's necessary for understanding the image. Sometimes we err on the side of mystery.—Ed.
And How About Illustration Credits?
I enjoyed reading the well-written essay, "Four's Company," by Daniel Blas ["Notes From the Undergrad," Jul|Aug 2015]; a story which most could relate to. Tracy Walker's clever illustration, which accompanied the essay, brought an extra charm to his story, as well.
I would like to question, then, why there has never been any acknowledgment for, or an appreciation of, the art-works that accompany most essays and articles in the magazine. Or perhaps I missed it ?!
M. Salek, parent Los Angeles
We take great pride in the Gazette's artwork, but the convention is to run credits for illustrations or photos accompanying articles in tiny type off to the inside of the page, in what's known as the "gutter." Blame it on the fact that word-people run magazines.—Ed.
Correction
For the record, I would like to clarify two items in Violet Baron's interesting piece "From Skimmer to Fling" [May|June 2015].
Fellow classmates and I do not recall my giving the speech about the flag controversy described in the article. I also did not make the comment attributed to me about the draft during my interview with the writer.
Ira Harkavy C'70 G'79 Wynnewood, PA
Our apologies for these errors.—Ed.
No Water from a Dry Well
I know that he was being facetious, but in response to Jim Zucker's observation that the classes of 1970 to 1974 are not pulling our weight in alumni giving ["Letters," Jul|Aug 2015], I think there are plenty of reasons, almost none of which have to do with a "smoke-filled haze."
My memory of those years and the relationship between the administration and the undergraduates is one of almost constant battle and strife, with neither side ever really "getting" one another.
When our parents got older and needed our care, my guess is that most of us put aside any past grievances and went to the well to pull up the love we needed to sustain them. For many of us, when it comes to Penn, the well is often dry.
Marshall Sikowitz W'71 Cambridge, MA
Great Days
Skimmer Day had nothing to do with Rowbottoms. I have DP clippings from Rowbottoms in May 1956 and 1958. There was also a snowball Rowbottom in the winter of 1956. Unfortunately, a number of my fraternity brothers, Delta Tau Delta, who had nothing to do with the 1958 occurrence were arrested but later released. My recollections of Skimmer Day was a great time down on the river. I believe I still have my skimmer somewhere.
It is interesting that I was on a Penn cruise and the professor with the trip did not know about Rowbottoms. Rowbottoms are an interesting piece of Penn history. They were certainly spontaneous events and to my knowledge never planned. I also seem to recall a huge event when Penn football broke its 20-game losing streak winning against Dartmouth. All these events take me back and remind me of my great days at Penn.
Robert Dendtler W'58 Greensboro, GA
Good Sense on Dorm Rules
Thanks to Carol Miller for a beautifully written letter and the good sense contained in it ["Letters," Jul|Aug 2015].
I remember picking up a date at Hill Hall in 1965. I had to wait outside for her to come out and drop her off at the door when I brought her back. Seemed like a sensible arrangement to me, something that probably gave the girls' parents some peace of mind, too.
Joe Deegan C'67 Philadelphia
Inflation
I remember Skimmer Day and the boat races very vividly because of an event that I participated in.
After imbibing a goodly amount of spirits on the bank of the river, I made a bet of $10 with a fraternity brother of mine that I would jump into the Schuylkill River. I collected the $10 and was very wet.
Fast forward to 2013. Another fraternity brother produced a photo of me and the person that I won the bet from holding a one-dollar bill.
I guess inflation has taken over the story as my memory fades.
Robert A. Weil W'55 Southbury, CT
Myopic Portrayal
I take umbrage with the portrayal of Skimmer in the late 1960s. The article seems to be suggesting that 10,000 people were on the banks of the Schuylkill River not really watching the crew races but doing drugs, drinking alcohol, and having sex. This myopic portrayal of the situation seems to have been gleaned from one individual's remembrances (Stephen Marmon C'71 WG'81).
This may have created an opportunity for the writer (Violet Baron) to make it appear as if the late '60s was a time of unbridled debauchery and continuous orgies, but this simply was not the case. I was there. I was on the banks of the Schuylkill River, watching the crew races, with a significant number of people from my fraternity (Sigma Nu), cheering on our fellow brothers who were out on the river rowing. Admittedly, we may have been drinking beer, but no one was doing drugs or having sex. We were having good clean fun.
Ms. Baron should be chastised for doing incredibly poor research that resulted in her besmirching the integrity of all students who attended the University in the late 1960s. I'm not saying we were all wallflowers, but Ms. Baron's broad brush approach is insulting and reprehensible.
Thank you. I'm glad to have gotten that off my chest!
William E. Johnson W'70 Milford, MA
The history of Skimmer in the article is based on multiple interviews—not just one individual's memories—as well as contemporary newspaper accounts and other records. At the same time, I'll confess to a tendency to look for signposts toward "The Sixties" in stories concerning those years, which may give short shrift to events and experiences that don't fit that countercultural narrative.—Ed.
I Launched Skimmer
Writer Violet Baron says that Skimmer Day was launched by "a triumvirate of well-meaning undergraduates." I wish I had had two undergraduates to assist me in that task.
When I became crew manager in the fall of 1948, I started on what could be done to get out more manager "heelers" and oarsmen. Copying Harvard's successful straw-hat annual crew-race outing seemed a natural.
Coach Callow gave me the names of a couple dozen graduates who had rowed for Penn. I went to see them and got commitments to fund a printed program for such an event. The program with pictures of each of the crews was pretty impressive. The whole day was planned and implemented without a dime of other money.
Thanks to supportive coverage in The Daily Pennsylvanian, we got out a goodly crowd that first year, enough to persuade successive classes to make Skimmer an annual tradition for a number of years. Rowdies misbehaving at the park eventually caused its demise. I always surmised that it was probably jealous Princeton students who were the troublemakers.
William "Bill" Grant W'49 Poinciana, FL
Academic Ambassadors, Too
Not only were Peter O'Malley and his father, Walter, "Horsehide Ambassadors" ["Alumni Profiles," Jul|Aug 2015] responsible for beginning the globalization of baseball and the migration of the Major Leagues to the West Coast, but they also had a profound effect on creating a new academic discipline. In 1966 Walter provided the genesis for the nation's first graduate program in sports administration at Ohio University, which I attended after Penn.
Now there are more than 400 undergraduate and 200 graduate programs in sports-administration nationwide, and although Penn is not one of them, Wharton professor Kenneth Shropshire and the Wharton Sports Business Initiative are renowned as a research and executive education think tank.
Larry Wahl W'75 Coral Springs, FL
Still Bitter
Peter O'Malley's effusive praise for the baseball fans in Japan—"[t]he warmth, the hospitality, the appreciation is what I remember … They knew baseball, they knew about the team"—accurately describes the fans his daddy disowned in Brooklyn.
The pain and the outrage remain.
Don Z. Block Gr'77 Malvern, PA
Not-so-Briefly Noted
If The Nats and the Grays, profiled in the Gazette's book section ["Briefly Noted," Jul|Aug 2015], is truly about post-World War II Washington, DC baseball, and not the current 2015 version, I hope the fact-checkers did a better job with the body of the book than they did with the title.
The Griffith family owned the American League Senators (not the National League Nats), and moved the team to Minneapolis-St. Paul after the 1960 season, where they became the Minnesota Twins. A new expansion team (also American League, also called the Senators) began play in DC in 1961. The team flopped both on the field and at the turnstiles, and moved to the Dallas area, where it became the Texas Rangers.
The current National League team in DC began as the Montreal Expos, and moved to DC long after the previous two AL Senators teams departed.
How do I know this? As an 11-year-old Midwesterner with Minnesota roots, I rooted avidly for the Twins vs. the O'Malley-family-owned LA Dodgers (coincidentally profiled three pages later in the same Gazette issue) in the 1965 World Series.
Alas, my Twinkies fell to the Koufax/Drysdale Dodgers. What does it say about my brain that I can still name nine of those Twins (Kaat, Pasqual, Battey, Mincher, Rollins, Versalles, Killebrew, Allison, Oliva), by position, off the top of my head, but can't remember what I had for breakfast yesterday?
Mark McCart W'76 WG'77 Prescott, AZ
Journalism and Poetry
I just finished reading the essay "Skeleton Coast," by Alexei Dmitriev ["Elsewhere," May|June 2015]. Rarely have I read an article that combines journalism and poetry with such expertise. The author's use of metaphor and imagery made for a spectacular read. Well done. Bravo! More please.
Jena Laske, staff Philadelphia
Shameful Promotion of Anti-Semitism
The undersigned alumni write out of concern regarding the letter by Liz Fisher in which the writer wanted to ask Holocaust survivors about Israel's treatment of Palestinians ["Letters," Jul|Aug 2015].
Equating the murder of six million Jews to Israel's relationship with its Palestinians is incomprehensible. Israel endows Arabs with equal rights under the law; entitled to legislate laws as Knesset members and to enforce laws as judges serving at every judicial level. In fact, Palestinians living in Israel enjoy freedoms and liberties not available in any Arab or Muslim country.
The question itself shows an incredible ignorance as to the nature of both the Holocaust and of Israel's treatment of Palestinians and it is a shame the Gazette chose to promote what has become the anti-Semitism of the day.
Keith Wasserstrom W'89 L'92
Jessica Wasserstrom EAS'90 W'90
Dov Hoch C'86
Kenneth M. Morgan C'89
Jeff Astrof W'88
Rachel Mendelsohn White C'02
Geoffrey Greene C'69
Moshe Davidovitch C'85
Craig Feldman C'88
Sidney Klein WG'70
Jon Taub C'94
David Lasko C'90
Eugene Jaffe W'58 Gr'66
Letter of Appreciation
I greatly appreciated reading "A Question for Holocaust Survivors," in which Liz Fisher writes, "'Documenting the Unspeakable' ["Alumni Profiles," May|June 2015] … made me wonder if [filmmaker] Barbara Barnett ever asks Holocaust survivors what they think of Israel's treatment today of the Palestinian people … their voices now might help bring peace to the area."
More than 350 Holocaust survivors and their descendants weighed in last summer, condemning Israel's assault on Gaza. Their letter was published as an advertisement in The New York Times. FYI, I'm proud to say that my mother, Ellen Schwarz Wasfi, is signatory #51.
Dahlia S. Wasfi M'97 Dover, DE
Unwarranted Assumption
Liz Fisher asked what Holocaust survivors think of Israel's treatment of the Palestinians. Her question assumes that survivors should feel guilt, but that is not warranted. Arab societies are awash in hatred for Israel and reject its right to exist. They encourage physical assaults and overt terrorism against Israel. Arab murderers of Jews are regarded as heroes. They are honored as role models and they and their families are rewarded with generous stipends and great celebrity.
Holocaust survivors need not feel guilty about Israeli treatment of Palestinians. However, as to the treatment of Israelis by the Arabs, survivors are filled with sadness, worry, frustration, and anger. Having lived through Nazi Jew-hatred and its consequences, they now see it saturating the Arab world and beyond. Holocaust survivors ask, "Why won't the Arabs try to co-exist, or at least, why can't they leave us in peace ?"
Roberta and Steven Dzubow WG'70 Gr'72 Plymouth Meeting, PA
A Survivor
I happen to be a Holocaust survivor, Auschwitz-Birkenau 172099. Nobody asked me about "Israel's treatment today of the Palestinian people."
Leon W. Zelby EE'56 Gr'61 Norman, OK