Leading the Fight Against Childhood Cancer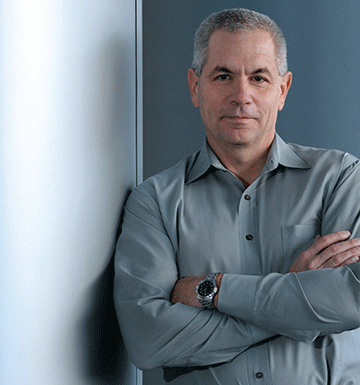 Class of '89 | It's 9 a.m. on a Friday and John Maris M'89 needs more coffee. Dressed casually in jeans and a button-down shirt, he has already been at the office for two hours, a large chunk of which was taken up by a phone conversation with an insurance company. Wrangling with insurers over drugs for sick children isn't normally part of his job, but sometimes, he says, "I have to take the bull by the horns and do it myself."
The issue this time involved getting approval to use a lung-cancer drug to treat a young patient with neuroblastoma, which affects the peripheral nervous system. Since the child doesn't have lung cancer, the insurer denied the claim. "It happens a lot," Maris says.
The 52-year-old Maris—professor of pediatrics, director of the Center for Childhood Cancer Research (CCCR), and chief of the Division of Oncology at the Children's Hospital of Philadelphia (CHOP)—was recently named a co-leader of a research "Dream Team" focused solely on creating new treatments for the deadliest childhood cancers.
A self-described "physician-scientist," Maris attributes his leadership in pediatric oncology treatment and research to his curiosity about how things work and to his desire to help sick children and their families. According to Stand Up to Cancer, one of the project's funders, Maris and his researchers have discovered most of the known genes that influence an individual's susceptibility, which in turn has led to early phase clinical trials of new targeted therapeutics.
With $14.5 million in grants over four years from Stand Up to Cancer and St. Baldrick's Foundation, the Dream Team is tackling the four most pernicious childhood cancers: malignant brain tumors; high-risk leukemias; neuroblastomas, and sarcomas, which are tumors of bone and other tissue. Since being chosen for the post last year, Maris and Dream Team co-leader Crystal L. Mackall (chief of the pediatric oncology branch of the National Cancer Institute) have been building a team of 130 researchers, putting together procedures, and allocating resources.
The goal is to develop more successful treatments by building on existing research that uses both immunotherapeutics and genomics, two areas that tend to have little intersection, says Maris. The treatments his team develops will use bioengineered agents working through the body's immune system.
Pediatric cancers can be fundamentally different from adult cancers, and treatment varies accordingly. Neuroblastoma, for example, is a cancer found in very young children, and they can be born with it or develop it during infancy, Maris notes— "not because they smoked two packs a day and not because they didn't put on their sunscreen."
---
As a biology major at Wheeling College in West Virginia, Maris was already deeply interested in science but not necessarily in medicine. Then a friend suggested he interview for a research position at Penn that she couldn't accept. It involved working under the late Britton Chance Ch'35 Gr'40 Hon'85, a leader in creating practical biomedical and clinical applications out of theoretical science. Maris got the job, and his interest in cancer grew out of working with Chance and Audrey Evans, a neuroblastoma expert who inspired him to specialize in oncology. After deciding to earn his medical degree at Penn's School of Medicine in order to keep working with Chance and Evans, he soon focused on figuring out, from a genetic standpoint, why children develop neuroblastoma.
"If we can understand the genetics of why it starts," he says, "we might be able to figure out how to stop it."
Although Maris spends roughly 80 percent of his time on research, treating patients is an indispensible part of the job. At any time, he and his team might be seeing 50 to 100 patients, whether it's a one-time visit to CHOP for a second opinion or a longer stay to receive experimental therapies.
The ability to integrate the research and clinical aspects of his work is critical to making an impact in the field, Maris says. Nothing is more motivating than talking with those they're trying to help, which is why he insists that all those in his research lab who lack a medical degree go and meet the patients. "Bar none, they love that experience," he says.
The connection goes both ways. Many of his patients and their families become advocates for research. Perhaps the best known are the late Alexandra "Alex" Scott, who raised money for cancer research with a lemonade stand in her front yard, and her parents, Liz and Jay Scott, who founded Alex's Lemonade Stand Foundation in 2005, the year after Alex died at age 8.
The experimental treatment at CHOP that Alex began at age 4 helped to extend her life for another four years—during which time she learned to read and ride a bike, and decided to raise money to find a cure for childhood cancer, Maris points out. In the early days of her lemonade stand, the quiet but precocious Alex periodically handed him checks for the money she'd raised. She taught him the power of advocacy, he says, adding: "Alex said many times she was not raising money for her cancer, she was raising money for other children." So far, the foundation has raised more than $80 million to fund 450 research projects across the country.
Drawings by Alex and other patients hang in Maris's office at CHOP, a reminder of the highs—and lows—of his chosen profession.
"The highs are very high," Maris acknowledges. "What could be better than contributing in a substantive way to curing a child who has a fatal disease? But unfortunately, it doesn't go that way all the time." Still, he adds, there's some satisfaction "in being able to help a family come to terms with the inevitable loss of their child."
Maris keeps in touch with his patients and their families, and serves as an advisor to several family foundations, including Alex's.
Asked whether he has any semblance of a work/life balance, Maris responds: "Work is not a burden to me."
"Some of the most inspiring days for me are when I'm in the clinic in the morning," he adds, "perhaps working with a family and feeling like I'm making a difference for that family, giving them hope that they didn't have before."
—Samantha Drake GGS'06