Jon Sarkin C'75 splashes some paint on Guster
Do You Love Me from Guster on Vimeo.
The art of Jon Sarkin C'75 is all over the music video for Guster's hit song "Do You Love Me," and if you look closely you can see Sarkin himself make a cameo.  He runs in around the 1:25 mark to sing, along with the band, "I'm tired…"
Turns out the sentiment was literally true.  Sarkin loved his work with the band, and he says the playful atmosphere in the video is true to the feeling he had working on the set. But it was also some of the hardest work he's done in his life. His team spent five days prepping the set for the band's arrival, days that would end at 3am or 4am. Then the entire video was shot in two marathon days.  Sarkin recalls being impressed with the level of professionalism and organization around him required to produce a three minute clip of video that is so goofy and fun-loving.
"It was really fun," he says, and it was also "very, very tiring."  He was so drained that on a family vacation afterwards, his sister-on-law looked over at him and said "this is the first time in 20 years I've seen you not drawing."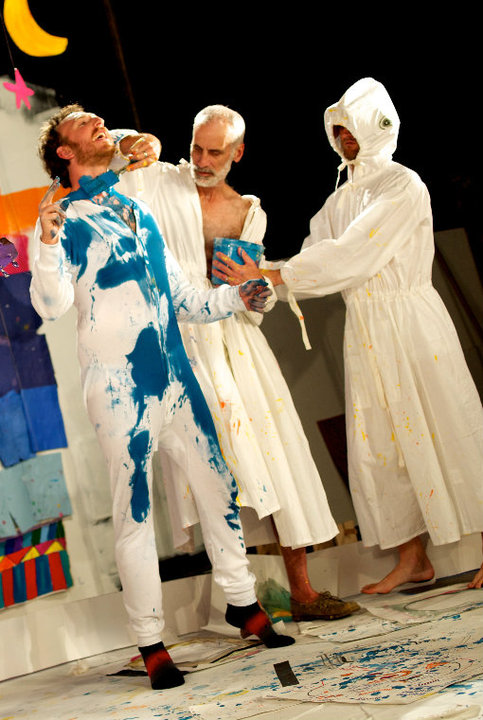 Sarkin made the connection to Guster through an obscure series of relationships on his wife's side of the family that led him to the drummer, Brian Rosenworcel.  The band was looking for an artist to illustrate their next album cover, and soon Sarkin was sending them material.  "I was just being auditioned for the cover of the album," he says, but they liked his work and he was hired to do the whole package, liner notes and all.
The music video represents a lot of firsts for Sarkin, who's more accustomed to flying solo.  It was an adjustment, he says, to work in an environment where he could give orders to staff working under him, or where director Chad Calberg "would come up with an idea, and then I'd sketch twenty versions, and he's say ok, let's go with this one."
Sarkin is happy with the finished product, and it seems likely there's more collaboration with the band in his future.  When he expresses his work ethic, it's not hard to see how he's a natural fit with a band like this:  "I don't mind working hard," Sarkin says, "but I do mind my work not making someone happy."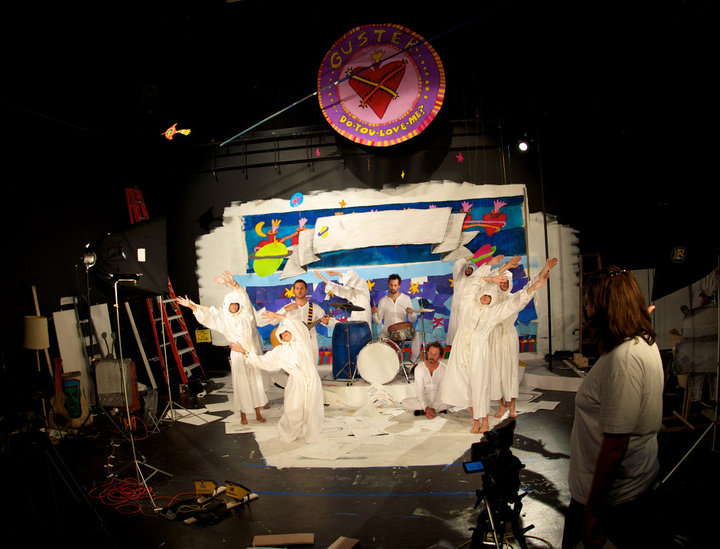 Photo credit: Judson Abts via Facebook