Jerome Allen Returns to Penn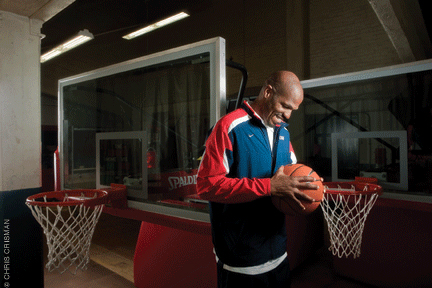 Over the past 14 years, Jerome Allen C'95 has examined the ruins of Pompeii with his children, taken his mother on a gondola ride in Venice, and strolled down the streets of Paris on New Year's Eve with his wife.
But for all the postcard moments he shared with his family throughout a long professional basketball career overseas, there were just as many times when the former Penn guard felt isolated from his loved ones, separated by an ocean and a plane ticket.
One day a couple years ago, while in Italy, he received an email from his oldest daughter, Taylor. He got a sinking feeling when he saw the subject line: Something I have to get off my chest. She missed him. She was frustrated that he kept leaving the family's home in Elkins Park, near Philadelphia, for months at a time, even when he'd said he would retire at 32. "It killed me," said Allen, who played in five different countries between brief stints on three NBA teams.
In August, he traded the ups and downs of European basketball for a clipboard, returning to the campus where he achieved near legendary status as a two-time Ivy League Player of the Year. This season Quaker fans will see him on the Palestra sidelines as an assistant under head coach Glen Miller.
Finally, Allen is home. And, perhaps most importantly, he can once again be a full-time husband and father.
"You miss dance recitals, baseball games, soccer games, basketball games, parent-teacher conferences—and no amount of money can substitute certain things," Allen said recently from the Dunning Coaches Center. "As much as you like to say that you played because you enjoyed the game, it's also a means to help secure a stable financial future for your children," he continued. "But you can't put a price on the time and commitment that your children are deserving of."
Not long after Allen accepted the position at Penn, his wife, Aida, gave birth to their fourth child, Roman. It was a whirlwind week for the assistant coach, who was trying to engage himself in his new job while shooting back and forth to the hospital. But it sure beat the alternative: hearing about the delivery over the phone and using a webcam to see his newborn for the first time.
Call it a Philadelphia reunion for Jerome and his family: Aida, 14-year-old twins Jerome and Taylor, seven-year-old daughter Jordan, baby Roman, and Allen's doting mother, Janet. "I think they're excited in the sense that now I'm a father every day of the week, 24 hours a day," said Allen, who never knew his own dad growing up in Germantown.
Allen is also back with his Penn family, and perhaps his return to the Palestra will re-energize a fan base that has been at best lethargic and at worst disgruntled during a rough two-year stretch that's seen the Quakers tumble down the Ivy League standings.
Allen, after all, knew nothing but success while at Penn. The recent inductee into the Big 5 Hall of Fame guided his teams to three straight perfect Ivy League seasons from 1992 to 1995. The lanky point guard also helped engineer Penn's stunning dismantling of Nebraska in the first round of the 1994 NCAA Tournament, and buried the game winning shot in the Quakers' dramatic upset over nationally ranked Michigan the following season.
"It's nice to have someone on the coaching staff who was there in those days when the team had a tremendous amount of success," said Miller, who won an Ivy title his first year at Penn in 2006-07 before sputtering to consecutive 18-loss seasons. "It helps in getting the message across to players that this is what we expect out of them and this is what we're trying to accomplish here."
One player in particular, sophomore point guard Zack Rosen, has already benefited from Allen's arrival. Rosen began working with Allen this summer and the two immediately meshed. "He knows how to work your mental side," said Rosen, the Big 5 Rookie of the Year in 2008-09. "He knows how to build confidence and get in your head. Obviously he's got all the experience in the world, and I respond well to his style."
For his part, Allen says he doesn't like to relive the glorious moments he had as a player. When asked about his favorite memory, the soft-spoken 36-year-old recounted a Sports Illustrated photo snapped moments after Penn's overtime loss to Alabama in the first round of the 1995 NCAA tournament, his final college game. The picture, to him, represented all that is wonderful and all that is heartbreaking about college basketball: a Penn student, face painted red and blue, fake Jamaican hair on his head, with tears rolling down his face.
"It showed how many people cared about our experience," Allen said. "That's something I'd like for us to get back to—to be able to extend the experience to students, the alumni, and the city so everyone feels like they're a part of the program."
For Allen, Penn basketball is, and always has been, a family affair. And being back at the university that groomed him, with his mother, wife, and kids by his side, beats a trip to Pompeii or Paris any day.
"This," Allen said, "is probably the happiest I've been in my life." 
—Dave Zeitlin C'03