Identity Cleft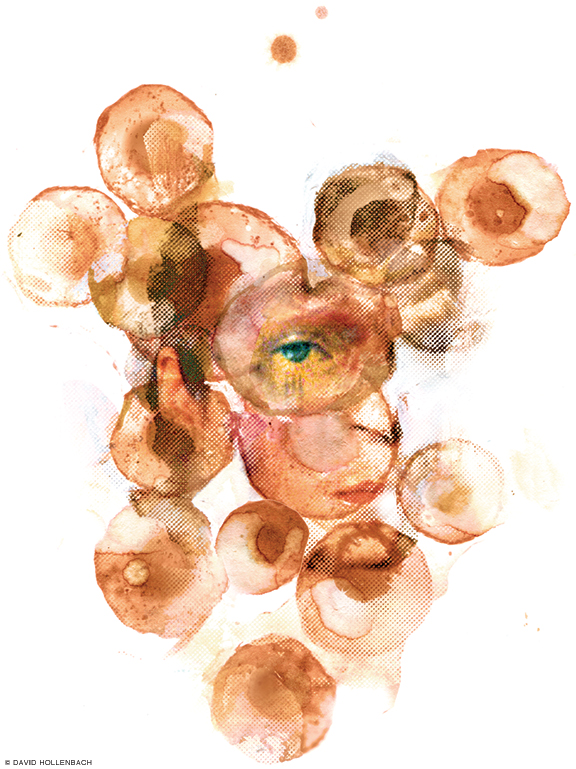 "What portion of an individual must be replaced to alter identity?" Reed Pyeritz asked. The William Smilow Professor of Translational Medicine and Medical Genetics was pointing to a slide juxtaposing images of a grazing cow and an artificial aortic valve—a reflection of the bovine heart tissue that resides in Pyeritz's own ribcage. Playfully, he continued, "How much of me needs to derive from a cow before I'm tempted to start grazing?"
In April, Pyeritz and other scholars convened for a daylong symposium hosted by Penn's Institute for Regenerative Medicine (IRM), titled "Managing Cell and Human Identity." The event featured scientists, philosophers, and bioethicists. Discussion centered on how differing perceptions of human identity shape our approach to genetic, stem cell, and reproductive technologies. But the question on everyone's mind was, "What does it mean to be human, really?"
Pyeritz emphasized the biological basis of human identity, rooting it in human phenotypes—which are shaped by the interplay of genetics and environmental influences.
As an example, Pyertiz offered his two daughters, who have both been diagnosed with celiac disease. This labeling has dramatically altered their identity, he explained. His daughters avoid certain foods, and are viewed differently by other people—simply because of a genetic variation.
R. Alta Charo, professor of law and bioethics at the University of Wisconsin Law School, noted drolly, "We are all mutants." And that just means we have variation, she said. "We are all individuals with vastly different phenotypes that are partly determined by our genes."
Yet we still hang onto the fundamental idea that genetics is the basis of everything—an attitude that has drawbacks. Charo brought up the example of gender-testing female athletes before admitting them to competitions. Runner Santhi Soundarajan was stripped of her medal from the Asian Games in 2006 when she "failed" a sex determination test. Later, she attempted suicide.
IRM Director Kenneth Zaret, the Joseph Leidy professor of cell and developmental biology, noted that the constant death and replacement of most human cell types means that our biological "self" is changing all the time. What's more, stem-cell technologies have added further layers of complexity. For instance, Japanese researchers have created baby mice out of reprogrammed murine skin cells. Zaret's lab has transformed late-stage pancreatic cancer cells into early-stage cancer cells that can test the role of anti-cancer drugs. And Guo-li Ming and Hongjun Song—who joined Penn Medicine as professors of neuroscience in March—have used human skin cells to create a forebrain organoid with which to study the Zika virus. Since the human body is such a large part of our identity, could alterations in its structure—even at the cellular level—change the way we see and think about ourselves?
Laurie Zoloth, director of graduate studies in Northwestern University's religious-studies department, put these questions in historical context. As long ago as the late 1700s, Scottish philosopher David Hume argued that it's impossible for the body to be considered stable because there is constant change. We are shape-shifters, Zoloth stated. "To be human is to be vibrant matter."
We also appear to be adaptable to dramatic shifts in knowledge as well, she said. "Significant changes in fundamental human experiences have been accommodated well. In particular, how we understand lifespan, human health, the role of women, the presentation of ourselves, time, and travel, have all changed dramatically—yet we can still recognize ourselves in our earliest human ancestors."
Jonathan Moreno, the David and Lyn Silfen University Professor of Medical Ethics and Health Policy, considered the cultural meaning of identity. Using clips from films as varied as Woody Allen's Sleeper, The Boys from Brazil (starring Gregory Peck and Laurence Oliver), andSteven Spielberg's A.I. Artificial Intelligence, Moreno pondered the question "Why do we want to be human?" In true philosopher's style, he offered more questions than answers.
"Perhaps," Moreno offered, "the best reason to be human is that as humans we are the stewards of certain valuable human qualities. But must that always be so? When all is said and done, we are the stewards of the admirable qualities of humanity, like the ability to love, be compassionate, and have empathy.
"But we are not the only option," he added.
Certainly, the behavior of elephant mothers towards their calves demonstrates that other animals feel love. And numerous scholars have maintained that animals feel empathy, even for other species. So if that isn't what makes humans unique, then what does?
If "fear of death" is one classic answer to that question, John Gearhart, the James Effron University Professor of Cell and Molecular Biology, closed out the day by casting doubt even there. Best known for leading a team of researchers at Johns Hopkins University who first identified and isolated human pluripotent stem cells, Gearhart is also an expert in longevity studies.
The reigning view among longevity scientists, he explained, is that "aging is a product not of evolutionary intent, but of evolutionary neglect … Many people feel that there is no reason to die." In fact, he noted with a foreboding look, some very wealthy individuals have already stockpiled their own cells, just waiting for the longevity research to catch up.
Why should this concern us? For starters, Gearhart suggested, if people lived forever, reproduction would cease—"at least we hope," he said—which would portend almost unimaginable changes in how humans think about themselves. As would immortality, of course—though perhaps even that would be marked by the familiar question of identity, and an equally familiar sense that it will never be settled for good. —NP