Holding Court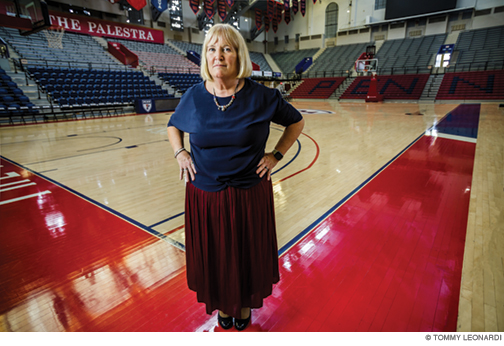 ---
Peggy Kowalski, the engine that made the Palestra and Franklin Field purr for almost 40 years, says goodbye.
---
There are no sounds of a basketball bouncing or sneakers squeaking in the background, but Peggy Kowalski C'78 still feels at home sitting near the Palestra box office on a drizzly late September morning. When the near-empty gymnasium starts to get a little stuffy, she lugs a heavy stanchion to one of the front doors to prop it open and let in some air.
"See, I still remember what all the intricacies are," she says, her eyes creased above a smile hidden by a Penn mask.
If the cancellation of sports and the closure of the Palestra due to the pandemic have been the most jarring upheavals for the Penn Athletics community of late, Kowalski's retirement—announced in mid-August—probably wasn't far behind.
For nearly 40 years, Kowalski had been a fixture at the Palestra—a part of the fabric of the fabled gym and of Franklin Field too. Officially, she worked in the ticket office and then as an associate director of operations and director of special events for the athletic department. Unofficially, she was the person who always found a way to make things right for alumni, coaches, and parents who needed a ticket to a game or a parking spot or simply had a question about any of those Palestra intricacies she mastered over the course of five decades inside.
"Her basic instinct as a person was to make any situation better," says men's basketball head coach Steve Donahue. "There have been legendary people here, and she's in that elite group of people that's made this building special all these years—her whole family."
Kowalski's grandfather sold tickets in the gym's early days, and her father would go on to do the same, both of them moonlighting at the Palestra after putting in a hard day's shift for the railroad at 30th Street Station. In 1970, her father, Bob Donohue, parlayed that into a full-time position as the arena's ticket manager, retiring from the railroad in part due to the family tuition benefits that a job at Penn provided. "It worked out perfectly, although I was his only child who went here," laughs Kowalski, who grew up alongside two older brothers and two younger ones. (Her siblings variously attended Villanova, Saint Joseph's, and La Salle, and she got a master's at Temple, "so we have the whole Big 5 covered.")
Growing up in nearby Delaware County, Kowalski was a commuter during her undergraduate years, usually parking by the Palestra and chatting with her dad in his office for a few minutes before heading to class. She went to some basketball games in college, but her most formative early Palestra memory came when she was at high school at Archbishop Prendergast and was bussed to a sold-out gym for a couple of Philadelphia Catholic League Championships in the early 1970s. "That was my first taste of basketball at a high level, and being in the building where my father was working was really special," she says.
An elementary education major at Penn, Kowalski worked as a schoolteacher in Florida and South Carolina after graduating, while her husband, John, served in the military. But in 1982, her father asked if she'd like to come home and work for him in the ticket office. "It was a time in my life when I thought I needed a change," Kowalski says. So she accepted. And she never left, succeeding her dad as the box office manager when he retired a few years later.
"My father was the ultimate host," she says. "He never missed an opportunity to have a party. I think that always lended itself to what my work was. I always felt that having a game, having an event, was like hosting something where you didn't have to pay the bill but you greet everybody. And I enjoyed that part."
Though she was able to sneak out of the box office (which used to be a small room in a back hallway of the Palestra; it survived renovations and remains as something of a relic) to watch games from various arena tunnels, she says that "she got bored eventually and wanted to be on the inside. I wanted to be in the middle of the action." So she moved into a new position that involved both ticketing and the operational side of games and events. "The parking list, security, announcers, officials—all things to check off the list," she says. "You really learn how to worry about everything."
Among her biggest worries every year was trying to manage more than 100,000 people over three days at the Penn Relays. Homecoming was always a unique challenge, with up to 1,000 former athletes packed into a tent inside Franklin Field during football games. "But I always loved it," she says. "I would make every person come up and tell me who they were."
When U2 performed at Franklin Field in 1997, the concert promoters worked with Kowalski. So did the filmmakers who used the football stadium to shoot scenes for Unbreakable (2000) and Invincible (2006), allowing Kowalski the thrill of brushing up against M. Night Shyamalan and Mark Wahlberg. (Perhaps her most memorable encounter with a star, however, was when she jumped into Usain Bolt's car to park it just after the Jamaican sprinter got out to run at the 2010 Penn Relays.)
More than anything, else, though, it was "the students that kept you on your toes," she says. When they used to camp out overnight at the Palestra to wait in line for season tickets, she'd be right there the whole time, attempting to "manage enthusiasm." For games, she'd position herself near the most vocal fans, making sure the rollout signs weren't too vulgar and no alcohol made its way inside—but also "always" making sure to give students the benefit of the doubt. "I understand," she says. "They're young. They're enthusiastic. I'm just trying to make sure they're safe and nothing happens to them."
One of her favorite stories serves as a microcosm for this balancing act. When a referee asked for a student to be removed by security at the end of a game versus Penn State in 1999, that student pleaded his case in the hallway to Kowalski, who remembers telling him, "Look, if I turn away and you find a home up in the corner and you behave, I don't know about it." So he did, watching the end of the game out of sight from the referee he had just cursed at over a bad call. "And that man is now a brain surgeon," Kowalski says.
Well, actually, he's a neurologist. And he still remembers that moment quite well—and how Kowalski so patiently performed a job that largely dealt with fielding complaints. "She always stayed calm—much calmer than I can," laughs Noam Harel C'92 Gr'98 M'00, who had front-row seats at the Palestra for 12 years and now lives in New York. "It'll be weird to go back and not see her there. And I'll have to watch my mouth around the refs if she's not there to help me out."
In more recent years, Kowalski worked closer with alumni donors and former athletes in a development role with the Penn Champions Club, the athletic department's fundraising arm. But she maintained the same approach dealing with them as she did students. Instead of following rules to a tee or denying someone access to an event, "she kind of joked about it and never took herself too seriously," says Donahue, who's known Kowalski since he was an assistant coach in the 1990s. "That was kind of contagious and made Penn Athletics look really strong for all of these years." And it's a model, the head coach adds, that he thinks younger people in the business should follow.
Since officially stepping away on August 20, Kowalski has been excited to do other things, from scrapbooking to organizing closets. ("I YouTube it and do it," she says.) But whenever basketball does return—and for what it's worth, Donahue has been cautiously optimistic that the Ivy League will figure out a way to at least have a conference season this winter—she's pretty sure the Palestra will draw her back in. And that's because of all of the friendships she made there.
"I think I'll miss the people the most," she says. "It's been so much fun. I loved being the first person that people talked to. I could talk to everybody."
Because of COVID, she hasn't yet been able to receive a proper sendoff from her former colleagues. But at some point after the pandemic, when she walks through the front door of the Palestra, she'll see a sign in the lobby that will make her think about how her late father first brought her into a building that "still feels like home."
Soon to be installed, the sign will read: Donohue–Kowalski Box Office.
—DZ