"Historic Philadelphia," Rethought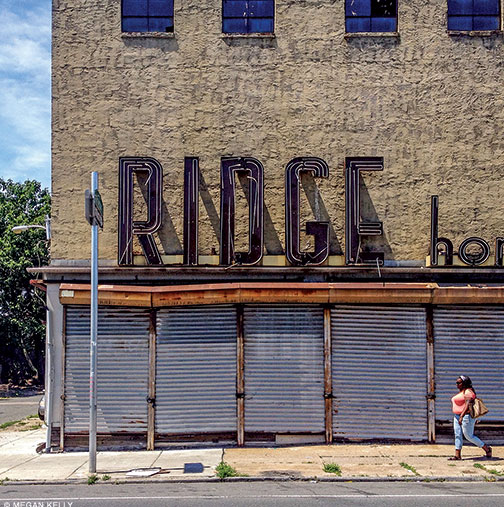 "We never wanted to end up with a document that would just sit on a shelf," says Andrew Cushing. Last fall, he and eight other master's students from the graduate program in historic preservation devoted a semester-long studio to forming a plan to revitalize a neighborhood few Philadelphians would recognize as historically significant—and many might struggle to recognize at all.
Sharswood, a roughly square-mile section of Lower North Philadelphia plagued by poverty, vacancy, and crime, is a place with an uncertain fate. Approximately 85 percent of its current 5,800 residents are African-American, and the neighborhood's median household income of $15,454 is less than half that of the city overall. Still, with property values surging all around them—in areas like Brewerytown to the west and Temple University to the east—market pressures and gentrification are bound to arrive. Meanwhile, the neighborhood sits in the crosshairs of a controversial 10-year, $500 million redevelopment initiative by the Philadelphia Housing Authority (PHA) that involves the use of eminent domain.
After attending a PHA presentation outlining the agency's plan, Randall Mason, an associate professor and chair of the historic-preservation program, sensed an opportunity.
"We actually had another studio planned," says Fon Wang GFA'07, the lecturer who taught it, "but due to the urgent situation of this neighborhood, we switched … [It offered] a profound opportunity to effect change in real time."
Her students shared that sense of purpose. And as the semester wore on, they found themselves roaming far outside of the classroom—and getting more attention than they might have bargained for.
They got started by walking the neighborhood, which runs from Poplar Street to Cecil B. Moore Avenue between 19th and 27th streets, and does indeed have a particular historical identity. Sharswood was home to both the fledging Philadelphia Athletics baseball team and artist Dox Thrash (whose now-vacant house is the area's only property on the city's historic register). Civil rights activist Cecil B. Moore once lived nearby; he bought his home from Raymond Pace Alexander W'20, Wharton's first African-American graduate, who later was president of the National Bar Association and a Philadelphia city councilman.
In their field research, Wang's students became intimately familiar with the neighborhood's good, bad, and ugly blocks. They passed intact rows of well-tended two-story homes punctuated by some 1,200 vacant lots. They meandered down a commercial strip, Ridge Avenue, pockmarked by empty stores. At the center of it all, they couldn't overlook the battered towers and barrack-like low-rises of the so-called superblock of the Norman Blumberg Apartments, erected in the mid-1960s by PHA. An admitted failure of urban renewal, the complex looms as the primary reason behind the agency's desire to tackle the area once again. (Although it has only secured funding for the razing of the towers, the PHA has already sent notices of condemnation to dozens of residents of homes throughout the neighborhood.)
But they also took note of Sharswood's character-defining architecture: a mix of rowhomes, corner stores, defunct small-scale factories—Scott Powell Dairies, Pearl Borax Soap, Stailey Bottlers—and institutional buildings, including several churches with still-active congregations and two now-shuttered, Art Deco-era schools. They identified about 40 properties with the potential to achieve local historic designation.
And as they talked with residents, they came to appreciate more "intangible assets, like a few informal community spaces that function as outdoor living rooms and the brightly painted exteriors of the rowhomes," as student Amy Lambert puts it. "The neighborhood has its own look and feel."
They encountered neighborhood pride—"people kept inviting us in to look at the work they'd done on their homes," Lambert adds—but also trepidation from residents fearful that their properties would be taken away. Some neighbors regaled the class with tales of the music that once filled the air and the shops that once brimmed with goods. Others could only define history as "who got shot at the corner of this street, or who got stabbed over there," Lambert says.
"The [idea] always was to get the students to talk to people, see things, and ultimately love the neighborhood," Wang says. "They needed that passion to stand up to all those who overlook the place. They found gems in buildings, and people, which achieved that goal."
The preservationists-to-be, most of whom drew on backgrounds in architecture or planning, also metaphorically barged into the offices of the PHA, trying to get its representatives to consider rehabbing over demolition and rebuilding.
In their neighborhood survey they had carefully "double-checked" more than 800 privately owned properties that PHA plans to acquire and condemn. By their reckoning, 88 of them were "occupied and in good shape," and another 17 "occupied and fixable." Further, they identified more than 100 of the vacant properties as in seemingly good shape or fixable.
With so many empty lots—many the result of the city's Neighborhood Transformation Initiative, a 2001 effort to combat blight by demolishing derelict properties—already strewn through the neighborhood, they asked, why would PHA even consider tearing down existing buildings in decent condition? Instead, the students had their own set of recommendations. They included determining which properties might be protected from eminent domain because of their historic value, identifying opportunities for rehabilitation and adaptive reuse (which in many instances is cheaper than demolition and rebuilding), and working to keep long-term residents in the neighborhood.
They continued pressing even after the 15-week class ended. In mid-January, they presented their research to the Design Advocacy Group (DAG), a loose consortium of planners, architects, and developers formed to weigh in on such matters. Two weeks after the meeting, the group released a statement decrying the PHA plan for remaining "largely silent on two major areas of our interest: preservation and neighborhood design." According to DAG chair, Elise Vider GFA'91, the studio's presentation helped cement the group's understanding of the issues.
"Most critically," she said, "the results clearly challenge PHA's intentions, which could decimate neighborhood character and sense of place."
In February, the studio was invited by a local community group, the Sharswood Neighborhood Assembly, to share its ideas for a preservation plan. "With the community and professionals and the media behind us, there can be change," says Wang. "The students are definitely lighting a fire but we need there to be a majority that supports their plan. Some folks really like the PHA plan—and we, as outsiders, need to respect that, too."
Whatever the case, the goal wasn't simply about articulating a reaction to an imperfect redevelopment plan.
"Our task was to come up with a preservation plan for a neighborhood that isn't the kind of place you think of when you think of 'Historic Philadelphia,'" Wang says. She encouraged her students to get moving on individual projects. Dana Rice, who is pursuing degrees in historic preservation and architecture, investigated the possibility of converting the Ridge Home Furnishers store, which boasts an iconic sign, into a much-needed grocery market. Lambert drafted a nomination to locally register the Macedonia Free Will Church, an 1890s edifice whose rare Tiffany Studio windows had helped land it on the National Register of Historic Places. A third student, Sanjana Muthe, collected oral histories from long-term residents.
The studio's significance, according to Lambert, was that it showed the class that "historic preservation can be a tool for social justice."
"It's not always about defending high-style buildings," she said about her chosen discipline. "It doesn't have to be narrow—it can be inclusive."

—JoAnn Greco