Y-Prize Gets Beery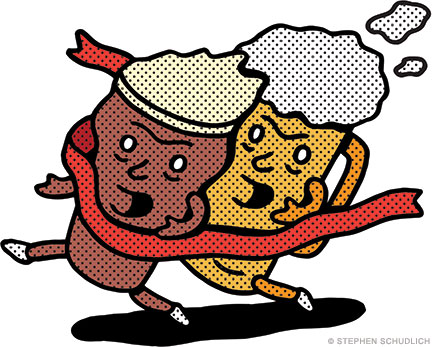 "We want beer, and we want it fast."
Siddharth Shah WG'17, Sashwata Narain WG'17, and Alexander David GEng'17 are by no means the first students on campus to raise that rallying cry, but they may have the weirdest idea for achieving it: microfluidics. The trio won the annual Y-Prize in January with a proposal to employ the technology—which is mainly used in medical diagnostics and gene sequencing—to turbocharge the process of beer fermentation.
"The big bottleneck in beer production," says Shah, is the three weeks it typically takes for yeast to convert sugars into alcohol in a big batch of beer wort. In terms of space and climate control, that can be costly. By using a microfluidic fabrication technology developed by David Issadore, an assistant professor of bioengineering, the team—which calls itself Fermento—aims to effectively marry yeast and sugar one droplet at a time, making the process nine times faster. The $10,000 Y-Prize includes licensing rights to commercialize their application of the Penn-owned technology.
It's a somewhat counterintuitive twist on microfluidics.
"Originally," says David, "the technology's main purpose was to use a lot less of things—to go from milliliters to picoliters." A company called Theranos, for example, is trying to use it to develop blood tests that only require a few drops, rather than a vial obtained intravenously. "But for some applications, if you have a lot [of volume], it can get interesting."
A microfluidic droplet process could allow beer makers to use a lot more yeast than the traditional method, they think, without producing off-flavors. David says the team successfully tested the concept on "macro-scale droplets," and will now be able to get the equipment and rights to try it on the micro scale—which they hope will lead to mass production. Shah says that "three out of the top five" global beer companies had expressed interest in conducting pilot runs in their own labs, using Fermento's technology.
"If they're successful, we'll take it from there," he says. At a brisk Clydesdale clip,
no doubt. —T.P.