Healing the Island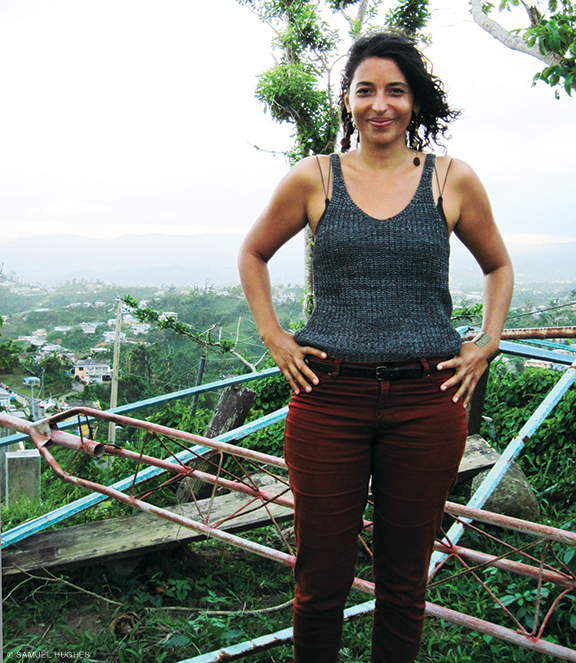 Christine Nieves has been creating new narratives for Puerto Rico in the wake of Hurricane Maria.
High up in the storm-raked hills of Mariana, a band of trovadores has just finished its final set of pulsing Caribbean folk music, which involves taking random words or themes and using them to improvise songs. Now they're packing up their guitars and amps at the outdoor community center known as La Loma, a stone's throw down from the rocky outcropping where Christine Nieves C'10 and I are talking.
The trovadores' music was a nice touch for this highly improvised Three Kings Day fiesta. The fact that their microphones and guitars were amplified was a small but significant triumph. There was no electricity in this small, mountainous community in the province of Humacao when I visited in early January (and as I write this there's still none, six-and-a-half months after Hurricane Maria ravaged the island). Which is why Nieves and Proyecto de Apoyo Mutuo Mariana (PAM), the grassroots community organization she cofounded, channeled the reliable Puerto Rican sun through a solar generator in order to electrify a festival that featured food and drink as well as books and toys for kids.
"The solar concert is just a little part of showing there's a new narrative that has been there on the edges, in the shadows," says Nieves, as the tree frogs known as coquíes squeak their urgent, high-pitched song. "I had to come back and find the people that were being the type of Puerto Ricans that don't make it to the news stories, that were living a different narrative and a different story. Because those are the stories that are going to save us—how we are stronger, and are doing amazing things with so little. And because so much of what we say becomes our reality—and you act based upon that. It's all wired into your head."
---
RELATED FEATURE | Storms and Reforms
Puerto Rico's Department of Education has been getting an extreme makeover under Julia Keleher C'96 GEd'98. It was a Herculean task even before the catastrophic hurricane.
---
Since the hurricane upended her life and that of her adopted community, the 30-year-old Nieves has put her abundant energy and storytelling talents to good use. Her narratives have evolved from the crisis-driven—coping with shattered windows and downed trees and toxic mold without electricity or potable water—to something more celebratory and profound. Or, as she puts it, "taking Maslow's hierarchy of needs and turning it on its head." And while she and PAM explore ways to "bring forth models for living in harmony with the environment," they're also addressing "one of our most fundamental human challenges: healing from individual and collective trauma."
Healing involves many small, practical steps. (An early priority was WiFi, for getting word of their plight out and news of the world in.) Last month she and her partner, composer/musician Luis Rodriguez Sanchez, became co-executive directors of a community organization called ARECMA, which owns La Loma's facilities and provides the legal structure needed to take on more ambitious projects. They were already in the process of converting an abandoned school building into a community center for cultural and artistic endeavors.
"It's like a mini-city," she says of the old school building, a "Centro de Imaginación designed to keep hope alive and not only reimagine but enact an alternative to life in the hilltop barrios." She envisions it housing a coffee shop (hoping that the lure of more business will encourage the local roaster to up its game), a small business incubator, space for social workers and counselors, a hostel for volunteers and visitors, workshop rooms, and manufacturing space for local enterprises. Not to mention a low-cost laundromat—washing clothes being a major challenge in Mariana post-Maria—powered by the largest solar generator in Puerto Rico as a "case study to show that solar generators are safer for the environment and a better alternative to diesel generators."
As we talk, a car driven by volunteer Jasmine Perez Nu'08 GNu'10 pulls up, filled with boxes of books destined for a reading house they're building in a nearby park. PAM has collected more than 600 books, part of a "comprehensive effort to make books available in different locations in Mariana."
"One of the things I asked for as aid was books," says Nieves. "Everyone said we need water and lights—and that's important. But history books are also important." Despite being a native Puerto Rican and having attended some pretty prestigious institutions of higher learning, she knew little about the island's history. "I'm only now starting to learn it. That's appalling."
There is an overarching vision at work, she says: "to reimagine how we live in rural communities so that young people have the option to stay and do meaningful work and develop systems of self-governance and resource management that can better prepare us for future crises."
A year and a half ago, Nieves gave up a promising academic career to come back to the island that she had left swearing to never return. Her path had led her from the Annenberg School to Oxford (master's in social policy and social intervention), and—following a stint at the Robert Wood Johnson Foundation—to Florida State University, where she was the Entrepreneur in Residence at that school's College of Communication and Information. Then, on a visit to the island summer before last, she met Rodriguez, a russet-bearded composer from Mariana. (His works include an orchestral accompaniment to the poetry of the late Francisco Matos Paoli, whose verses were declaimed in a performance at the Centro Bellas Artes by one Lin-Manuel Miranda.) Love-sparks flew, and after returning to Tallahassee she knew she had a decision to make.
At the end of 2016, she returned. "The first six months here were so hard," she says. "I didn't even say that I was moving to Puerto Rico. I was, like, so afraid of it."
Last summer, on a fellowship at the Penn-Columbia Social Impact House in Vermont, she began to understood why she had come back. "It was all about stepping into a space of unknown, unlimited possibilities of looking at the future of humanity," she says, "and at the same time connecting with people who I very quickly felt were going to be important, influential friends and co-conspirators and supporters."
When she returned from the fellowship in late August, Nieves spent several weeks toggling between Mariana, where she had moved into Rodriguez's family house, and San Juan. She was scheduled to meet on September 20 with the board of directors of an organization that was planning to open an office that would support high-impact entrepreneurs.
The meeting never happened. The Category 5 hurricane known as Maria blasted into Humacao early that morning. The Rodriguez house might as well have had a bullseye on it. The young couple, along with Rodriguez's cousin and their cat and dog, scuttled down to the first floor, bringing a few provisions and a candle into the bathroom.
"All of a sudden there was just the shattering sound of glass, glass flying everywhere with water," recalls Nieves. "And then the cascade of water down the stairs. It felt slightly Titanic, even though you knew you were not going to drown, because the water just kept coming in. Then we heard more glass breaking—and sure enough, two windows, the glass door, the skylights, the water heater …"
Later that morning, when the false calm of the eye passed over, they went outside. "It was like cream," she says. "Slightly yellow. The bark of the trees was completely stripped. I couldn't see any green—not even grass. That's when I noticed that our water cistern, which had a thousand gallons of water, was emptying by one little hole. And that was our only water."
The roaring winds and torrential rains returned and pummeled the house for another day and a half, flooding it with water and glass and leaves. All the paint was stripped off—"like a pressure washer had gone through, outside and inside."
They spent a week digging out and cleaning up. Drawing on the experience of a community center in Caguas, they formed PAM, first to feed people and provide the basics, then to begin addressing the deeper issues, there and across the island.
A few weeks after my visit, Nieves called from Rincon, on Puerto Rico's western tip, where she was sparking ideas with other community organizers.
"Meeting with all the different mutual-aid groups, we realized we have a lot of very similar needs," she said. "There's a fundamental sort of deep spirit behind the work we're all doing, learning about the relationship between being colonized, living in a colony, and then healing, and the psychological work that relates to communities and entrepreneurship and organizing."
Even then, she was looking past the grunt work of surviving to more uplifting activities—bringing in artists and speakers, putting on concerts and theatrical performances. She envisions an amphitheater for cultural events and waxes eloquent about the possibilities for other communities like Mariana—ones "that are at risk, with a high population of elderly, and that are stunning. This place is so beautiful, and those who help end up getting so much as well. A treasure like this can be shared in a way that doesn't take away from its authenticity."
The journey to Mariana was a circuitous one for Nieves. She grew up in Ponce, on the southern coast, excelling academically while enduring her full share of bullying—an outsized problem on the island, she believes. Her family went from relatively poor to "struggling middle class"—not the background of most Puerto Rican Penn students, who have traditionally been more upper-middle class. But her grades, plus the support of the Hispanic Heritage Foundation, earned her a scholarship.
"It was this incredible experience and opportunity for me," she says, "and I decided I was going to take full advantage of it." She laughs a bit sheepishly when I mention the essay she penned as a senior communication major for the Gazette ["The Telemundo Kid," May|June 2010], about her experience as a host for En Portada, Telemundo's public affairs channel in Philadelphia.
"One thing that has happened since I wrote that article is the process of letting go of ego," she says. "I had a lot of energy, and I had done a lot of things. But this process of coming back has been about the opposite, in that I've made decisions towards the less shiny, the counterintuitive. And when everything collapses, you have to choose and confront your own ways of thinking about everything."
That included her perceptions of the island and its people—her people.
"I left blaming Puerto Ricans for their ineptitude," she says. "I just felt that it was a lost cause. There is a way of talking about ourselves that is very despectivo, so very negative—almost self-loathing, which then becomes a justification for any bad behavior." She believes that it goes back to "this complicated internal trauma that happens in families, whether it's verbal abuse, physical abuse, sexual abuse. And that is more complicated to pinpoint. Does it trace back to slavery? Genocide?
"What I didn't understand was that there was quite a bit of childhood trauma that I had left here that's endemic, very connected to a lot of the political and social issues that we're facing. You would be hard-pressed to find someone in Puerto Rico that hasn't had childhood trauma, and it passes from generation to generation. And no one talks about it. When, as a people, you haven't been able to speak about the wound and the trauma and whatever it is—the thing that hurt you and was unfair and was terrible—it's going to stay, even if you don't speak about it. Even the political parties are primitive—but they are astute because they've been so good at getting people to be afraid."
In San Juan, she sees people "managing and controlling the media, and creating a different reality, a sort of theater. And meanwhile, we are in the audience, in the darkness, not noticing what happens on the edges. I'm more interested in working from the place that no one's watching. Because we are the people that they're supposedly governing. So we have to figure out a way to govern ourselves." And, perhaps, undo the sense of dependence that she believes has afflicted the colonized Commonwealth.
"For too long, the way Puerto Ricans have been spoken about is always around how much we need and how much we lack, and 'Oh, please, give us some money because we need to put the [power] lines on.' I worked in the area of philanthropy that focused on innovation, and I know they don't want to support projects that are not going to win, right? And I felt that we were learning something—whether it was in social innovation or social entrepreneurship—that we were going to be able to share with the world."
Whatever it is, the word is getting out. In April, the online magazine Grist recognized her as one of its annual "Grist 50," which it describes as "the most inspiring innovators and doers working on fresh solutions to the planet's biggest problems." She's both pleased with the recognition and wary of it.
"Lists make [individual] people look like the sole heroes," she says, when in reality the efforts are "almost always collective in nature and designed precisely to be in stark contrast to the hero-ego-centralized-power-control culture which has led us astray."
Over the past months in Mariana, working to resolve local disputes in gentler, more imaginative ways, she has found that the interface between the personal-emotional and the political-physical can overlap in surprising ways.
"Now we're faced with a disaster that all indications point towards more coming," she says. "And so now we are learning that maybe electric infrastructure is not the priority. Maybe it is the social fabric. How do you even start doing that when you've forgotten how to talk to each other, and how to talk to each other in conflict? The cornerstone of what we're building is joy. And if you build from a place of joy—and if you contribute what makes you happy and you know what you can bring to the world—then you can build a very different reality than if you are doing things that you hate all the time.
"Part of it is imagination and dreaming," she says, as a strong breeze blows in from the ocean. "That's what's good about being in Mariana—you're away from cynicism. What feels like a movement to me has to be born there, in the places that have been forgotten, in the space you can dream up." —SH