Got 'Pipes?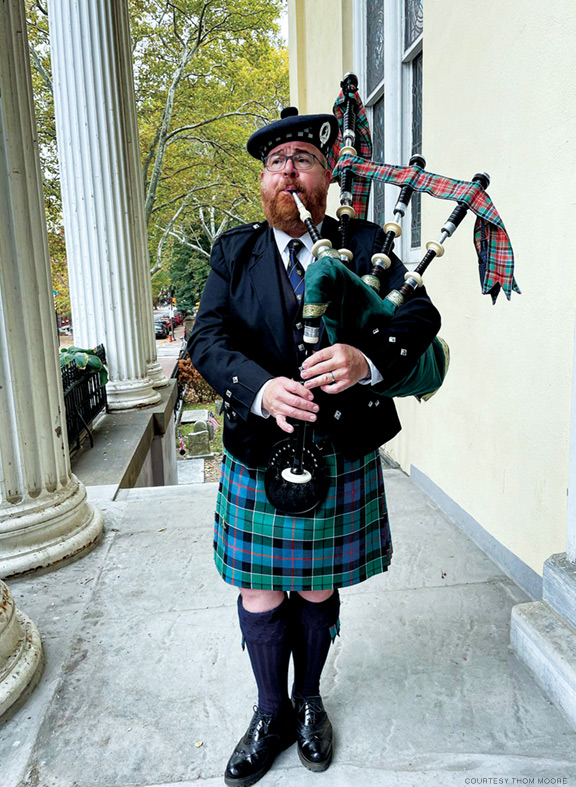 Why a medical publishing veteran followed the "inescapable" sound of the bagpipes to a new career.
---
Burned out by nearly three decades in the medical and scientific publishing industry, Thom Moore C'87 was ready to leap into a new career. "I needed to decide what color my parachute was going to be," he says.
It turns out his parachute color is plaid.
In 2016, Moore reinvented himself as The Happy Bagpiper. Taking his lifelong love of the instrument, he's built a business performing songs, teaching students, and providing other services as a full-time professional bagpiper—wearing full traditional Celtic bagpiper attire, complete with a kilt.
While bookings initially dropped off when the pandemic hit, Moore pivoted to offer virtual performances and instruction over Zoom, in addition to in-person performances outside of assisted living facilities and nursing homes and at other socially distanced outdoor gatherings. Moore plugs bagpipes as the "ultimate social distance instrument," because you can hear them from a quarter mile away or more. The instrument produces sound at 90 to 100 decibels, which is roughly the equivalent of a concert pianist playing fortissimo, or a lawn mower. "It's kind of inescapable," he says.
The New Jersey native first fell for the bagpipes as a young child in the midst of a musical rebellion. When he was four, his grandmother had a piano delivered to the family's home and insisted he take lessons. He complied for two years before plotting his escape to a different instrument. "I searched for something that could be the diametric opposite of the piano," he laughs.
While visiting a Scottish festival in Maryland with his parents, Moore spotted the bagpipes and begged to learn how to play. Lessons with a Scottish bagpipe instructor followed. By the time Moore was 12, he was playing in competitions as a solo bagpiper and as a pipe band member.
As a musical instrument, the bagpipe has a lot going on. There's a blowpipe with a valve, three upright pipes called drones that each contain a single reed and continually play a single note, a pipe called the chanter with a double reed on which the piper fingers the tune's melody, and a bag. Newbies start out using a mouth-blown practice chanter to learn the proper finger positions for each of the bagpipe's nine notes, as wells as scales and tunes, explains Moore.
"From a music theory and music learning standpoint, the bagpipes are a fairly simple instrument," he says. "But for such a simple instrument, there are a lot of difficult things about it." A popular meme in the bagpipe world illustrates this contradiction: It's only nine notes—how hard could it be?
Transitioning from the practice chanter to the full bagpipe adds "a whole new set of technical issues to deal with—mainly, keeping a really steady sound by blowing into the bag, and then using your left or right arm to keep that bag nice and firm so that you're getting a steady sound out of the drones and the chanter," Moore says. That steady, continual sound is what makes the bagpipes stand out, whether the tune is sad or celebratory, and it can evoke a variety of emotions in listeners, he adds.
Moore put the bagpipe aside for about 15 years, while he was at Penn and launching his career in medical publishing, until he resumed playing at his wife's suggestion that he get a hobby. He soon returned to form and played competitively again. In the mid-2010s Moore decided he needed a break from publishing and wondered if he could earn a living as a bagpiper. He hasn't looked back since.
Moore plays the Scottish Great Highland bagpipe at weddings, funerals, memorial services, and other events. These have included a party for fans of the Scottish time-travel series Outlander and an appearance with the Grammy award-winning Irish band the Chieftains.
As a bagpiper in the 21st century, Moore's repertoire goes far beyond "Danny Boy" and traditional Scottish marches. He also plays popular songs ranging from Lerner and Loewe to Lady Gaga and has granted requests for Rod Stewart's "Da Ya Think I'm Sexy?" more often than audiences might think. (According to Moore, that request stems from the 1993 Mike Myers film So I Married an Axe Murderer, in which a bagpiper plays that song at a wedding.)
On the teaching front, Moore gives individual bagpipe lessons to more than 30 students and is an instructor for the Philadelphia Police and Firefighters Pipe Band and the Camden County (NJ) Emerald Society Pipes and Drums. As a retailer, Moore sells bagpipes and related items on a limited basis, which led to him becoming a "bagpipe mechanic" who sets up other bagpipers' instruments to ensure optimal air efficiency.
Despite building a bagpipe business that's been flexible enough to survive a pandemic, Moore rejects the idea that he's an entrepreneur, which is "too elegant a term for what gigging bagpipers do," he says. "We're more like troubadours."
And he has no plans to stop. "I love working and I love playing the bagpipe and I love being with other people," he says. "And so, I think I'm just going to do this until I can't do it anymore."
—Samantha Drake CGS'06