Going Fourth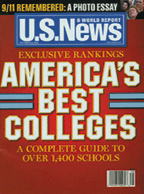 Though it continues to take all rankings with a large grain of salt, the University can't help but be pleased by its continued ascent in U.S. News & World Report's annual "best colleges" issue, published September 23. Penn tied for fourth place—its highest ever—in the "Best National Universities —Doctoral" category, whose candidates "offer a wide range of undergraduate majors as well as master's and Ph.D. degrees." (Also sharing the fourth-place spot were California Institute of Technology, Duke, MIT, and Stanford. Princeton was ranked first, with Harvard and Yale tying for second.) Last year Penn tied for fifth.
The rankings take into account a variety of factors, including faculty resources (in which Penn was the top-rated school), peer assessment, selectivity, acceptance rate, the percentage of full-time faculty, the size of classes, SAT/ACT scores, the percentage of freshmen in the top 10 percentile of their high-school class, financial resources, and alumni giving.
While she did not endorse the magazine's methodology, Penn President Judith Rodin acknowledged that the rankings have a "real effect" on students trying to decide which schools to apply to.
"I think going up into that top cohort, whether it was six or five or four, is really what's important," she told The Daily Pennsylvanian. "Being in that top group, which Penn deservedly is, I think matters to our applicants." (So, in some circles, does Penn's selection as one of Seventeen magazine's top 10—sixth, actually—"coolest colleges.")
When the U.S. News rankings were released, Dr. Richard Beeman, the history professor who serves as dean of the College, wrote an op-ed piece for The New York Times in which he argued that the rankings "are flawed in their conception and pernicious in their effect on prospective students and their parents."
"It may be the case that the U.S. Newsrankings are as conscientiously and fairly constructed as anything that has yet come along," he wrote. But rankings in general "underestimate the amount of work it takes to get a college education and overestimate the importance of a university's prestige in that process. In that way, they may do considerable harm to the educational enterprise itself."