From Quantico to Walnut Street
It's common for organizations to talk about "casting a wide net" and seeking out "non-traditional candidates" to fill senior administrative posts. More often than not it's just that—talk. But when it came to finding a new executive vice president to replace John Fry, who left Penn in June for the presidency of Franklin & Marshall College ["Gazetteer," May/June], the administration of President Judith Rodin ventured about as far from the groves of academe as possible—into the ranks of the U.S. military.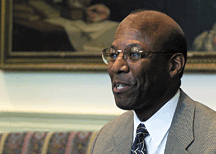 In September, a 30-year Marine Corps veteran, Major General Clifford L. Stanley, was appointed to the post, which functions as Penn's chief operating officer, responsible for finance, investments, human resources, facilities and real estate, public safety, information systems, computing, and internal audit and compliance. He was scheduled to start work at the University in mid-October.
At a press conference announcing the appointment, Stanley downplayed the cultural divide between his old and new environments, asserting that "walls are not as significant as we make them," but he admitted that the transition had required what he called, in a military phrase, "a lot of muscle movements," and that he had continued to harbor doubts almost up until the moment of the announcement. ("You did what?" he recalled being asked by some of his military colleagues.) While acknowledging that he was "a bit anxious in some areas," he said that he was "also excited" about the move to Penn.
For her part, Rodin described Stanley as someone who defied the traditional military stereotype, while bringing with him valuable experience in the management of complex enterprises. "It's Cliff's leadership skills and terrific capacity to develop great people and get the best out of people that made me so excited, and made the effort to extract him from an extraordinarily successful career in the Marine Corps worth the pursuit—and indeed it was a pursuit," she said. His record, she added, made him "the ideal choice to be the executive vice president, particularly as we are about to implement our next strategic plan."
In his former life, Stanley was deputy commanding general, Marine Corps Combat Development Command, serving at Quantico, where he was responsible for training and education, planning, experimentation and concept development for the Marines' active-duty and reserve personnel. There he ran the 60,000-acre base, which houses more than 20,000 military members, their families, and civilians, managing a staff of more than 300 and an annual budget of more than $133 million.
But perhaps his most delicate military assignment came during the Gulf War, where he headed the "battle-assessment team," which "shadowed" commanders in the field, observing and analyzing their decisions to develop lessons for possible future actions—a situation in which it was critical to build relationships with the commanders involved. Had the conflict lasted longer than the few days it took to rout Iraq's military, Stanley was in line for a command himself.
Rodin also pointed to Stanley's long involvement and interest in neighborhood, community, and race relations, noting that he recently won the Marines' NAACP Roy Wilkins Renowned Service Award. "He will play a significant role as Penn continues its interactions with and efforts to continue to build even more capacity into its West Philadelphia neighborhood," she said.
Noting that Stanley has a bachelor's degree in psychology from South Carolina State University and a master's in counseling from Johns Hopkins, Rodin recalled that they "clicked" from the beginning, but that, having settled on him as the best candidate, the University was met with an extensive counteroffensive by the Marine Corps—including the promise of a promotion that would have made him the senior African American in the Marines.
Although Stanley had been a candidate for CEO of the Philadelphia School District, a search from which he ultimately withdrew, he described Penn as a "perfect kind of fit," and concluded that he could make more of an impact here than by remaining in the military.
"On the 25th of September, Cliff Stanley takes off the uniform and becomes … transformed," he said wryly. And, he added, he was looking forward to picking out his clothes to wear to the office.