Bringing the "Fifth Beatle" Back to Life
Class of '96 | Broadway producer Vivek Tiwary C'96 W'96 first became curious about Brian Epstein, the legendary manager of the Beatles, during his sophomore year at Penn. By then he was already looking to find ways to marry his interests in business and the arts.
His immigrant family was made up of entrepreneurs and white-collar professionals, but he had grown up in New York and developed a love of opera, ballet, and punk rock. At Penn he majored in English and management, so finding a career on the business side of the arts made sense. But how?
Tiwary often wondered what it took to manage a band, particularly his favorite band, the Beatles. Brian Epstein—who had been managing his family's record store in Liverpool when he first saw the band perform in 1961—piqued Tiwary's interest, partly because Epstein didn't fit into society at the time, and Tiwary sometimes felt the same way. Tiwary was an Indian-American kid in a world where people from his background usually studied medicine and science. Epstein was gay in a county where homosexuality was a felony, and Jewish in the British music industry when, according to Tiwary, it had relatively few Jews.
"You had this gay Jewish man running around Liverpool saying, 'I have a band that's going to be bigger than Elvis,'" Tiwary explains. "He was told it was crazy. He was told, 'People like you don't do these types of things.' But he kept pursuing his dream. As a result, the world got the Beatles."
During Tiwary's junior year at Penn, he read every Beatles book he could get his hands on, but none had more than a few pages about Epstein, who, he notes, helped the Beatles "write and rewrite the rules of the entertainment business."
"I thought, if I'm going to be an entertainment entrepreneur, I should study the lives of those who merged their entertainment instincts with business instincts," he says. "So I thought I'd study the life of Brian Epstein. In some ways he was my own case study."
In the days before Google, the young student had limited avenues to gather information. One book about Epstein was out of print, and it took The Strand—the legendary New York bookstore—four months to locate a copy for him.
Despite his hectic double major, Tiwary continued researching Epstein's life while steeping himself in Penn's arts scene by working for the student-run radio station WQHS, writing about music for 34th Street, and chairing Penn Rocks for the Homeless and SPEC Concerts. During his junior and senior years, Tiwary started cold-calling people who had known Epstein.
"I would call people and tell them that I was a Penn student and a Wharton student," he recalls. "At first they were a little wary of talking to me, but the fact that I was a student who wanted to learn, not a journalist looking for a scoop, just a student looking for inspiration—it helped."
Among his cold-call triumphs were Epstein's former personal assistant, Joanne Peterson, then living in Australia, and the Beatles' American lawyer, Nat Weiss, a gay man and confidante of Epstein who lived in New York. After several conversations, Weiss told Tiwary about one of Epstein's lovers who ended up blackmailing him. Peterson was able to tell Tiwary about the day Epstein died—even what was found in his room.
The more Tiwary learned about Epstein's personal and professional challenges, the more he was convinced there was a project to be done.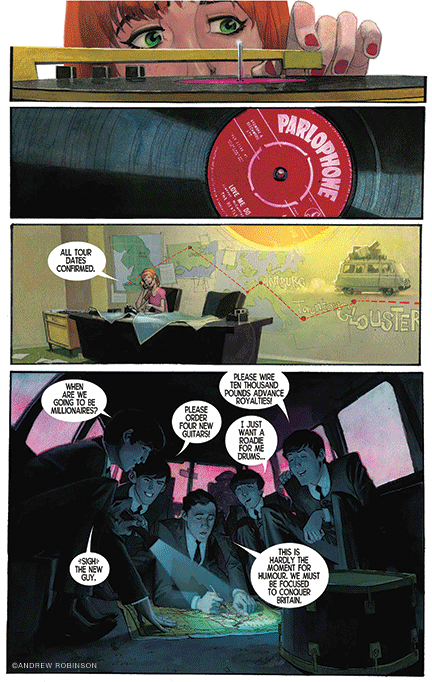 But it was only last November that his graphic novel, The Fifth Beatle, was published. (The title is based on Paul McCartney's 1999 response to the various wannabes who had claimed the title of "Fifth Beatle" over the years: "If anyone was the Fifth Beatle, it was Brian.") And while it took Tiwary quite a few years to reach a point where he had the clout and resources to turn his passion into a tangible product, the effort has paid off. By the end of last year, The Fifth Beatle was No. 1 on The New York Times bestseller list for hardcover graphic novels.
Best of all, he's received approval from the surviving Beatles and Beatles' family members—McCartney, Ringo Starr, Yoko Ono, and Olivia Harrison—to use Beatles songs in an upcoming film based on the book, a privilege previously afforded only to the Beatles' own productions. Tiwary has written the screenplay for the film, which began casting in mid-March. He is co-producing it with Bruce Cohen (American Beauty, Silver Linings Playbook), and has director Peyton Reed (Bring It On, Down With Love) attached.
In the book, Tiwary writes about how Epstein first saw the Beatles perform at the Cavern Club after customers in his family's record store kept mentioning them. After making the talented and charismatic but scruffy foursome (which then featured Pete Best on drums) clean up their act, he hounded every record-company executive he knew to give them a recording contract, and pledged to buy thousands of copies of their first album himself. By the time the band arrived on US soil to appear on The Ed Sullivan Show in February 1964, the youth of America were screaming for them.
But Epstein didn't get to fully enjoy his phenomenal success. His romantic dalliances, as depicted in The Fifth Beatle, were initially limited to surreptitious kisses in dark alleys. He accidentally overdosed on sleeping pills at home in August 1967, a month shy of his 33rd birthday.
Tiwary says he always envisioned the story becoming a graphic novel and film, largely because he saw it in pictures: 1961 London in black and white, and the psychedelic era at the end of Epstein's life in vivid color. Two illustrators worked on the book.
"I don't think it's arrogant to say that I worked my ass off," says Tiwary, sitting behind a desk in the two-room office of the Manhattan-based Tiwary Entertainment Group, which he founded in 1999. "I've been researching the [Epstein] story since I was 19. It's a weird thing to call it my life's work—I hope there are decades of work ahead of me—but it really is."
By the time he got to Penn in 1992, Tiwary was already a fan of the Sex Pistols as well as the Beatles. He also liked being in Philadelphia, since "all the great bands pass through Philly, and the experimental theater shows." True, he felt like a bit of a "black sheep" at Wharton, having dyed some of his hair green and shaved off the rest, but he was very amenable to the work-hard-play-hard mentality at Penn, and during those years he hustled to get internships and paying jobs in the music industry. He worked first for a Philadelphia-based music-publishing and production company, then, after his sophomore year, landed a summer job at Seed Records (a division of Atlantic) in New York. Then came a stint as a marketing representative for Sony, promoting records to Philadelphia-area college radio stations and record stores, and after graduation he parlayed that experience into a job at Mercury Records in New York, where he oversaw other field representatives for three years. By then, already managing a friend's band, he founded Tiwary Entertainment Group to handle anything else that came along.
"I knew I wanted to work across the entertainment spectrum," he says. "Broadway, films, TV, graphic novels, the whole gamut."
He put the word out that he was interested in Broadway, and soon got to know the producers of (appropriately) The Producers.
"I kept my mouth shut and my eyes and ears open," he explains. "I helped raise money; I learned how to produce. They let me come to meetings I probably shouldn't have been allowed to come to."
The Producers ,which hit Broadway in 2001, won an unprecedented 12 Tony awards and propelled Tiwary into other projects. He helped raise money for a 2002 production of Hairspray and became a co-producer for the 2004 version of A Raisin in the Sun, which starred Sean "P. Diddy" Combs.
"People said, 'African Americans don't go to Broadway,' and 'Kids don't go to Broadway,'" he recalls. "I said, 'Give them what they want to see, and make sure they know about it.'"
Raisin ended up attracting both groups, and two of the actresses won Tonys for their performances.
"At that point," he says, "I was really a theater producer."
His favorite production—American Idiot, a musical based on the music of Green Day—debuted in 2010. It ran for 422 performances on Broadway and nabbed two Tonys. It still holds a special place in Tiwary's heart.
"I only work on projects that I love," he said. "I love all my children, but Green Day I have a particular fondness for. I love ballet and I love punk rock. They're not all that different. Putting American Idiot on Broadway was a culmination of my childhood interests."
In the mid-2000s, after Raisin in the Sun, he went back to his Beatles project, feeling a kinship with the subject.
"I'm definitely still a bit of an outsider," he says. "Broadway is incredibly welcoming, but there are not a lot of people of color. Even though I haven't faced any racism, and I grew up in New York, I could still emotionally relate to the beats of Brian Epstein's life."
These days Tiwary is not lacking in projects. His next is a show based on Alanis Morissette's 1995 record Jagged Little Pill.
"I don't take a day of it for granted," he says. "It's something I learned at Penn: follow your dreams, but do it in a respectable, professional way."
—Caren Lissner C'93