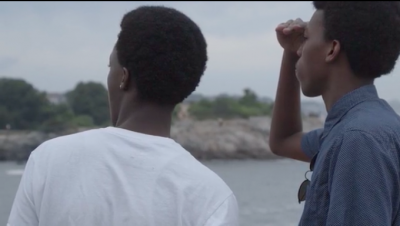 Growing up in coastal Maine as the daughter of Brooklyn and Philly transplants and one of the only Jewish students in her high school, Maya Tepler C'11 often felt different—so she can only imagine what it's like for her two new brothers.
Franck and Jessy, now 19 and 17 years old, left their home and family in Burundi in 2014 and sought asylum in Maine—the oldest, whitest state in the country. Maya's sister taught the brothers at a public high school in Portland and eventually introduced them to her parents, Denise C'78 G'81 and Sheldon L'81. She asked Sheldon, an attorney, to consider becoming Jessy's legal guardian.
By late last summer, Maya had two new siblings and her empty-nester parents had a full house again. Franck and Jessy live in Maya's childhood home and attend the public high school she graduated from in Topsham, Maine. Maya's father Sheldon is the son of Holocaust survivors, and she says that's one reason the family opened their home so readily. "My parents feel the legacy of the Holocaust very strongly," she says.
Now Maya's working on a documentary film about the whole experience: Franck and Jessy's new lives in Maine; the least diverse state's status as a destination for refugees and asylum seekers; its governor's vocal objections; and her family's own shifts and twists since the brothers entered their lives.
"I'm not a New Age-y person at all," says Maya, who is directing the film. "I'm very much a realist. But it feels like these boys came into my family for a reason. They've made us closer than ever. It puts things in perspective when you take other people into your life in as earnest a way as possible."
With five days left in her Kickstarter campaign, Maya is just $125 shy of her $10,000 fundraising goal. She expects to meet it soon, and says the money will finance travel and filming in Maine through this winter. She hopes to find a partner organization or individual producers to help after that.
"A common misconception is that you don't need a lot of money to make a documentary," she says. "But in a lot of ways, it can take more money than a low-budget narrative film."
While Maya has been in the arts for years, she's a relative newcomer to the documentary world. She graduated from Penn in 2011 and planned to work in musical theater professionally, but after a few years performing in regional productions, "I realized I don't want to spend my life being in Grease the Musical," she says. "I wanted to do good."
On her first day interning at Ark Media—which produces documentary films and television programs—a research job opened up, and Maya started her new career. She worked on the PBS series "Finding Your Roots" and is now an associate producer at Show of Force—a film and TV production company in New York.
"The thing I love about documentary is that it's intellectual, it's journalistic—but it's also very creative," she says. "I realized that one of my biggest strengths as an actor is being able to empathize with people and liking to tell their stories. That really fuels my desire to work in this field."
Though she originally planned to focus her film solely on the Burundian brothers, Maya says she's already discovered that her family is "just as much a part of this as my brothers are."
"I hope that people will learn about the story and are reminded of why we need to be open to people with all kinds of differences," she adds.
Here's the first trailer for Maya's future film, From Away:
—Molly Petrilla C'06